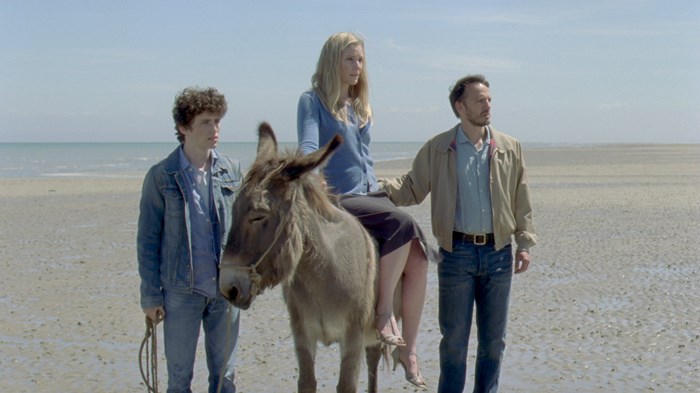 The title (Le Fils de Joseph in French) is a dead giveaway: The Son of Joseph is a film rife with Biblical allusions, though it's hardly a Bible film (and certainly not a "faith-based" one). It's a delightful, slightly naughty, lighthearted farce about what it means to be a father. Borrowing on motifs from the Old and New Testaments for such a tale makes sense, since the Bible is all about fathers and sons, including the Father and the Son. (The Holy Ghost shows up too, after a fashion.)
Written and directed by Eugene Green (La Sapienza) and, interestingly, co-produced by Jean-Pierre and Luc Dardenne, the movie centers on a teenage Parisian, Vincent (Victor Ezenfis). The boy lives with his single mother Marie (Natacha Regnier) and, when we meet him, is a complete grump in the traditional teenage fashion. He asks his mother who his father is, and she says he doesn't have one—though he figures out quickly who the man really is, and goes off on a search for him.
Turns out his father—Oscar Pormenor (Mathieu Amalric)—is a big-time book editor. Vincent shows up at a party for one of his authors, and then later at his office in a posh Paris hotel, where he hides under the chaise longue and hears his father behaving badly with his secretary.
In fact, it turns out that his father is not the sort of man one would want for a father. He can't even remember how many children he has with his wife, for instance. He's mean and paranoid and just an all-around bad guy, including to his brother, Joseph (Fabrizio Rongione).
That brother, in classic Prodigal Son fashion, used to be a burnout who was so disgraceful to his father and brother Oscar that he took his mother's ...
1