true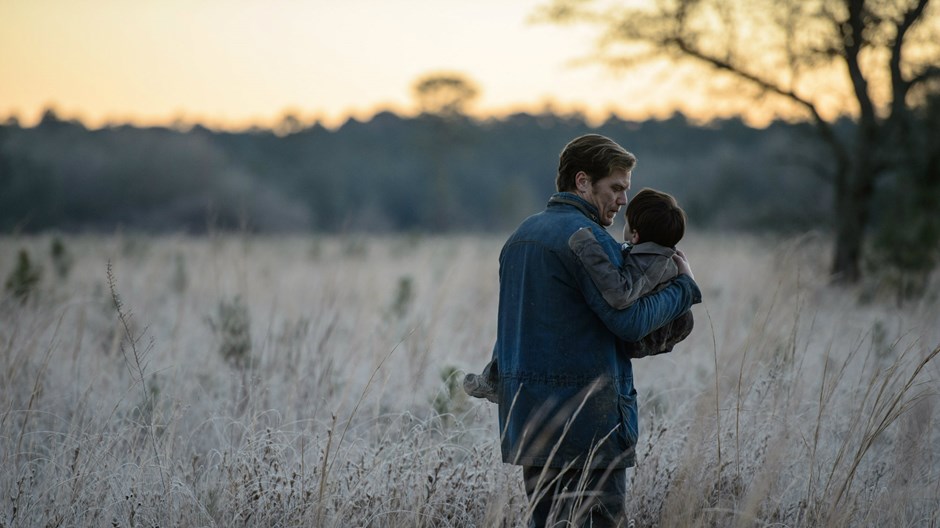 Image: Ben Rothstein / Warner Bros. Entertainment Inc. and Ratpac-Dune Entertainment LLC
As a genre, science fiction often gets trotted out in service of big ideas: political tensions, social problems, ideological conflicts. When it puts a hot-button issue in a context unlike our own (a different universe, the future, outer space), scifi can make big arguments indirectly, coming at flashpoints slantwise—think of Star Trek or Battlestar Galactica.
Sometimes it opts to work closer to home, looking at those things that trouble the human heart by working outside a strictly human context. Consider E.T., in which the titular extraterrestrial helps a child work through grief, loss, and his relationship to his family.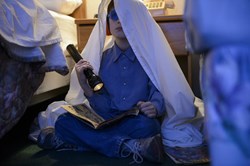 Image: Ben Rothstein / Warner Bros. Entertainment Inc. and Ratpac-Dune Entertainment LLC
Midnight Special, which premiered at the Berlin Film Festival on Friday night, does both. It is a film without twists to unwind or keys to discover. The point isn't the mystery. The point, instead, is in our hearts.
That Midnight Special takes an unconventional approach to its genre is no a surprise. Writer/director Jeff Nichols (Shotgun Stories, Take Shelter, Mud) makes accessible, simple, beautiful films rooted in the American south and midwest that have garnered critical acclaim and a loyal band of fans, myself among them; it's a complete mystery to me why he isn't more well known. (The movie shares its name with an often-covered American folk song about a passenger train.)
Midnight Special has the most in common with Nichols's second film, Take Shelter, a taut thriller about both our age of anxiety and the meaning of commitment and marriage. In both movies, Michael Shannon (who has worked with Nichols on all of his films, including Shotgun Stories and Mud) plays a father bent on protecting his young, vulnerable child at all costs.
But whereas Take Shelter felt like it could be a fable or a nightmare, Midnight Special is a true science fiction story. Alton (the marvelous Jaeden Lieberher) is about eight years old and on the run with his father Roy (Shannon) and Roy's childhood best friend Lucas (Joel Edgerton). Nichols drops us into the action at the last possible moment, with two men and the boy in a car driving down the road at night.
Alton wears huge headphones and blue swimming goggles, and as the story slowly unfolds we discover that he was born into a cult (the women wear the now-familiar calico dresses and pompadours that indicate some kind of fundamentalism) and raised as the child of the charismatic leader Caleb (Sam Shepard). Roy, his father, has fled with him, toward the boy's mother Sarah (Kirsten Dunst) and eventually toward—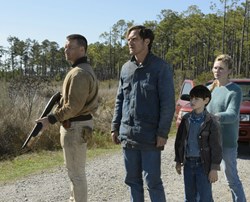 Image: Ben Rothstein / Warner Bros. Entertainment Inc. and Ratpac-Dune Entertainment LLC
—Well, that's the thing. They don't know what they're headed for. All they're doing is following some coordinates on the road from Texas to Florida. The coordinates come from Alton, who was born with the strange ability to pick up transmissions from the radio and the federal government and emit, at times, a strange and blinding light from his own eyes. (The federal government is awfully interested in this, and have sent in an expert in the form of Adam Driver to investigate.)
Nichols leaves most of the work to the audience's imagination, and I will, too. It's a powerful technique that requires us to stay engaged in the film from the start to make meaning from it. There's no trick to Alton's powers, but everyone who encounters him realizes they've connected with something big, which makes the cult rather reasonable: after all, they actually have a supernatural presence of some kind in their midst, though they don't know what it is any more than the government or Roy or even Alton.
Some audiences will be displeased with the film for leaving things so ambiguous. The American habit of watching movies and TV shows with an eye toward "unlocking" the mystery or coming up with fan theories doesn't work in this case. Midnight Special simply won't yield.
But that's because it isn't really science fiction; it's just wearing a scifi costume. The film is two things. First, it's a quiet family drama about parents coming to terms with the reality of their extraordinary child. In some ways you can read it as an allegory for the pain of watching your child experience a terminal illness or other difficulty that you can't take away. To call the film something as simple as an allegory would be facile, but it helps us grapple with the sadness and complicated feelings that Roy and Sarah experience as they travel with Alton on his own journey.
Midnight Special expands beyond the quiet family drama to sift through the complexity of belief in an age where nobody knows what to believe anymore. Here's a cult with some evidence for their beliefs. Here is the federal government trying to figure out what to do when the rules change. Roy, Sarah, and Lucas all live with troublesome religious histories and aren't quiet sure how to sift through them. How does belief interact with grief? What is the right response when we're faced with the unknown?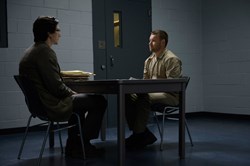 Image: Ben Rothstein / Warner Bros. Entertainment Inc. and Ratpac-Dune Entertainment LLC
The film doesn't give a definite answer, and it doesn't want to. Instead, it suggests that these are questions everyone is trying to answer, and that the ways we deal with the unknown, with what we don't understand, are complicated. But Nichols seems to suggest at the film's end that while the things we encounter—abuse, love, loss, even science—all affect where we look when we're trying to get answers to the big, religious questions, the most human response to what we don't understand is wonder.
And wonder: that is a holy thing.
Alissa Wilkinson is Christianity Today's chief film critic and an assistant professor of English and humanities at The King's College in New York City. She is co-author, with Robert Joustra, of How to Survive the Apocalypse: Zombies, Cylons, Faith, and Politics at the End of the World (Eerdmans, April 2016). She tweets @alissamarie.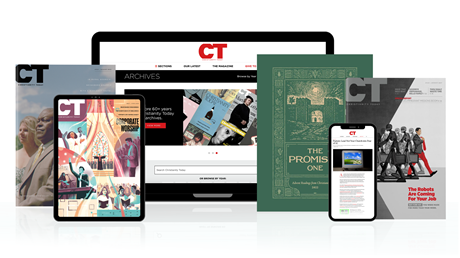 Subscribe to Christianity Today and get access to this article plus 65+ years of archives.
Home delivery of CT magazine
Complete access to articles on ChristianityToday.com
Over 120 years of magazine archives plus full access to all of CT's online archives
Subscribe Now
Dispatch from Berlinale–'Midnight Special'
Dispatch from Berlinale–'Midnight Special'