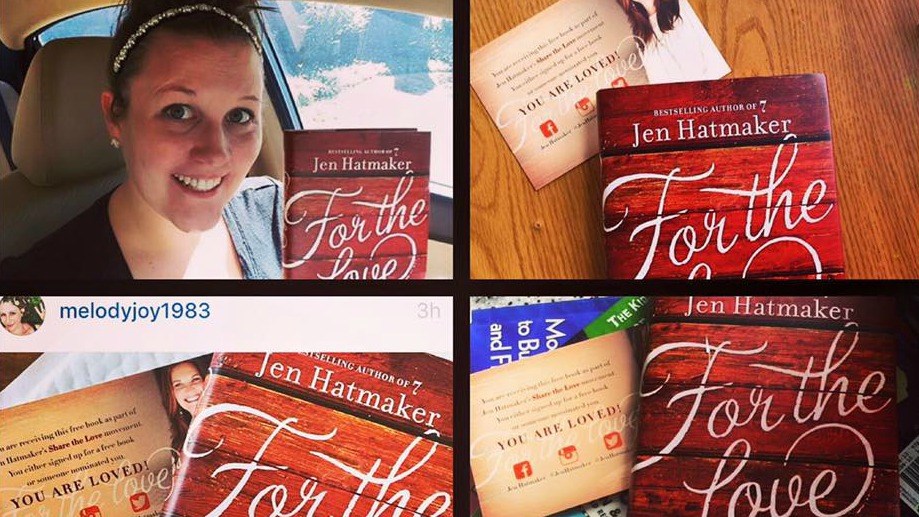 Image: Jen Hatmaker
I know what you're thinking: Not another story about how anonymous people on the Internet can be so nice to each other.
Haven't we all heard enough about the empathy and kindness within those never-ending comment threads? Aren't we tired of all the excited exclamation points and heart-eyes emojis?
Well, it's Valentine's Day, and here's one more heartwarming account of online generosity and love. It comes from author Jen Hatmaker's blog and Facebook page, where readers regularly chime in to share affirmations, funny anecdotes, and helpful parenting tips. Since Hatmaker's latest book, For the Love, came out last summer, something else has been happening in the comments: whenever someone would mention how she wished she could afford a copy, another woman would chime in to offer to send her one.
This kind of exchange went on so often—about once a week since the book released in August—that this month Hatmaker decided to orchestrate a campaign around it, in partnership with her publisher, Thomas Nelson, and the charity retail site Givingtons. First, any woman could request a copy of the book for herself or a friend in need. Then, at the start of this week, readers could "share the love" by paying $15 to cover the cost of another woman's request.
"I believe that we can generously love each other, even with something as simple as a book meant to nurture souls," the Texas writer and speaker told her online tribe. "We all take turns needing each other and loving each other."
They had 2,250 women sign up for books, and within 48 hours, all of them were paid for. That's a total of $33,750. Over the past few days, dozens more connected on their own in the comments. The books arrive at the end of this week, a message of love—loving God, loving ourselves, loving others—in time for Valentine's Day.
In some ways, Hatmaker's giveaway is unremarkable. She's a bestselling author with about 450,000 Facebook fans, and online giving has become relatively common. It's an easy, quick, one-time response to a call to action by our friends, networks, and causes we care for.
However, this setup is still pretty unique. The most successful viral crowdfunding campaigns often have specific emotional pulls: dramatic stories presented by video, the ability to track the progress of where your donation is going, or a sense of familiarity with the person in need (think sites like GoFundMe).
For the Share the Love giveaway, participants didn't know where their book would go—no emotional story or even a way to gauge whether the recipient merited a free copy—but they paid their $15 anyway. This speaks to the sense of community and trust among Hatmaker's readers.
A few years ago, I interviewed philanthropy experts after The Bloggess (a fellow funny Texas blogger) held a similar campaign to help her readers help each other. The researchers told me that participants might be more willing to give to a grassroots, person-to-person effort than to traditional outlets because they trusted the community surrounding a blog they loved. They see it as a safe place where their money won't be exploited. They feel a connection with the fellow readers.
Additionally, women may have a particular inclination to these kinds of giving initiatives. "I think we are hard-wired to release our compassionate care when we see signs of vulnerability," said Stephanie Brown, a psychologist researching neurological links between motherhood and altruism at Stony Brook University in New York.
The first batch of books hit mailboxes on Thursday, and hundreds went to Hatmaker's Facebook page to say thank you. The surprised recipients included a recent widow, a woman preparing for surgery, a seminary wife, and a new stay-at-home mom. One simply wrote, "I received one today, on a day that I needed to feel encouraged more than ever."
Hatmaker said by email:
As a leader, it is one thing to talk about generosity and sisterhood, but it is something entirely else to put it all into action together. It's good for us. It's good for the tribe. It's good for a watching world. It strengthens our group commitment toward kindness and solidarity. And I guess it just feels hopeful; something we are all sorely in need of these days. To watch so many communities disintegrate and splinter and turn on one another or rage against everyone else, it just feels hopeful to see a beautiful community come together for the sake of each other.
The next time we shake our fists at our screens, blaming the web for bringing out the worst in people, let's remember how it can bring out the best in them too.
CT featured a profile of Jen Hatmaker in 2014, months before her family's HGTV debut. You can also read an excerpt from Hatmaker's For the Love on our sister site, Today's Christian Woman.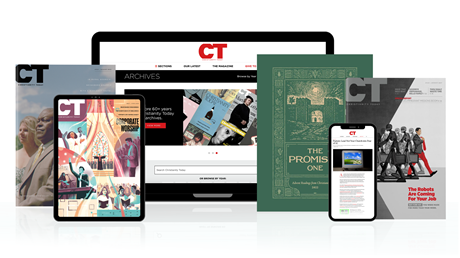 Annual & Monthly subscriptions available.
Print & Digital Issues of CT magazine
Complete access to every article on ChristianityToday.com
Unlimited access to 65+ years of CT's online archives
Member-only special issues
Subscribe
Thousands of Jen Hatmaker Fans Bought Her Book for Strangers
Thousands of Jen Hatmaker Fans Bought Her Book for Strangers