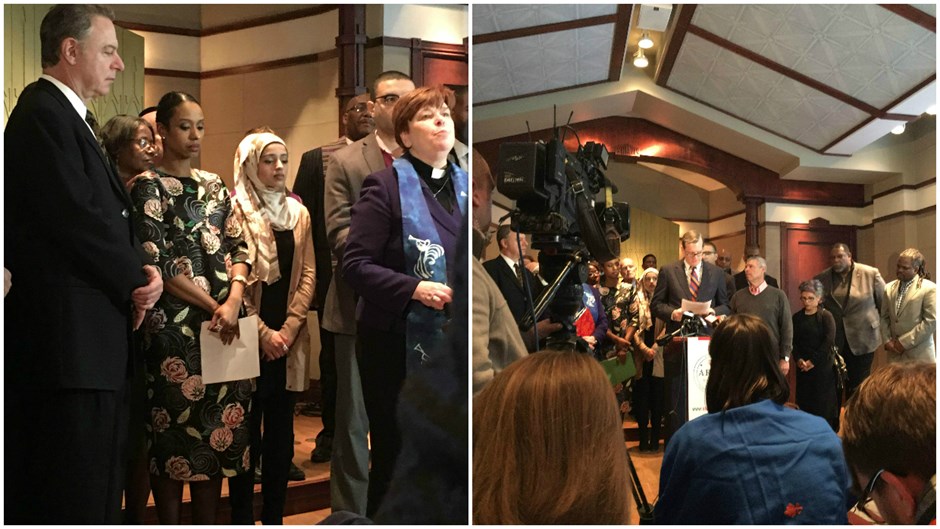 Image: Kirkland An / The Wheaton Record
At a press conference today in downtown Chicago, Wheaton College president Philip Ryken and professor Larycia Hawkins addressed their reconciliation and her departure.
Meanwhile, back on the school's suburban campus, a small group of students, alumni, and others disappointed with the outcome staged an Ash Wednesday protest and launched a Lenten fast of "embodied solidarity."
Followers of the Illinois school's "same God" controversy were surprised by weekend announcements that provost Stanton Jones had withdrawn his recommendation that Hawkins's tenure be revoked, yet the associate professor of political science would still be leaving Wheaton after nine years of service.
In recent weeks, many faculty asked Wheaton to drop its attempt to fire Hawkins over whether her views on Islam fit the school's faith statement.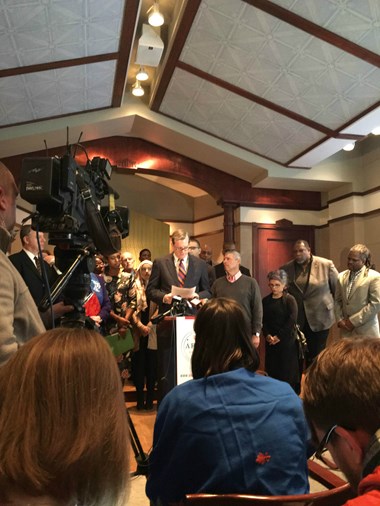 Image: Kirkland An / The Wheaton Record
At today's press conference, which emcee C. J. Hawking, executive director of Arise Chicago, described as a "historic moment filled with grace and filled with reconciliation," Wheaton faculty, students, alumni, and observers received few additional details.
Ryken described Wheaton's community as "a place of grace where relationships are marked by hope, courage, honesty, repentance, and reconciliation." He praised Hawkins for "her membership in our community and her sincere faith in Jesus Christ."
Ryken said he was "saddened by the brokenness we have experienced in our relationship and the suffering this has caused on our campus and beyond," and was "grateful to come to a place of resolution and reconciliation ... by Jesus Christ."
"We are moving on in genuine friendship," he said, "trusting as a campus for God to restore what's been lost and repair what has been broken."
This does not mean that "reconciliation is easy or that it is always perfect," he said. "Saying that Wheaton College is reconciled with Larycia Hawkins, we're not saying that everyone on every side of this conflict is thoroughly satisfied, nor are we saying that we simply move on without addressing the issues that brought us to this place."
Ryken said Wheaton's board of trustees will conduct a thorough review with faculty to be better prepared when future issues arise over the school's statement of faith. "We want to learn everything that we can from this situation, to be a better and stronger community with a shared understanding of academic freedom in the context of our Christian convictions."
Ryken recalled how, in his inaugural address five years ago, he said "no community needs more grace than Wheaton College."
"Recent events have reminded us of our need for forgiveness, and the widespread attention that we have received shows that Wheaton College matters to the church, alumni, the academic community, and our neighbors," he said. "We humbly ask for the prayers and friendship of anyone who seeks for us to grow."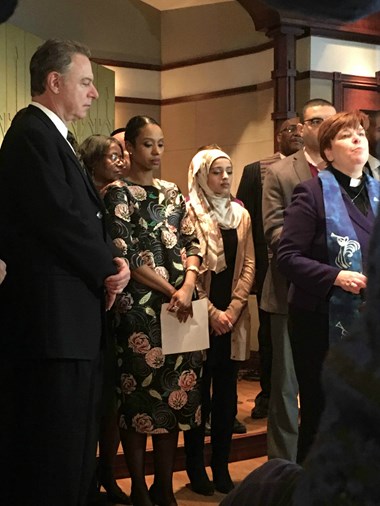 Image: Kirkland An / The Wheaton Record
Jones was scheduled to speak after Ryken, but was unable to attend the conference.
Hawkins was the last of six speakers. She explained again the motivation behind her December 10 Facebook post announcing she would wear a hijab during Advent. It was intended as an act of solidarity with Muslims, but instead became a national flashpoint.
"It's not rocket science to love our neighbor," Hawkins said. "It's the greatest yearning of our hearts to be united with humans.
"As a Christian, I have found from this difficult journey from Advent to Lent that Jesus is a rock in a weary land and a shelter in a time of storm," she said. "When you wake up in the midst of what seems like a dark night of the soul with a song in your heart, you have something within you—something you can scarcely believe in yourself, because the world didn't give it to you, and the world can't take it away.
"I have learned that my cloud of witnesses is as thick as the London fog," she continued. "The cloud rolls deep and wide ... saints, sinners, stalwart, steadfast, beautiful, people of faith, people of no faith, multifaith, interfaith, all on spiritual journeys, all need something for the journey."
Hawkins called Wheaton "an important phase of my spiritual journey." Among others, she thanked her students, "who have really taught me what embodied solidarity looks like."
"They are not just students but scholars, friends, souls, and spirits, [who] revive my spirit," she said. "And just because I walk away from Wheaton College does not mean that I walk away from them. They are my classroom, and they will continue to teach me and we [will] continue to walk and learn together.
"Thank you for your embodied solidarity," she concluded.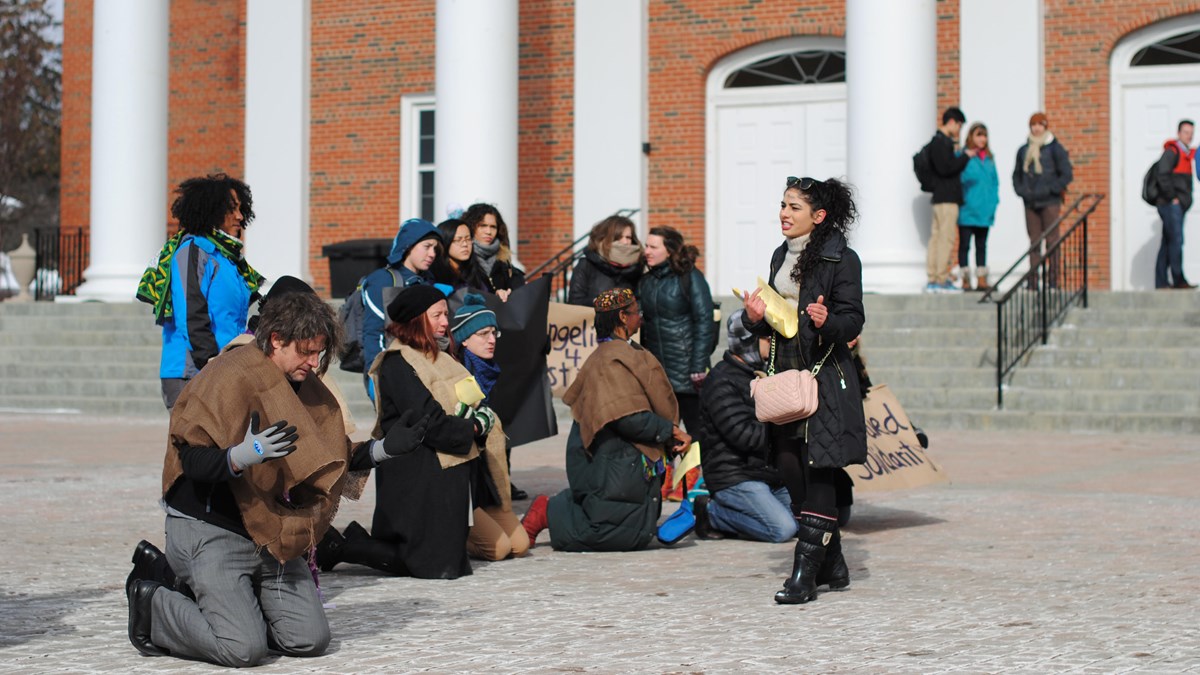 Image: Andrew Graber / The Wheaton Record
Between the comments by Ryken and Hawkins, Wheaton theology professor George Kalantzis grew emotional as he praised Hawkins for her teaching, her faith, and for "setting the standard for what true teacher/mentors look like at our campus."
"It is important for us to know what reconciliation involves, as Christians," he said. "Forgiveness is not forgetting, forgiveness means to look at the bloody, awful, painful truth of our broken relationships and still choosing to be in reconciliation. It is about choosing not to allow the brokenness of our relationships to define us."
Jordan Yates, a Wheaton alumnus whom Hawkins cited as the "president of my fan club," said he welcomed "the conclusion of this harrowing journey.
"Adversity is an enduring component of the human condition," he said. "And more than shaping character, it is adverse experiences that reveal character.
"Consequently, I have an immense respect and adoration for Dr. Hawkins and her resolve to exercise admirable conduct as she has engaged the administration," he said. "Similarly, I am grateful for the participation of Dr. Ryken today who I regard as a personal friend and someone whom I have high esteem for as the president of our institution."
Eboo Patel, founder and president of the Interfaith Youth Core, also expressed his admiration for both sides.
"Did anyone really expect this to be without tension?" he said. "A good friend of mine likes to say, 'Diversity isn't rocket science. It's harder.'
"I imagine the missteps that were made are much on people's minds today. But in my view, the more important story is the grace notes we have seen," said Patel. "A provost seeking forgiveness of a professor for the role he played in the fracture of their relationship. A professor insisting that even those whom she disagreed with were worthy of blessing. A president expressing sorrow and committing to restoration. A community standing up in sacred witness.
"Much has been made of Wheaton's particular faith identity in the past two months of bearing public scrutiny," he said. "It should not escape our notice that the language of lament and shalom that the Wheaton community so freely uses today springs from that same faith identity. It is their faith that makes Wheaton a community."
Ahmed Rehab, the executive director of the Chicago office of the Council on American-Islamic Relations, also spoke.
"In a time when we were facing Islamophobia, hate, and bigotry, she stood up and and stood with us," he said. "I will remember the courageous embodied solitary of the professors and students at Wheaton College that stood with her. I will remember the courageous humility shown by the provost of the college who sought forgiveness for a problematic decision, and I hope I can learn from him and show the same kind of leadership in my own life."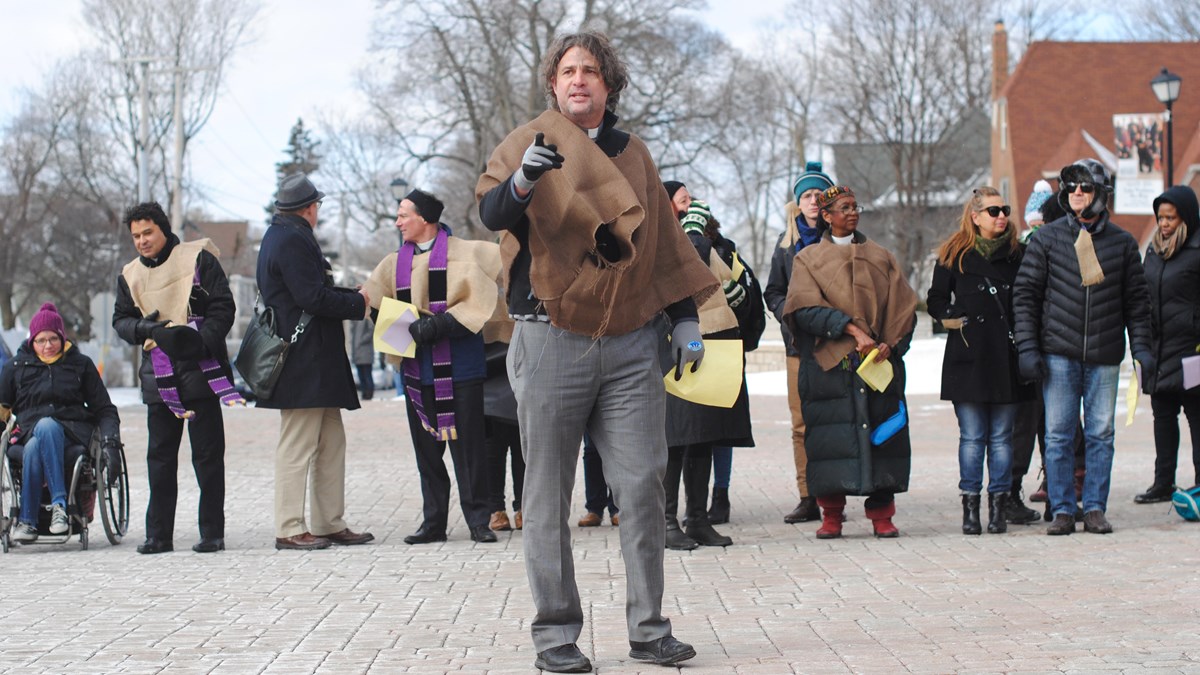 Image: Andrew Graber / The Wheaton Record
Back at Wheaton's campus, an unsanctioned rally was held in front of Edman Chapel to launch a 40-day fast encouraging evangelicals to "confess and repent of the sins of racism, sexism and Islamophobia, and recognize that all humans have dignity and are created equal in the eyes of God." A press release cited participants at a number of other Christian institutions.
"Hopefully [the fast] will turn the Lord's face toward us, because we really need a movement of God here," said Stephen Ticsay, a 2015 graduate of Wheaton. He helped to organize the protestors, who wore pieces of sackcloth to represent the current "mourning of loss" on campus. "And I think that begins by us humbling ourselves … and [asking] that his spirit would come and convict us as a campus."
In addition to reporting how Wheaton and Hawkins were reconciled yet parting ways, CT previously noted what evangelical experts on missions and Muslims think of the "same God" debate, as well as the views of Arab evangelical leaders. CT also editorialized on how Wheaton and Hawkins should reason together, and editor Mark Galli shared his torn feelings over the outcome.
Emily Lund contributed to this report.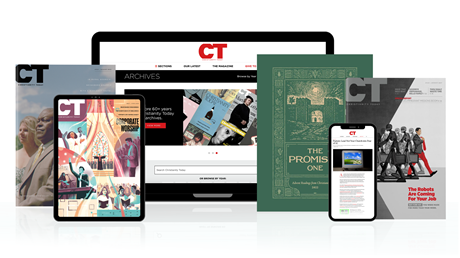 Subscribe to Christianity Today and get access to this article plus 65+ years of archives.
Home delivery of CT magazine
Complete access to articles on ChristianityToday.com
Over 120 years of magazine archives plus full access to all of CT's online archives
Subscribe Now
What Wheaton, Hawkins, and Others Said at Public Reconciliation Attempt
What Wheaton, Hawkins, and Others Said at Public ...