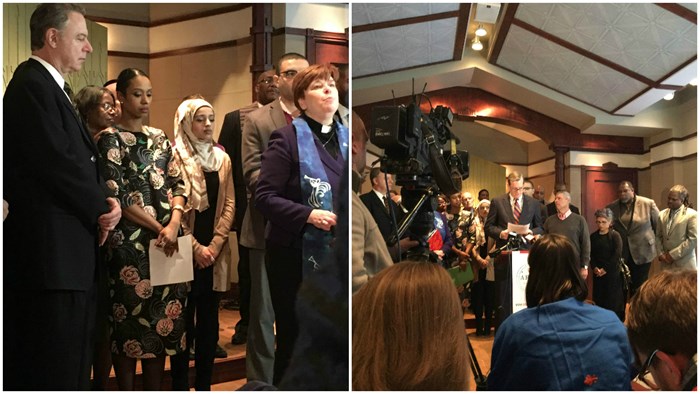 Image: Kirkland An / The Wheaton Record
At a press conference today in downtown Chicago, Wheaton College president Philip Ryken and professor Larycia Hawkins addressed their reconciliation and her departure.
Meanwhile, back on the school's suburban campus, a small group of students, alumni, and others disappointed with the outcome staged an Ash Wednesday protest and launched a Lenten fast of "embodied solidarity."
Followers of the Illinois school's "same God" controversy were surprised by weekend announcements that provost Stanton Jones had withdrawn his recommendation that Hawkins's tenure be revoked, yet the associate professor of political science would still be leaving Wheaton after nine years of service.
In recent weeks, many faculty asked Wheaton to drop its attempt to fire Hawkins over whether her views on Islam fit the school's faith statement.
At today's press conference, which emcee C. J. Hawking, executive director of Arise Chicago, described as a "historic moment filled with grace and filled with reconciliation," Wheaton faculty, students, alumni, and observers received few additional details.
Ryken described Wheaton's community as "a place of grace where relationships are marked by hope, courage, honesty, repentance, and reconciliation." He praised Hawkins for "her membership in our community and her sincere faith in Jesus Christ."
Ryken said he was "saddened by the brokenness we have experienced in our relationship and the suffering this has caused on our campus and beyond," and was "grateful to come to a place of resolution and reconciliation ... by Jesus Christ."
"We are moving on in genuine friendship," he said, "trusting ...
1