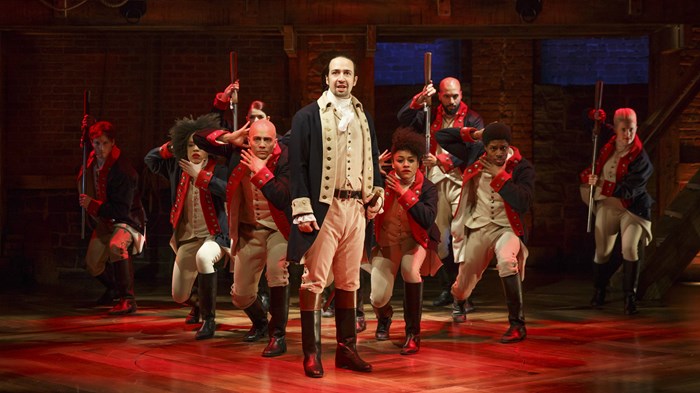 Image: Joan Marcus
This past Monday, January 11, was Alexander Hamilton's 259th birthday (or possibly his 261st; historians aren't sure). People celebrated on social media like they'd celebrate a living celebrity. And for the most part, the well-wishing was aimed at a living recipient, the man unexpectedly stewarding the Founding Father's legacy: hip-hop artist Lin-Manuel Miranda.
Miranda wrote the song and book for Hamilton: An American Musical—in which he also stars. It's a rap musical about Hamilton's life and the founding of America, and it's the hottest ticket on Broadway. Its success alone is newsworthy; in just under two years, including its initial run at the Public Theater, the show has earned nearly $70 million, and after just three months on Broadway, it dethroned The Lion King for a week as the highest grossing show. Its influence on Broadway has been nothing short of revolutionary (c'mon, I had to): reviews have lauded it as the most original and genre-changing musical in years, and critics are already predicting that it will sweep this year's Tony Awards.
There are hundreds of articles breaking down how a wacky concept like Hamilton made it this far. I had the special pleasure of coming to it not from the reviews or local New York City hype, but through its fans. Despite being probably the least accessible work of art in existence (you can buy tickets, but only after July and only for several hundred dollars a pop), Hamilton's reach is broad and diverse thanks to its spectacular cast recording. This piece at Indiewire by Liz Shannon Miller details how the album brought the musical to a global audience and skyrocketed Secretary Hamilton to a stardom that goes much ...
1