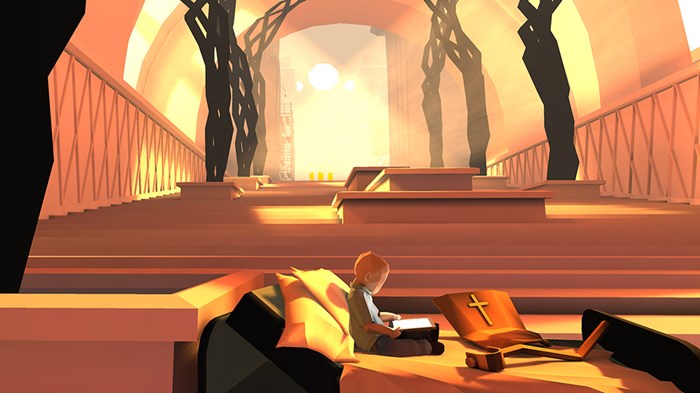 Imagine holding a screaming child who is badly dehydrated but unable to keep anything in his stomach, the combined poison of chemotherapy and cancer coursing through his veins. You try desperately to comfort him, and nothing works. Imagine that same child on a different day, playful, sharing his beautiful laugh freely, unable to speak properly because of his brain tumors. What visions fly through his head? What visions does he see that you cannot?
That Dragon, Cancer is a special kind of video game, an interactive exploration of the Green family's encounter with the disease. Ryan and Amy Green's third son, Joel, was diagnosed with terminal cancer when he was only one and passed away at the age of five in the spring of 2014. That Dragon, Cancer walks us through suffering, love, grief, storm-tested faith, and grace in a way that only a video game could. While many associate video games with space combat, pointless shooting, and simulated sports, a growing number of games are demonstrating how the medium can be a vehicle for empathy.
That Dragon, Cancer leaves out many standard game mechanics. There is no score or competition. Most scenes revolve around exploration. At the beginning, the player controls a duck that hunts pieces of bread Joel is throwing into the water. Shortly after that, the player walks to a playground, where Joel waits to be pushed on the swing and down the slide. Most actions trigger bits of recorded family conversations, or thoughts and observations from Ryan and Amy, or short mini-movies.
The music is achingly wistful and moving. The impressionistic graphics are bathed in lovely palettes, at times warm, vibrant and full of life, and other times, somber and cold. Throughout the game, players encounter a number of creative and unexpected moments: tangled black masses, symbolizing cancerous tumors, lurk ominously throughout the landscape; a walk down a hospital hallway suddenly transforms into a frantic, delightful Mario Kart style mini-game.
Ultimately, though, what makes That Dragon, Cancer unique is the access Ryan and Amy give players to their souls. We hear their confused and painful thoughts as they learn of Joel's terminal diagnosis. We listen in as they struggle with God and try to understand what faith means in the face of death. Most crucially, we see Joel through their eyes, this beautiful boy who laughs and plays in spite of all the pain and anxiety.
I have seen dozens of bitterly sad movies, but I don't think any of them have left me sobbing like this, partly because I have young children myself, but also because I am not so much watching the Greens struggle with Joel's illness as I am taking their place and living what they lived. I not only see Joel's dreams, I participate in them along with him. Even virtual, tangential involvement in the tragedy that struck the Greens left tears streaming down my face.
Three years before release, in the early stages of the game's development, the video game press was already raving about this raw emotional power. Current reviews are equally complimentary. Every writer has described the piercing moments of sadness, of weeping, even of having to stop playing for a while; all of them see this as a sign of a masterfully made game. The incisively intelligent, frequently profane, and often cynical Jerry Holkins of popular game comic Penny Arcade wrote a moving post that culminated in spiritual longing: "I want there to be a God," he writes. "There should be one, because these people deserve an answer."
As Patrick Klepek, senior reporter for mainstream videogame site Kotaku notes, the gaming world has been waiting for something like this for a long time. Back in the early '80s, some brash young developers boldly asked, "Can a computer make you cry?" They were aiming to make games the expressive equivalent of novels and movies. That Dragon, Cancer smashes through that barrier. As many writers have noted, death in video games is typically cheap—we can always restart. That Dragon, Cancer, in contrast, gives the player an opportunity to confront the full sting of death.
The game confronts death's spiritual impact, as well. The reaction of self-proclaimed agnostics and atheists is an especially encouraging development considering how explicit the game is about Ryan and Amy's faith. In the scene where Joel won't stop crying, an increasingly distraught Ryan begs God to bring peace and strength. In another scene, as Amy bobs along in a boat cradling Joel, the player can click on floating bottles that include letters that reveal how her faith offers her comfort and peace in light of Joel's illness; meanwhile, Ryan sinks beneath the water in despair.
The very structure of the game speaks to the way the Greens experience God. The player has a choice—it's possible, for instance, to walk right up the first path and ignore every side-trail—yet this is not a game where everything rests on the player's shoulders.
In a typical video game, the player is the hero in success and a loser in failure. In That Dragon, Cancer, we have as much control as we do in life: there is no option or quest that allows us to fix Joel or conquer his enemy. Still, we are surprised by unexpected moments of joy: a playful "race" around the hospital, Joel throwing his entire loaf of bread into a pond to feed a duck, a tender moment when Joel bonds with a dog.
Even while the game confronts the spiritual impact of death, it does not shy away from God's answer to death, either. Against all odds, That Dragon, Cancer is ultimately a game of hope. When things seem hardest and hurt most, the game doesn't merely offer moments of grace; it allows us to participate in them, providing the player with the chance to take part in God's life-giving work in the midst of darkness.
God never explicitly speaks in That Dragon, Cancer. The biggest questions raised are never entirely answered. But ultimately, the game leaves the player in a place of peace.
Kevin Schut is professor of Media + Communication and Associate Dean of the School of the Arts, Media + Culture at Trinity Western University in Langley, BC, Canada. He's also the author of Of Games and God: A Christian Exploration of Video Games.