true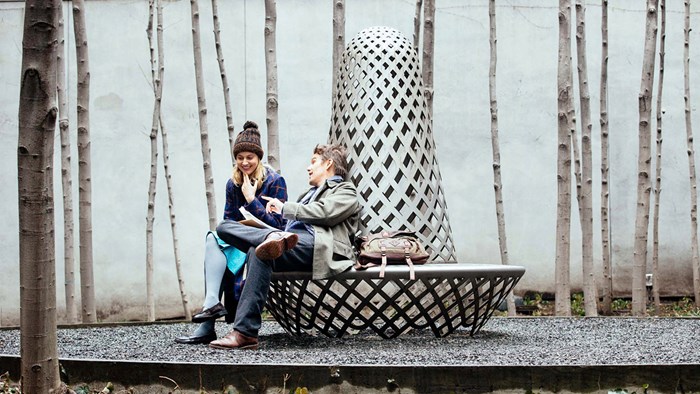 Image: Sony Pictures Classics
Hello from Park City, Utah! I'm here for the Sundance Film Festival, and all week I'll be writing daily updates mixed with some reviews and other commentary. I'm also working on a bigger feature you'll find in Christianity Today's print issue later this year (subscribe today!) on ways Christians are present at mainstream film festivals like Sundance, Berlinale, and True/False. I can't wait for you to read that.
But I know most people don't get to go to festivals, and even fewer people go as critics. So in addition to writing small summaries of the films I see this week, I'll try to share some fun tidbits that are old hat to those of us with press badges, but that we forget are fun to hear about. (If you have a question, Tweet at me—I'm @alissamarie—and I'll try to answer it!)
Technically, today—Friday—was the second day of the festival. But due to some slow travel, I didn't make it to Park City in time to pick up my press credentials on Thursday night. So instead I did some grocery shopping, had dinner with a friend, and then came back to my condo and watched some screeners.
What's a screener? Glad you asked.
Notes On Screeners
Critics typically get invited to press screenings of movies throughout the year; that's how we see things and write about them before they get to theaters. In my hometown of New York City, major films screen for most critics at the multiplex a few days before they hit the general public. Smaller or more obscure films usually screen several times over a few weeks in small theaters the general public never knows about, scattered throughout the city. (My favorite is Sony's screening room, which includes leather couches in the back of the room.)
But sometimes you can't make it to a screening, especially if you, like me and many others, have a "day job" to pay the bills. So sometimes you can ask for a screener—especially if the film is small, or if they're eager for your outlet to consider covering it. I've been at this about a decade; when I started, most publicists would send a DVD, but nowadays you're more likely to get a link, usually watermarked and only available for a finite number of days.
(Digital screeners are the bane of critics' existence, by the way. They tend to die halfway through the film. I once had to watch a screener in five-minute increments as it reloaded over and over again. If you're a filmmaker and you're reading this, please, if you want to garner favor with press, use Vimeo for your screeners.)
At Sundance, accredited press and industry people have access to a different set of screenings than the general public, though we can also request tickets to some public screenings. But it's quite literally impossible to see everything in the festival; often four or more films will be screening at the same time, or maybe you're interviewing a filmmaker during an important slot, or you just can't physically watch more than four movies in a day.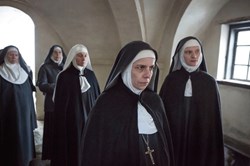 Image: Anna Wloch
Agnus Dei (or, Hold That Thought)
Luckily, I've found, most publicists are very helpful on this point. And so, when I realized I needed to see Anne Fontaine's Agnus Deibefore I interviewed her in a few days, and that I had conflicts for all the press screenings, the publicist helped me out.
I watched Agnus Dei this morning, making it my first film of the festival, which I viewed while perched on my couch in comfy pants, drinking coffee. Even before I read the synopsis, I knew from the name ("Lamb of God") that I needed to see the film.
And I was right. I'll be holding my review of the film until after it screens for press tomorrow, so watch this space. (Update: here's my take.)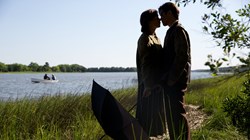 Image: Jackson Lee Davis
Sophie and the Rising Sun
The second film I saw (after finally getting my badge) was Maggie Greenwald's Sophie and the Rising Sun, based on the 2001 novel by Augusta Trobaugh. Starring Margo Martindale, Julianne Nicholson, Takashi Yamaguchi, and a host of familiar actors, the film tells the story of an interracial romance in Salty Creek, Georgia, just as World War II is beginning. It's a romance from start to finish, but it's also about racial tensions that crop up in a country under siege.
That's interesting, because even prior to 1941, Salty Creek, Georgia would not exactly be a paragon of interracial harmony. The film portrays segregation matter-of-factly—when they're signing up for the military, white and black young men must stand in different lines. White and black people go to different churches, as a matter of course. One flashback involves a horribly racist incident that shaped one of the main characters.
But as important for our time, the film honestly (and disturbingly) gives us characters whose fear of the Japanese—even an American-born Japanese man—lead them into very ugly behavior. This is a part of our recent history that we prefer to forget, and in this time of increased, ugly xenophobia, we ought to be remembering, instead. The fact that much of today's xenophobia (particularly against our Muslim neighbors) comes from Christians is mirrored in the film, which doesn't denigrate religion but does show how it can be a smokescreen for something quite other than loving God and loving neighbor.
So in that sense, I'm glad the film got made, and that many people will see it when it's inevitably released. I'm less impressed by the film itself than I wish I was, though. There's a minor twist late in the film that, to my mind, does not work at all, and doesn't add the emotional resonance the movie clearly hoped it would. And while the performances are great, it's hard to pick out why all the characters exist; at times it felt like a collection of short stories rather than anything cohesive. At a Q&A following the premiere, the filmmakers said that the source material doesn't have much in the way of back story for the characters, so they invented a lot—and, unfortunately, that shows.
However, it's lovely to look at—one of the main plot points involves lush gardens, and it often makes surprising cinematographic choices. And a film starring Margo Martindale can't ever go too wrong. (The film isn't rated yet, but has a couple of profanities and a few sex scenes, one of which includes a brief flash of female nudity.)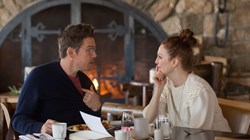 Image: Sony Pictures Classics
Maggie's Plan
Later in the day, I saw Maggie's Plan, which premiered in Toronto last fall but is also screening at Sundance. Directed by Rebecca Miller (The Private Lives of Pippa Lee, The Ballad of Jack and Rose), the film is a comedy that stars Greta Gerwig as Maggie, a young New Yorker who wants to be a mother but has grown disillusioned with the idea that any man will love her long enough to want to have a family with her. So she decides to go the sperm donor route.
But in the meantime, she becomes involved with a married man (Ethan Hawke) who is a leading "ficto-critical anthropologist" (which, Miller told us during the Q&A, "is actually a thing") married to a terrifying, brilliant, tightly-wound Columbia professor (Julianne Moore, doing a hilarious Danish accent) who also teaches critical theory. The film takes a surprising turn from that point—and then another, and another; it also features Bill Hader and Maya Rudolph as Maggie's best friends.
Maggie's Plan seems almost like it was calculated to make certain groups of people dislike it. It certainly feels like a "white people problems" movie, which is to say that everyone is relatively affluent and educated and has good aesthetic taste, which is a small subset of New Yorkers.
But there's something deeply charming about the movie, which pokes the gentlest of fun at everyone, from the parents who are just trying to be cool about everything to Maggie's sweet control-freak tendencies. With a lesser cast, it would have tipped over into caricature.
But one surprising dramatic choice about a third of the way into the film takes the story from conventional forbidden-romance/lessons-learned flick to something much more like a fable—or, as Miller said in the Q&A, to something reminiscent of a Shakespearean comedy of errors, in which we sort of know that everything will turn out right in the end, and most of the fun is in watching how it will happen.
Maggie's Plan isn't really set in our world; it's in a similar parallel universe, where fate is stronger than humans, and if we get off track we'll just get pushed back together again. It's a bit of a fantasy, but it's a fun one, and I'm looking forward to watching it again—maybe after I bone up on my ficto-critical anthropology.
Worth noting about all three films: they're all directed by women, with female-led casts. (In Agnus Dei and Sophie and the Rising Sun, there are barely any big parts for men at all.) Yet they're all very different films, with very different sensibilities, and not at all "movies for women," whatever that means. All three are also ultimately uplifting, in different ways—and that's fairly unusual for a set of Sundance films. It bodes well.
The first weekend of Sundance is about to begin, famous for how crazy it is. The crowds begin arriving in the morning.
Caveat Spectator
Agnus Dei includes disturbing themes, several scenes of childbirth (though it's shot incredibly sensitively, so we see very little), one attempted rape, and a scene in which two unmarried characters are in bed together. Sophie and the Rising Sun includes several sexual scenes that include some nudity. Maggie's Plan involves an affair and includes profanity and frank discussion of sex.
Our Sundance Coverage:
Alissa Wilkinson is Christianity Today's chief film critic and an assistant professor of English and humanities at The King's College in New York City. She tweets @alissamarie.