true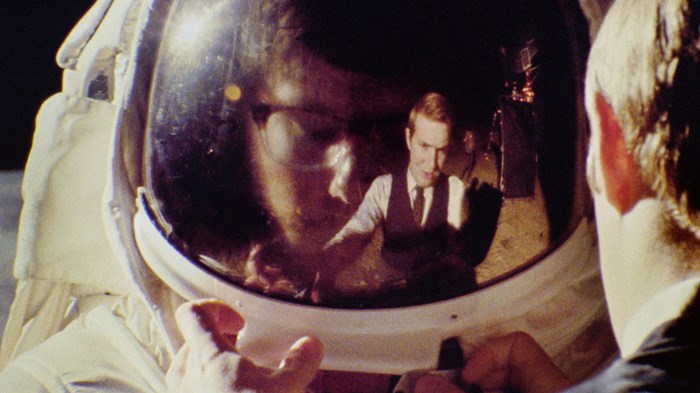 Image: Andy Appelle, Jared Raab
I had a hard choice to make this morning: 9am screening of Swiss Army Man, or 10am screening of Operation Avalanche?
You might already have heard about the former, which is now known as "the movie where Daniel Radcliffe plays a farting corpse." (Yes. That's a thing.)
I think it's very slightly more nuanced than that—I gather from my Twitter feed that Daniel Radcliffe plays a farting corpse that saves Paul Dano when he's shipwrecked, or something like that—and I think the idea of a talented actor playing a dead body for a whole movie is brilliant and gutsy.
But the buzz hasn't been great, so I passed, and instead I went to Operation Avalanche. It was a good decision.
But First, a Digression: So How Do You Get a Press Pass?
A friend asked this on Facebook today, which reminded me that it's not as obvious as it might seem—and in keeping with my promise from yesterday, I thought I'd explain.
Having a press pass to a festival is great. It means you get access to press and industry screenings, which are usually before the film screens for the general public, and (probably most importantly) don't cost you a penny.
Most festivals have a standard system for accrediting press. Generally they require a "letter of assignment" from your editor with details about coverage, plus a series of links to film coverage you've written, a photo (for your badge), and some basic information about the publication you'll be writing for. Generally you submit all this information via an online system and then just wait for confirmation.
Some festivals are easy to get into (especially regional ones); others are quite difficult; the Toronto Film Festival, for instance, to our unending confusion, has stopped accrediting a lot of outlets in the past few years (including Christianity Today, unfortunately). But in general, if a decent outlet (web or print) is willing to assign coverage to you, then you're golden.
When you get to the festival, you pick up a nifty badge and flash it at the door, often after standing in line for a long time. At a festival like Sundance, you're also given a limited number of tickets to public screenings, to increase your chances of being able to see all the films you want to see. The goal is to get press in the door. Especially at Sundance, favorable coverage is key to a film's chances of being purchased by a distributor.
And so my press pass left me in a pickle this morning, but I ultimately picked the film that didn't have a farting corpse.
Operation Avalanche
Operation Avalanche is a mock-documentary purportedly about CIA agents who go undercover with NASA in the mid-1960s, posing as documentary filmmakers, who eventually get embroiled in a plan (of their own making) to fake the moon landing. This is a description, roughly, of my ideal film—so meta it makes my head spin and my inner postmodern-theory professor (which, not incidentally, I'm teaching this semester) sing for joy.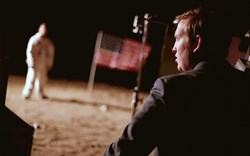 Image: Andy Appelle, Jared Raab
In essence, they fake faking the moon landing, and it is totally great.
The word "mock-documentary" should not be confused with "mockumentary," the style that is probably most associated with Christopher Guest (Best in Show, Waiting for Guffman) on the big screen and The Office on the small one. I love mockumentaries, but they aren't really out to fool you. We all know Jim and Pam don't exist in real life. (They don't, guys. They're fictional.)
By contrast, if Sundance had decided to program Operation Avalanche in the documentary section of the festival, at least a few people would have fallen for it. The camera operators are part of the story, for one—a thing that only really happens in the last season of The Office. There are scratches and blemishes on the film stock; the (presumably) new footage is intercut with stock footage that heightens the feeling of authenticity; the film's star, Matt Johnson (who plays the instigator/director of the moon landing film, under his own name) is also the director of the real fake documentary. (Is your head spinning yet?)
Dramatic irony rules the day: many of the lines the characters speak within the film function as double entendres, both lines for their characters and for us. "Have you heard of a conspiracy theory?" one character asks another. "I think we're in one," he replies. And they're faking the moon landing for patriotic reasons—we have to show up the Soviets! It's the Cold War!—which seems banal, except Johnson sounds very Canadian, and doesn't even bother to hide it.
There is something ultimately sad and even radical about Operation Avalanche. For one, it toys with the idea, often bandied about by media theorists and critics, that history in postmodernity is just whatever we see on TV. "All people want to see is an image on the TV screen, and we can give them that," (character) Johnson pleads with his superiors. If we all see the moon landing and think it happens and thereby win the Cold War, does it even really matter if we actually did?
It's a straight shot from here to the paranoia of The X-Files—relevant, given that show's new episodes premiere this weekend—and it's a paranoia that's only increased in the age of "truthers," something Anna North wrote about in the New York Times this week.
But just as importantly, Operation Avalanche wants us to witness America at the end of the Era of Optimism. You can see the hope, the belief in the rightness of our national project, drain from (character) Johnson as he falls further down the rabbit hole. The fact that the film was actually made a half-century after it's set (again—presumably) makes it even more depressing, though it may also contribute to its veracity.
Which is a funny thing to say about a movie that's (probably) lying about lying.
River of Grass
I headed downtown to see River of Grass, the new restoration of Kelly Reichardt's first film, which premiered at Sundance in 1994. Reichardt has a new film, Certain Women, premiering tomorrow at Sundance—I'll be there—and has long been one of my favorite, grossly underrated American filmmakers (the other two are Jeff Nichols and Ramin Bahrani).
I'd seen all her other films—Old Joy, Wendy and Lucy, Meek's Cutoff, Night Moves—but River of Grass is as good as her best, and though Reichardt apologized before the screening, citing her relative youth when she made the film, it's great.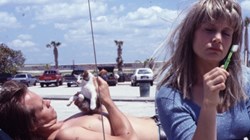 Image: Osilloscope
River of Grass is sort of a retelling of the Bonnie & Clyde myth, but the twist this time is that it's set in the early '90s in the Florida Everglades, and the whole "on the road" thing never really gets off the ground. Even the part with the murder gets messed up. Throughout the film, the two main characters—who are desperately searching for something, anything that will make them feel significant in their profoundly dead-end lives—can't manage to pull anything off. An attempted convenience-store robbery is interrupted by someone else running in and robbing the store first. Several gunshots are fired with middling results.
Yet, true to Reichardt's M.O., these characters on the fringes are treated with good humor, as if they're as worthy of our attention as anyone else. Which is what they wanted all along.
During the Q&A, Reichardt said she made the film for about $10,000 on her credit card ("it took 13 years to pay it off") and sold it to the distributor for a dollar, after which they made one print. So it hasn't been widely seen. But word on the street is that it's finally getting another theatrical release this spring, and her entire filmography is touring Europe this spring as well. So stay tuned.
Jim
My final movie of the day was Jim: The James Foley Story, which will be on HBO soon. It's a remarkable documentary, and something worth watching. The filmmaking itself is largely serviceable, but the story at its core is important.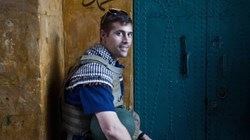 Image: HBO
James Foley, you'll recall, is the journalist who was kidnapped and then later executed by ISIS before we knew enough to have turned ISIS into a prop for presidential campaign promises. (It's startling to hear news reports from merely two years ago in which newscasters are asking one another about what ISIS/ISIL even is.)
But it's even more interesting to hear Foley's story, told by his family (his mother, father, three brothers, and sister), his colleagues in the field of combat reporting, and eventually by his fellow prisoners, most of them European. By all accounts, Foley was a remarkable man, generous, impractical to a fault when it concerned the well-being of others, and the sort of person you absolutely want to have on your side when things go badly.
As it turns out, he also was strongly motivated by his faith as a Catholic. Footage from the time between his first imprisonment and his return to the field captures him talking about how he began praying with his Muslim friends in Libya at their invitation, but in a surprising way. At first uneasy about what he was doing, he says, since he told his friends that he prays to Jesus, he asked God whether he was doing something wrong. His conclusion: "I was authentically praying with them and authentically praying to Jesus."
This theme returns later in the film, when one of his fellow prisoners mentions that Jim and his fellow prisoner "converted" to Islam early in their captivity."It was almost impossible to pray as a Christian," one man remarks, "and he wanted to pray." They explain it in terms of needing the rhythm and structure provided by daily prayers; given Foley's earlier words about the direction of his prayers, we have a better sense of what he was after. (This, it's worth noting, is markedly different from the trajectory in a film like Homeland.)
His faith clearly made a mark on his fellow prisoners—several of them talk about it on camera—but most importantly, it's his character that still leaves them speechless. "He was very good at listening . . . he managed to make the world bigger by becoming smaller himself," one of his closest friends says.
The film is deeply moving, leaving us with the strong impression that Foley was something of a saint crossed with an angel, convinced that moral courage was the basis for journalism and that prayer, family, friends, and love were what he was on earth for. It's a film to watch and ponder, particularly for any person of faith thinking about the role of journalism in a free society.
One last note: the nickname Jim as a title for the film is a great idea—and every other person who appears in the film as a talking head is only identified by their first name, including "Phil," the owner of the journalistic outlet that Foley worked for. It seems, from what they say, that Foley would have wanted to just be considered a regular guy. That subtle tactic works.
It's started snowing here in Park City (which makes me feel a bit of solidarity with my own family and friends back home in New York City and Maryland), and I have a big day planned for tomorrow, which starts with Whit Stillman's Jane Austen adaptation, Love and Friendship. Regency romance ahead.
Caveat Spectator
Operation Avalanche includes some profanities and obscenities, and scenes of danger. River of Grass includes violence, profanity, and obscenity. Jim is disturbing by nature, and there is profanity, but not unduly.
Our Sundance Coverage:
Alissa Wilkinson is Christianity Today's chief film critic and an assistant professor of English and humanities at The King's College in New York City. She tweets @alissamarie.