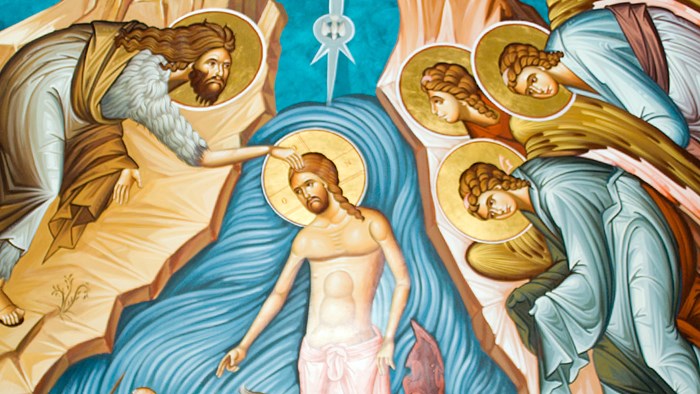 Image: David Bjorgen / Wikimedia Commons
I grew up with a father who couldn't communicate love or concern for me in a way that was meaningful. Whether he was unwilling to do so, I am still unsure. For most of my childhood, my father seemed indifferent to me. In the same way, he was a satellite orbiting my world. I knew he existed, but he was peripheral and seemingly untethered to my day-to-day needs.
Relationships with fathers can get complex. I've wrestled with what it means to extend grace to a parent whose dominant posture toward me was and is apathy. Through prayer, I have sought to forgive my father for his shortcomings, and I have looked to therapists to help me grieve the absence of a father-son relationship that seems out of reach to this day.
But despite all of my efforts to address my pain and longing, I would be lying if I didn't admit to a chronic ache that continues to haunt me in my quiet moments. I ache not knowing whether my father was even on my side.
Still, I have experienced healing, most recently as I prepared to teach on Jesus' baptism as it is recorded in the Gospel of Mark.
The Father's Words for Jesus
Mark tells us that Jesus is immersed in the water, and as he comes up, he sees heaven being "torn open" (1:10). The Greek word used here is schizomenous, the present participle of schizo, which means "to tear or cleave open." It is from this Greek root schizo that we get schizophrenia (i.e., "a torn mind"). It's a violent word that completely altered my image of this pivotal moment in Jesus' life.
I had always pictured this to be a quiet, sacred moment that revealed the unfathomable intimacy between the Father, Son, and Holy Spirit. I had read into the text an easy, unthreatening tone. It is a sacred moment, to be sure. But the use of schizo implies this scene was anything but gentle and discreet.
We witness both beauty and heartache in this text. Before setting his face toward Jerusalem—and toward the cross—the Son is given an outpouring of love and affirmation from the Father. Before one deed is done, one teaching uttered, one miracle performed, the Father tears open the heavens and tells Jesus, "You are my Son, whom I love; with you I am well pleased" (1:11).
While the action was forceful, the Gospels indicate that only Jesus and John see this vision. When John the Baptist told his version of this event, he said,
I saw the Spirit come down from heaven as a dove and remain on him. And I myself did not know him, but the one who sent me to baptize with water told me, "The man on whom you see the Spirit come down and remain is the one who will baptize with the Holy Spirit." I have seen and I testify that this is God's Chosen One. (John 1:32–34)
Yet he doesn't mention a voice. Apparently only Jesus heard the Father.
The Father's words to Jesus came after 400 years of divine silence—the intertestamental period—which generated a growing passion for God to act decisively on behalf of his people and to establish his kingdom. First-century Jews, like previous generations (see Isaiah 64:1), were desperate for God to tear into the status quo and set things right.
Here in Mark's gospel, we see that yearning being fulfilled. In and through Jesus, God is drawing near in a way previously unknown and unanticipated, bringing words of life—words that I and millions who have lived in the shadow of fatherlessness have never heard.
"You are my Son, whom I love; with you I am well pleased."
The Father's Words for Us
As this event reveals, God is the kind of Father who would disrupt the fabric of reality in order to show his Son just how much he delights in and loves him.
But the good news doesn't stop there. This God is our Father, too. While these words were certainly for Christ, they are also for those who are in Christ, those who are coheirs with him.
Other than at Jesus' baptism, Mark uses schizo only one other time:
And at three in the afternoon Jesus cried out in a loud voice, "Eloi, Eloi, lema sabachthani?" (which means "My God, my God, why have you forsaken me?") … With a loud cry, Jesus breathed his last. The curtain of the temple was torn in two from top to bottom. (Mark 15:34, 37–38)
Two tearings: the first so that Jesus' mission to reconcile the world to God would be founded on the Father's love; the second so that we would have access to God and know his extravagant love for us. In both instances, God disrupted reality to reveal his personal, loving nature.
This text has reformed my life in many ways. Because of its reminder of salvation as unmerited gift, I now preach more confidently and intercede for others more boldly. But the biggest reform has been in my family life.
This vision of the Father fighting for me—sending forth his Word so that I might be saved—has broadened my vision of what it means to be a godly husband and father. Growing up, I never had a father whose words and actions communicated love. But now I do. And I find myself emboldened to greater expressions of this love in my family and marriage. From family devotionals to date nights to discussions in the van, I aim to embody and reflect God's unrestrained, passionate, gracious, jealous love for my wife and children. I want them to know that I am on their side, that I am pleased with them, and that I will do whatever it takes ensure their wellbeing.
This short account in Mark's Gospel has done more work within my heart than all the efforts I've embarked on over the last decade. My father wound—and the sadness, anger, anxiety, and weakened confidence that accompany it—is being healed by the experiential knowledge of God's active love. I'm learning to live with the words of the Father echoing in my heart: "You are my son, whom I love; with you I am well pleased." I'm learning to live in light of the truth that I have a Father who fights for me, who would tear open the heavens for me if necessary—and when it was, did.
Jeff Strong is a pastor at Nelson Evangelical Covenant Church in Nelson, British Columbia.