Image: Dorret / Flickr
This week marks Martin Luther King Jr. Day and the 43rd anniversary of Roe v. Wade. Today, abortion remains legal while a series of national stories involving police brutality against African American men and women have revealed to many another layer of inequality within the American criminal justice system. As evangelicals continue to find common ground with these causes, we asked those who have previously either spoken up on behalf of the #BlackLivesMatter or pro-life movements what the two can learn from one another.
Here's what they had to say.
R. Albert Mohler Jr.
President, The Southern Baptist Theological Seminary, Louisville, Kentucky
If committed to the worldview of Scripture, both #BlackLivesMatter and the pro-life movement ground their moral urgency in the fact that every single human being—regardless of race, ethnicity, condition of life, or stage of development—is an image bearer of God. In this sense, there should be both common ground and common support. #BlackLivesMatter needs to be concerned about the racial disparity in abortion in America, and the pro-life movement has to remember that the sanctity of life means all of life.
Michelle Higgins
Director of worship and outreach, South City Church, St. Louis, Missouri
Pro-life and #BlackLivesMatter [are] de-centralized movements founded on principles that offer an answer to the call of dignity for the Imago Dei. Believers who affirm the God-honoring parts of both movements have learned that our fight is with systems, not people. We hold loosely the prescriptions of those who have not touched these traumas. We have chosen to learn from the true experts: the people most impacted by the injustices we fight.
Karen Swallow Prior
Professor of English atLiberty University, Lynchburg, Virginia
I did not spend years standing outside abortion clinics pleading for the lives of little black babies only for these babies to be born into a world that would deny their dignity and worth—and sometimes their very lives—because of the color of their skin. Those of us who hear the cries of the unborn must not turn deaf ears to the cries that black lives matter, or blind eyes to the injustices that give birth to these cries.
John Perkins
President and founder of the John & Vera Mae Foundation for Reconciliation and Development, Jackson, Mississippi
The work of biblical justice requires that we recognize the image of God in every created human being: born and unborn, black or white, rich or poor. Today I celebrate the legacy of Dr. King Jr. who urged us as a nation to value black lives. This day, I also lament the loss of every unborn and unwanted baby since the passing of Roe v. Wade. May we imagine a nation where every life can flourish and each do our part to make this dream a reality.
Samuel Rodriguez
President of the National Hispanic Christian Leadership Conference, Sacramento, California
#BlackLivesMatter can transition from socio-political advocacy to prophetic activism by embracing the quintessential moral imperative in defense of the innocent: all life carries the image of God without exception.
Correspondingly, the pro-life movement can learn from #BlackLivesMatter that a genuine "life" movement must be comprehensive, without myopia. Our "pro-life" ethos must defend the sanctity of life from the womb to the tomb and repudiate all violence in the womb and in our streets.
Jemar Tisby
Director of the African American Leadership Initiative at Reformed Theological Seminary, Jackson, Mississippi
The #BlackLivesMatter movement raises urgent issues about the dignity of black people. They see the injustice embedded in institutions and systems. Yet they fail to appreciate the effects of total depravity on every person. The pro-life movement also speaks to human dignity, but they see injustice in mostly individual terms. The #BlackLivesMatter and pro-life movements demonstrate that both personal morality and systemic reform are needed for gospel transformation.
Noel Castellanos
CEO & President, Christian Community Development Association, Chicago, Illinois
On this 43rd anniversary of Roe v. Wade and the celebration of the legacy of Dr. Martin Luther King Jr., it is imperative that we not miss the core commitment to respect the sacredness of every life that we are reminded of today. When we lift our voices to advocate for justice on behalf of black and unborn lives, we practice the kind of faith that pleases God and ushers in a foretaste of the kingdom in our society that devalues the lives of the vulnerable.
Katelin Hansen
Director of experiential learning at Church for All People, Columbus, Ohio,writer at By Their Strange Fruit
If Christians are serious about being pro-life, it means we must absolutely guard the lives of those that are targeted by systemic and institutionalized racism. Black lives matter is a pro-life statement, a statement that prophetically declares that the lives that are most often targeted by systemic injustice are worthy of special protection. It affirms that we will protect the children of God that are killed unjustly. If we choose life, we must declare that black lives matter and then act accordingly.
Gabriel Salguero
President, National Latino Evangelical Coalition, New York, New York
Leaders in the pro-life and #BlackLivesMatter movements can appreciate a fundamental shared conviction in human dignity. Both movements can learn from Dr. King's commitment to non-violent protest and civility. Christians in these movements must remain committed to non-violent protests while respecting the dignity of those with which we disagree. If we shy away from facile partisan politics of left and right and stay committed to a gospel-centered agenda of human dignity, we need not choose between life in or out of the womb.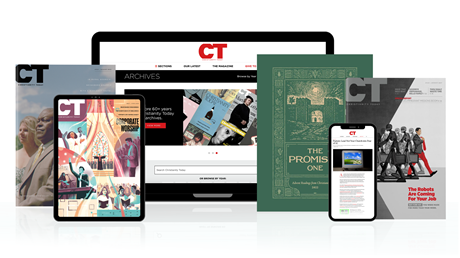 Annual & Monthly subscriptions available.
Print & Digital Issues of CT magazine
Complete access to every article on ChristianityToday.com
Unlimited access to 65+ years of CT's online archives
Member-only special issues
Subscribe
What Can the #BlackLivesMatter and Pro-Life Movements Learn from Each Other?
What Can the #BlackLivesMatter and Pro-Life ...