true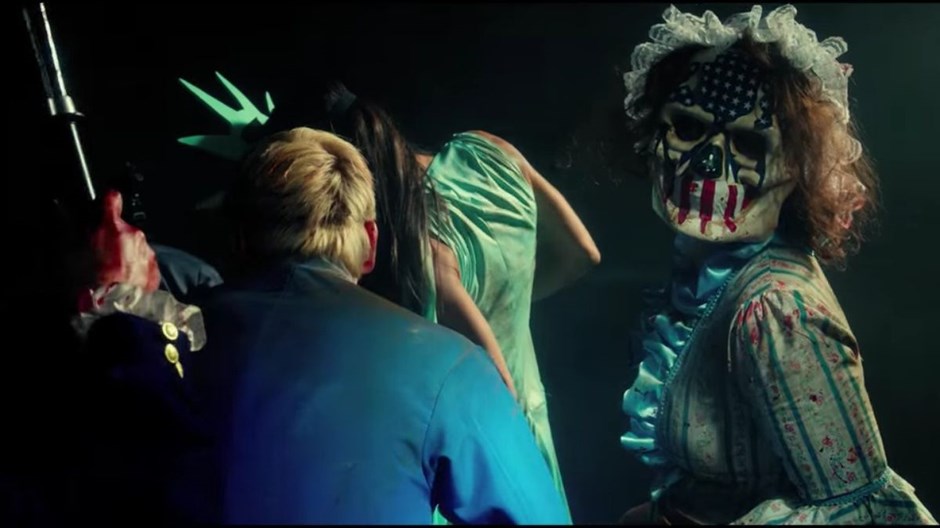 Image: Universal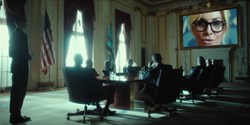 Image: Universal
Few, if any, of CT's readers probably ought to see (or bother seeing) The Purge: Election Year. Like its predecessors (The Purge and The Purge: Anarchy), its world is drawn thinly in ways that don't actually help the very interesting concept of the plot: that in an alternate universe very close to our own, the U.S. is ruled by the NFFA—the New Founding Fathers of America, a party of apparently mostly white guys who got sick of "hypocrisy" and believe that instead of sublimating our aggressive urges, we ought to just let them all out in a twelve-hour annual "holiday" where all crime is legal, including murder.

Lest you complain that this seems unsubtle, be warned, there is nothing subtle about The Purge. The idea obviously draws on some Foucaultian idea that outright violence, in a strange way, is more "civilized" than the faux-humane social engineering of an oppressive surveillance culture—an idea the film both rebuts and seems to accept. (Drones show up in this one, by the way.) The people who suffer most from The Purge are the poor, defenseless, and homeless, who can't defend themselves and make for easy targets. And the winners are not those who manage to survive the night, but those who participate and thereby "cleanse their souls," according to the NFFA leaders. The crime rate during the rest of the year has apparently dropped. And the elite leaders like this. It's their own version of a social safety net.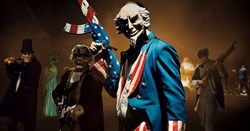 Image: Universal
The Purge: Election Year obviously capitalizes on our own electoral chaos, trying to tap into racial and class politics while putting up a candidate the NFFA wants to squelch, preferably permanently: a senator who lost her family in the Purge eighteen years earlier and is now running for president of the U.S. on the platform of eliminating the Purge altogether. A group of white supremacists have been hired by the government to find her and deliver her on Purge night, and she is protected by her faithful security guard, a contingent of African-American business owners and vigilantes from her D.C. neighborhood, and a Mexican immigrant. Also there is something with a creepy priest and a blood cult.

Like I said: not really subtle.
There are lots of cool directions a movie like this can go. For instance: does engaging in sanctioned, unfettered violence actually reduce crime the rest of the year? (The film briefly verbally denies this, but seems to imply it elsewhere.) Is the American experiment worth sustaining? Is redemption possible? Is violence a tool for coercion or self-expression? What about so-called "murder tourism"? And is mainstream media complicit?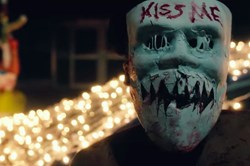 Image: Universal
But The Purge: Election Year loses track of its own metaphor by its end, veering off into vague intimations of religious violence as another control mechanism (why the priest needs to look like a vampire is anyone's guess), and turns out to have much less to say about violence and civilization than, say, The Hunger Games. The senator everyone is out to protect is a little too obviously an avatar for some voters' conception of a Bernie Sanders type, and the movie is a little too eager to get to the chases and the violence to introduce any sort of nuance into its story. It's sort of like a promising undergraduate who loves bloody horror got woke and decided to make a film about what is really going on in politics (you can practically hear the wake up, sheeple whispers around every corner).
Too bad. Whether or not it's your cup of tea, horror of this sort can make startling, provocative arguments about our real-world politics; the Purge is, after all, a yearly apocalypse in a dystopian future. There was something worth saying here. And right now, we dearly need biting social critique wrapped in a package that's palatable to a mass audience.
Caveat Spectator
Blood, destruction, graphic violence, very frightening images, lots of bad words (both coarse obscenities and profanities): The Purge: Election Year richly deserves its R rating. But I don't think you were expecting anything else.
Alissa Wilkinson is Christianity Today's critic at large and an assistant professor of English and humanities at The King's College in New York City. She is co-author, with Robert Joustra, of How to Survive the Apocalypse: Zombies, Cylons, Faith, and Politics at the End of the World. She tweets @alissamarie.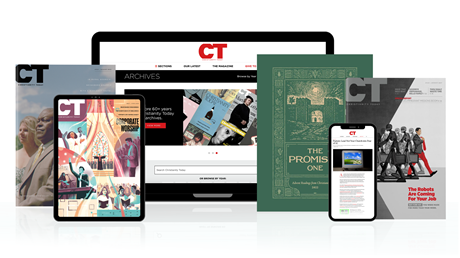 Annual & Monthly subscriptions available.
Print & Digital Issues of CT magazine
Complete access to every article on ChristianityToday.com
Unlimited access to 65+ years of CT's online archives
Member-only special issues
Subscribe
The Purge: Election Year
The Purge: Election Year