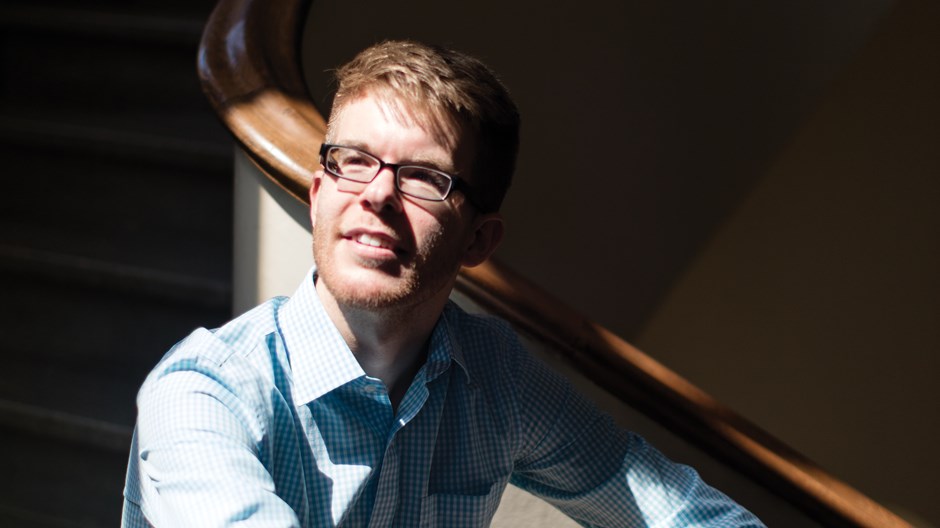 Image: Chris Strong
With adrenaline rushing, I walked through the main student hangout at Wheaton College holding a piece of paper, trying to find someone I could talk to.
It was a Thursday afternoon in April of 2013. As I passed through the Beamer Center a second time, I found a fellow member of Wheaton's improv club. I told him I was trying to decide whether to post the piece of paper on Wheaton's communal forum board, which many students used to communicate with the whole campus. After I hesitated, together he and I walked over to the board. He moved around other papers to make a space for mine. I gave the sheet to him, and he put it on the wall.
I tried to walk normally back to my dorm, but my insides were churning. This was the second semester of my final year of undergraduate work, and I was finishing in just three years. After a decade of experiencing exclusive attraction to men, I wrote, "the closet has started to seem too stuffy for me." My post went on:
Lately, I've asked myself how I could do more to improve the atmosphere at Wheaton for other gay students like myself. I'm a male exclusively attracted to other males, and have struggled with anxiety and depression from my time in high school. From stories that I heard while growing up in a fundamentalist culture, I thought that all gay Christians had no option but to ignore their orientation as much as possible and pray that God would make them straight. However, after eight years of trying this, I'm still gay. This has not impeded me from continuing to love God, and he continues to palpably reveal himself to me. …

I could have said this on Wheaton Confessions, but anonymous posts only help us to see that some general students share our experiences. I prefer to see the specific individuals who do. That way, we can all help one another directly.

For anyone else who prefers to know the individuals, here I am in more light, after opening the closet door and walking into the lounge area. Now I said it, and no one will have to keep playing the guessing game.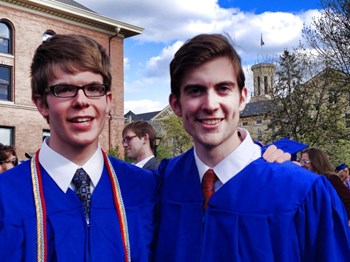 Image: Courtesy of Tyler Streckert
I saw a light at the end of the tunnel, and it meant telling the Wheaton College community that I am gay. Many people far away from the campus think that Wheaton would be the worst place to be gay. While my experience does not speak for everyone's, it is an important story. The way Wheaton responded to me can be a model for other evangelical institutions. For it wasn't just about being accepted for who I am, but also about thriving as a Christian.
No Longer Inside My Head
Since beginning to notice attraction to other boys in fifth grade, I felt that I could change by my own willpower. Every time I experienced feelings for a boy, I would pray and repent. During high school, I worked hard and slept little, but my exhaustive self-scrutiny led to consistent thoughts of suicide while finishing homework late at night. Telling anyone about my attractions was out of the question. I had resolved to deal with everything on my own. Whenever feelings for a man arose, I thought, This won't happen again, or, God will make me stop having these. As my feelings for men persisted, my fear and introspection only increased.
Growing up among conservative Christians, I learned that faithful Christians were qualitatively different from gay people. I distinctly remember one moment early in college when my grandmother and I were talking on the phone. She asked, "So what have you been thinking about lately?" I skipped over the main thing—my sexuality—and talked instead of my independent research on Queen Victoria and Prince Albert. Later I wondered: Why didn't I tell her? Why am I doing this to myself?
That year I experienced so much digestive trouble that I took chamomile capsules and two antacids almost every day. My stomach would tighten and I would pace around my room for hours, unable to sleep. In the daytime, if I tried to take a nap, I would lie there in the dark, my mind racing.
I felt that I could not form close connections to the other men on my floor. Such a compulsive paradigm isolated me further from people who would have wanted to help.
By far the worst aspect of my college experience was the dorm's group bathroom. At the beginning of the year, most shower stalls had two curtains. One hung past the entrance to the water spout, and the other hung a few feet farther out, past a small bench where we could put clothes and a towel. As the year progressed, some of the curtains would rip and fall down. I always tried to use an area with both curtains intact, because I feared falling into sin. Afraid of homosexual thoughts, I felt that I could not form close connections to the other men on my floor. Such a compulsive paradigm isolated me further from people who would have wanted to help.
The day before I posted the note on the forum wall, I woke up in the morning and directly confronted my fear and detachment. I started writing, convicted that nobody could know, help, or begin to understand the experience of gay students if I didn't share what was happening inside me.
I put my contact information at the end of the one-page post, with an invitation to talk. I received many responses—all of them positive. On the forum wall, students wrote encouragement in the margins and between paragraphs, with messages like, "Thank you so much for saying this," and, "You are loved." An acquaintance stopped me in the hallway and said, "That took a lot of guts. I want to support you, or whatever." One student anonymously texted me that he and I had lived on the same floor the previous year and that he was also attracted to men. He gave me best wishes on being open.
The encouragement didn't just come from fellow students. I emailed the post to the professor who was supervising me on my undergrad thesis. He replied, "Thanks so much for forwarding this document. It shows great courage and strength of character. I am happy for you and grateful for your honesty and candor!" He would go on to tell me that my voice was needed in the larger conversation about the LGBT community and the church. I felt relieved that I no longer had to live inside my own head.
Meeting with the Provost
Upon starting graduate classes in the fall of 2013, I resolved to stay engaged in the Wheaton community. It was only my fourth year of college, and at age 21, I did not feel distant from student life.
Days before the start of classes, while walking around Chicago with two other students, I ran into a new editor at The Wheaton Record, the college's student newspaper. She said the newspaper needed people to write before Wednesday, when drafts would be revised and finalized for print. As an incentive, she had meal tickets; not dissuaded by a free meal, I said that I would have an article to her promptly.
Upon my sending in the first draft, the editor emailed to say she was grateful for my willingness to share such a personal story. I went to the Record office that evening, and she and I spent an hour revising the article. Together we decided on the title "Closets and Wardrobes"—a play, of course, on Lewis's wardrobe in the Chronicles of Narnia. She and I shared many laughs, and she asked what song she should sing at her audition for an a cappella group. After finalizing a draft in which I would come out to the campus, we sang several songs together late into the evening.
Three years since writing that first editorial, I don't remember ever having such a meaningful connection with my Christian peers as I have now. My piece appeared that Friday, in the first week of classes. In an email with the subject line "Gratitude," Timothy Larsen, a professor of Christian thought, responded, "Many thanks for your honest and thoughtful editorial in today's Record … I have thought a great deal about this issue and experience." Another professor, who had supervised my summer in Spain, also sent a message of thanks. Students stopped me in the hallways with words of encouragement.
Drawing from personal experience, I went on to publish five Record articles about sexual orientation and Christianity. I never heard of any community member reacting negatively to my writing.
A year and a half ago, Wheaton made national headlines when a student threw an apple core at another student who, in an all-campus forum, questioned the college's traditional teachings on sexuality. Upon hearing the story, I immediately knew that the apple-thrower was an outlier. I have never come into contact with anyone acting remotely close to this.
After my second piece ran in the Record, I received an email from provost Stanton Jones, the former chair of Wheaton's psychology department, who has written extensively on sexual orientation and psychology. He said he was intrigued by my essays and applauded my courage and my evident commitment to Christ. Then he asked if I would be available to chat.
We met later that week. Upon entering the suite of administrative offices, his assistant told me to have a seat in the waiting area. Within a few minutes, Jones graciously shook my hand before we walked into his office and sat down to chat. To my surprise, we hit it off right away.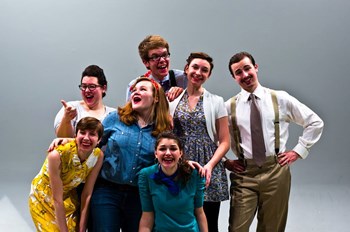 Image: Courtesy of Tyler Streckert
Jones's amiability and openness quickly put me at ease. He established his respect for me by saying that he had reread my articles. "This is exactly how I would hope students at Wheaton College would respond," he said. This, before he knew my views on whether or not I should be allowed to have a relationship with a man. Near the end of our conversation, we did discuss the ethics of same-sex relationships, since he has studied the psychology and ethics of homosexuality for much of his career, and only then did I articulate my celibate place. But Jones's primary aim was to get to know me.
I had been led to believe that Jones would take issue with me being so public about my same-sex attraction. I had heard statements like, "Is Stan Jones getting in the way again?" and "Oh … Stan Jones." These responses came from people who disagreed with some of his scholarship rather than from people who knew him personally.
Jones's witness attests to Jesus' love and mercy. His desire to hear my story made a far greater impression than his scholarship would have. At the end of our hour, as we again shook hands, he asked if he and I could have a follow-up lunch. I accepted. We have shared meals together regularly ever since.
Modeling Integrity
Several weeks after these interactions, someone critical of the college asked me, "So has anyone taken you aside and asked about your relationship with Jesus?" Translation: Have college authorities tried to find out whether you are a "real Christian"? In a tactful way, I had to respond that no one had. Throughout the process, almost everyone whom I've known in the community has been levelheaded and helpful.
For Christian communities to encourage gay people to remain celibate, they will have to model the implications of their teachings. Whether gay or straight, this means valuing celibacy to an equal if not greater degree than valuing marriage.
Meanwhile, I have tried to act with humility and confidence from a distinctively Christian perspective, while accepting the reality of my attraction to men. Regarding both my approach and the reactions of others, 2 Timothy 1:7 comes to mind: "For the Spirit God gave us does not make us timid, but gives us power, love, and self-discipline." These are positive results of the Spirit's activity and of the application of the inspired Word. We do not have to feel isolated and fearful of other people. As Christians, we can act in the courage and grounding that the Spirit instills.
I am assured that the Wheaton community will continue to want me as part of their lives. This is my family and my community. When anyone inside Wheaton only turns to media outlets to express anger against the institution without speaking first to the Wheaton community, I have trouble with their approach. Arguing and debating, whether in person or online, seldom edify to the same degree that heartfelt, in-person conversation does. Referring to the unceasing, impassioned arguments around gay marriage, another gay friend and I jokingly say, "Ha, the debate." Two sides could endlessly make arguments against each other and never reach agreement. Building credibility and relationship is necessary for speaking the truth in love.
Wheaton College has been an example of how Christian community can provide love, care, and support to someone in a vulnerable position. For Christian communities to encourage gay people to remain celibate, they will have to model with integrity the implications of their teachings. Whether gay or straight, this means valuing celibacy to an equal if not greater degree than valuing marriage. On Facebook, through sermons, and in conversation, they must highly esteem Jesus' celibacy. They will have to model in word and practice that all humans need love and connection—and not primarily in marriage and dating relationships. If this does not occur, LGBT Christians will not be convinced. No one likes a double standard. Since it is indeed not good for anyone to be alone (Gen. 2:18), gay people will not have God's best for them until they find intimate companionship, along with respect for their experience and unique vocation.
After coming out six times over three years to the Wheaton community, I have become more thoroughly integrated among the people and, in complex ways, more aligned with the college's mission. This has happened because of, not in spite of, my coming out. During my student years at Wheaton, I became healthier mentally, intellectually, socially, emotionally, and spiritually. When I tried to keep my orientation secret, I isolated myself from the very people who would love and accept me. When I stepped into the light in exhaustive honesty, I found a community marked by patience and grace. They will be loyal to me no matter what anyone says, and they form a life-giving part of my identity today.
Tyler Streckert graduated from Wheaton Graduate School in 2015 with a master's in history. He currently lives in Wisconsin.
Have something to add about this? See something we missed? Share your feedback here.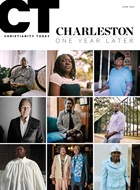 This article is from the June 2016 issue.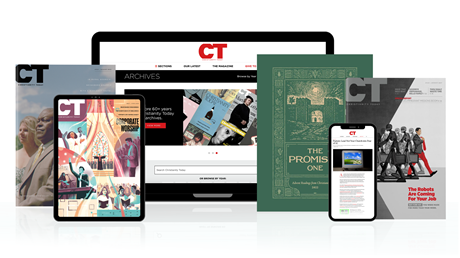 Subscribe to Christianity Today and get access to this article plus 65+ years of archives.
Home delivery of CT magazine
Complete access to articles on ChristianityToday.com
Over 120 years of magazine archives plus full access to all of CT's online archives
Subscribe Now
What It's Like to Be Gay at Wheaton College
What It's Like to Be Gay at Wheaton College