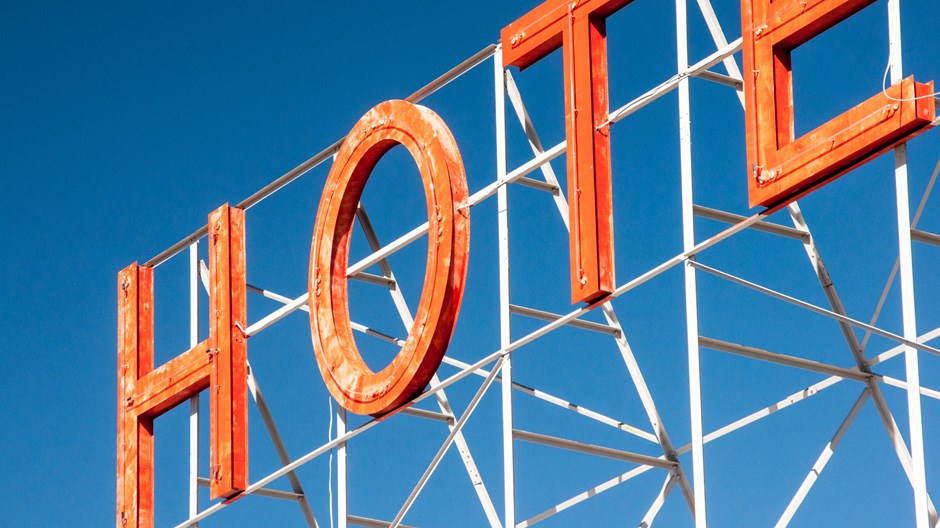 Image: Ryan McGuire / Gratisography
"I wake up pumped that I get to go to work. It's a perfect fit for me."
You might assume that Dave Collins spends his days in a high-powered, prestigious profession, but the Colorado native's job is simply to keep a hotel lobby clean and answer room calls. Collins, 57, is a housekeeper at the Denver Marriott, a 600-room business hotel next to the Colorado Convention Center.
His joy in serving Marriott guests starts with his own journey. Two years ago, Collins reached a low in his battle with alcohol abuse. He lost his job, then his home, before checking into the Denver Rescue Mission, a large faith-based nonprofit.
"I shouldn't even be alive for all I did," Collins recently told me. "God had a plan for me, though. As Jerry Garcia said, 'What a long, strange trip it's been.' Everything I've gone through has been to make me who I am and put me here to serve others."
As someone who has known life without a place to live, he understands others wanting a place to call home, even if for one night.
Hospitable Posture
Collins, the son of a military father, has lived most of his life in Colorado, growing up near the Air Force Academy in Colorado Springs. He worked warehouse jobs for close to 25 years before his renewal of faith and transition to Marriott.
Kindness exudes from Collins's face as we meet over lunch at the hotel lobby café. Housekeepers, front desk staff, and waitstaff stop by to say hello. Collins, who celebrated one year on the job last month, is like a celebrity among his co-workers.
"When does a job feel meaningful? Whenever it allows us to generate delight or reduce suffering in others," writes contemporary philosopher Alain de Botton.
Generating delight and reducing suffering is at the center of Collins's work. Hospitality is an industry, but for Collins it's also a posture. Sharing the Latin root word as hospital and shelter, hospitality defined simply is caring for people. Collins cites God's admonitions to Israel to provide for sojourners and travelers as the primary source of motivation for his own work. Throughout the Old Testament, he notes, we read countless examples of God instructing his people to make provisions for sojourners. For those on the path from one place to another.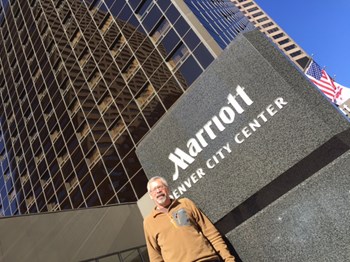 Image: used by permission
Collins serves guests in the ways he has experienced Christ serving him on the cross and in the ways fellow Christians have demonstrated hospitality. The community at Denver Rescue Mission helped him rekindle his faith and gave him shelter when he had none. Their aptly named Work Therapy program introduced Collins to housekeeping.
Also significant in Collins's life has been Fellowship Denver, an Acts 29 church founded in 2006. He credits the church's small group for much of his progress. They helped him purchase clothing for his Marriott interview. Each week, he joins the group to study the Bible, pray, and enjoy good food.
"Dave has such gratitude for God's grace and the miracle God's worked in his life," said small group leader Patrick Creedon.
Cleaning hotel rooms can be dirty business. Spring breakers and partiers show fleeting concern for the housekeepers responsible to clean up after them. From Colorado's rowdy April 20 ("4/20") celebrators to friends looking for the quintessential "hotel party," staff see it all. Collins has encountered rooms packed with extra sleepers, intoxicated guests, and everything in between.
Recently a guest contracted debilitating food poisoning, and the sickness created a mess throughout the room. Collins chose to see the unpleasant situation as an opportunity.
"I changed her sheets for her and asked if there was anything I could do," he said. "Our restaurant sent up crackers and water, and we tried to make her as comfortable as possible."
Low pay is another challenge for many in the hotel industry. Marriott recently rolled out a global tipping initiative to encourage guests to tip their housekeepers. But even with tips, salaries for the 444,200 housekeepers nationwide average $22,740, below the national poverty line for a family of four. According to Collins, though, his salary and benefits exceed his expectations and are sufficient for his needs. It is the culture, he says, not the compensation, that makes his job meaningful.
Culture of Service
A service-centered culture anchors the world's best hotel chains. Marriott and its Ritz-Carlton luxury hotel chain are considered by analysts to be the industry standard bearer for customer service, regularly topping charts from both employees and guests. The secret to these hoteliers ensuring housekeeping work is meaningful, not menial, lies in the way they frame housekeeping. For these companies, purpose starts with elevating the dignity of service. Ritz -Carlton refers to all their staff members as "ladies and gentlemen serving ladies and gentlemen."
In his important management research, Daniel Pink outlines the three ingredients of motivating employees: purpose, autonomy, and mastery. For social workers, counselors, and pastors, deriving meaning from work isn't so hard. For men and women stocking toiletries and scrubbing toilets, finding meaning can be more elusive. Marriott and Ritz-Carlton have attempted to solve this by stressing that meaning can be found in all types of work.
In the broader "faith and work" movement, the overriding focus is on professional and white-collar jobs. Overlooked are the millions of people not working in cubicles or office towers. For many Christians, particularly, the work of our hands—in construction, housekeeping, machining, and cooking—is often cast as less eternally or socially significant than work done from laptops and lecterns.
In an age of unprecedented choice for the educated and privileged labor force, meaning is defined almost exclusively by what workers do, not by how they do it or by who they do it for. Collins, though, sees his work as an extension of his love for Christ. For Collins and his fellow housekeepers, service is the purpose.
"I feel like I'm a doorway to to show our guests how much they are appreciated," says Collins.
In these companies, autonomy is emphasized. Managers empower housekeepers to be decision-makers. They entrust housekeepers to figure out how to best serve guests. Housekeepers respond to requests and predict needs based on what they believe will best fulfill the hotel's mission.
Housekeepers also develop mastery of their craft. Many of Collins's colleagues are expanding their expertise and breadth of abilities, resulting in little turnover among the 40 members of the housekeeping staff in the past year. The staff who left have taken jobs at other Marriotts.
"I've never had a job where I've been treated like this, where I've been treated this well, where I wasn't treated like a piece of meat," says Collins.
Marriott boasts industry-leading employee retention rates. It's a company few people want to leave. And an engaged workforce is good for business. High levels of employee engagement and a commitment to customer service drive profitability and sustain the good hospitality jobs at companies like Marriott.
After a year of Collins faithfully practicing hospitality, Marriott awarded him for his service. At a swanky banquet hall, he was given the "Employee of the Year" award for his joyful service.
"We're so lucky to have David here," said his supervisor, Jonathan Adrian. "We need many more people just like him."
Steve Swihart, chaplain at Denver Rescue Mission, agrees. "The people he works with have affirmed that the work he is doing is meaningful. He takes absolute delight in serving. He views his work as a ministry, as a way of serving God."
"I have a lot to do," reflected Collins. "I need to continue to show God's love to others. There are a lot of people who haven't yet seen it."
Chris Horst is vice president of development at HOPE International, author of Mission Drift, and founder of dadcraft. You can connect with him on Twitter, @chrishorst. The Work of Our Hands is a CT web series that spotlights spotlight Christians bringing truth, goodness, and beauty to their workplaces and sectors of influence. Read our first article in the series here.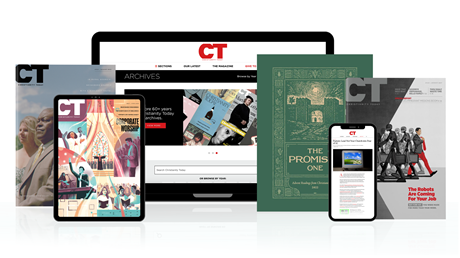 Annual & Monthly subscriptions available.
Print & Digital Issues of CT magazine
Complete access to every article on ChristianityToday.com
Unlimited access to 65+ years of CT's online archives
Member-only special issues
Subscribe
Showing Hospitality to Strangers and Spring Breakers
Showing Hospitality to Strangers and Spring Breakers