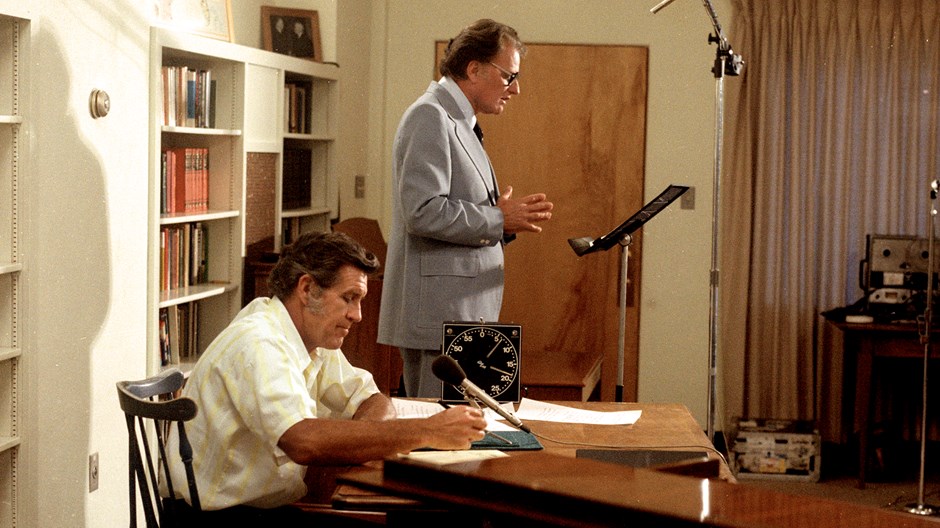 Image: Erik Ogren / BGEA
Last week, the world lost another giant of the faith, Rev. Cliff Barrows, 93, who passed after several months of declining health. Following a public funeral service today at a church in Charlotte, North Carolina, he will be interred nearby in a private ceremony on the grounds of the Billy Graham Library.
Much has and will continue to be written about Cliff's legendary life and legacy, including his longstanding friendship and partnership of more than six decades with evangelist Billy Graham and soloist George Beverly Shea. Together, this iconic gospel trio were instrumental in transforming millions of lives in unprecedented ways as they proclaimed Christ to the world. This short piece, however, is more personal in nature.
I first met Cliff early on in my tenure as director of media and public relations and personal spokesman for Billy Graham, at the completion of a media tour in Los Angeles. We were introduced in a hotel lobby by the evangelist, and then Cliff and I rode the elevator together up to our rooms. I was both in awe and nervous in the presence of this man of God (who I had admired since my days at Wheaton College). I was uncharacteristically at a loss for words and resorted to humor to set myself at ease.
"You know, Mr. Barrows, this is one of the nicest hotels in which I have ever stayed," I remarked. He looked perplexed, perhaps reflecting on many better properties at which he'd stayed in his decades of world travel. I quickly added the punch line, "The towels are so fluffy, I can hardly shut my suitcase."
With his signature sincerity, Cliff's countenance shifted. He replied, "Larry, you are working for Mr. Graham now, and everything you do is a reflection on him."
I took one for the team, remaining silent. It wasn't until earlier this year that I was able to share through his stepson that it was a joke.
Over the course of serving together in crusade evangelism for more than 33 years, I came to know Cliff as more than a ministry colleague. He became a close friend and spiritual mentor. He and his wife, Ann, have been an example to me of what God can do through lives totally yielded to him.
Cliff and Billy Graham began in youth evangelism, with the mantra, "Geared to the times, but anchored to the Rock." Putting the gospel in a cultural context remained a priority throughout their ministry together and became increasingly relevant as new technologies emerged. In fact, it was then-85-year-old Cliff who inspired me to legitimize and resurrect my dormant Twitter account, prompting my first tweet in 2009.
I have often referenced Cliff as the "Yul Brynner of Evangelism," the veteran actor who made each of his more than 4,000 Broadway performances of The King and I look like opening night. Similarly, Cliff approached each crusade with the enthusiasm, joy, and dependence on the Lord as if it were his first.
Two years ago, my wife and I were privileged to participate in what was billed as Cliff's final public ministry appearance. He was officiating a ministry weekend at The Billy Graham Training Center, near Asheville, where I introduced my pastor, Pete Briscoe, as the guest speaker. Modeling a compassion for people and a passion for evangelism evident throughout his career, Cliff began the first session praying for an attendee's son with terminal cancer and closed the last meeting with a heartfelt salvation invitation.
It was bittersweet for me to see Cliff, a seasoned nonagenarian cowboy, ride into the sunset after so many years of active ministry. That weekend, retiring New York Yankees great Derek Jeter hit a walk-off single to win the game in his last at-bat in Yankee Stadium, but Cliff Barrows walked off with a "home run" overseeing what he called a "spiritual Mayo Clinic."
Cliff also exhibited a joyful countenance, a grateful spirit, and a pastoral heart of compassion; he never forgot a name despite the myriad people he met. He was a man of constant prayer and a fervent student of the Bible.
When I last saw Cliff in person, he spoke of his lifelong commitment to Scripture memorization. That discipline benefitted him especially in his later years when his eyesight deteriorated. He shared with me one of his favorite passages out of his ever-present pocket New Testament: "I have hidden your word in my heart that I might not sin against you" (Ps. 119:11). He also recited his life verse, Philippians 3:10, which summarized his consistent mission and driving purpose "…that I may know Christ, and make him known."
When I asked Cliff how I could pray for him, he replied, "That the joy of the Lord is our strength and our song, and that I would continue to be an encouragement to others." He surely has been that to me.
I last spoke with Cliff by telephone in April, when I called to wish Ann birthday greetings. He came on the line to say, "God has given you a wonderful gift," reciting from Proverbs 18:16, "A gift opens the way and ushers a man into the presence of the great."
Before we hung up, Cliff also shared with me the words of King David to his son, Solomon, from 1 Chronicles 28:20. It is a verse of reassurance he said he spoke to Graham at my first crusade in Baltimore in 1981. "Be strong and of good courage, and act. Do not be afraid or dismayed; for the Lord God, my God, is with you" (NRS).
Cliff's last words to me were the final portion of that verse, which I noticed curiously was the text of @CliffBarrow's final tweet: "He will not fail you or forsake you. He will see to it that all the work is finished correctly" (NLT).
After nearly 70 years of active ministry, this faithful servant will be missed, but he won't miss a beat. He has graduated from leading crusade choirs to directing a band beyond description, with the celestial hosts of Jehovah's favorite choir, where the music never stops. Well done, brother.
Larry Ross is president of A. Larry Ross Communications, a Dallas-based media/public relations agency that provides crossover media liaison emanating from or targeted to the Christian market. For more than 32 years, he served as director of media/public relations for evangelist Billy Graham—over one-half of his public ministry.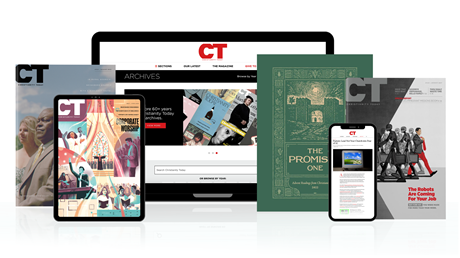 Annual & Monthly subscriptions available.
Print & Digital Issues of CT magazine
Complete access to every article on ChristianityToday.com
Unlimited access to 65+ years of CT's online archives
Member-only special issues
Subscribe
The Cliff Barrows I Knew
The Cliff Barrows I Knew