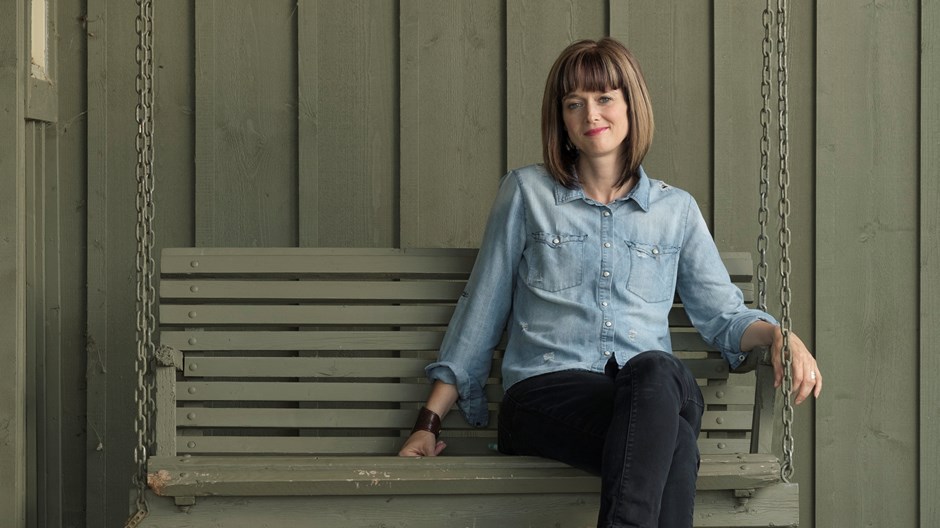 Image: Jonathan Bielaski
If you want to know Ann Voskamp, you first have to know her land. Specifically, the county of North Perth (pop. 12,600), 90 minutes west of Toronto, Ontario. It's where the mother and writer will spend her whole life—because she is adamant she will die in the same place where she was born.
North Perth's hayfields and rolling hills belong to farmers who wake at 5 a.m. to work the land that belonged to the grandfathers of their grandfathers, who emigrated from the Netherlands and Ireland and who never set their ambitions on anything more than dwelling in the place God gave them. These people live close to the ground, like Adam ("groundling"), only they can also make a wicked Dutch butter cake.
This land is one reason—despite her appearance on the New York Times bestseller list for 60 weeks, her ability to alone raise a million dollars for refugees, and her ubiquity on Christian bookshelves and Facebook feeds—Voskamp still won't call herself a writer. She says that she's a "wait-er"—"I have to wait on the Lord for words." Even her name is plain, she says, "without even the fanciful e." Amid her remarkable success since her 2010 breakout, One Thousand Gifts, these farms and fields ground her.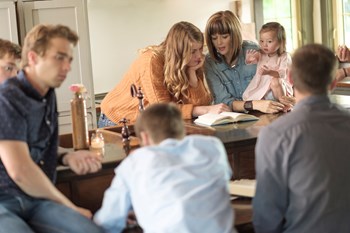 Image: Jonathan Bielaski
On the release of her second major book—The Broken Way: A Daring Path into the Abundant Life (Zondervan)—Voskamp, 43, is especially mindful of the temptation to grow bigger than her roots. An extreme introvert for whom fun means curling up and reading Jonathan Edwards, Voskamp is ambivalent about the 10-city book tour she's about to take. In conversations with her bubbly publicist, she's trying to secure as many days at home.
"We need to break the ladders and go lower," Voskamp tells CT on a visit to her farmhouse this summer. "That means destroying platforms and living hidden lives that have dirt underneath our fingernails, as opposed to everyone striving to get behind a microphone. . . . Numbers can be toxic to our souls."
Even still, Voskamp has some pretty interesting numbers in her life: 7 children, ages 21 to 2; 600 acres, on which her husband, Darryl ("The Farmer" to her readers), grows corn and raises pigs; 1,000 gifts, which Voskamp made herself write down in a time when gratitude was elusive and which spawned her first book; 1 million–plus copies, which that book went on to sell; and 1 Tim Keller sermon, a different one of which Voskamp tries to read every night before bed.
Readers of Voskamp's blog, A Holy Experience, will recognize many of these details, recounted in a grammatically intrepid style that has drawn fans and critics alike. Signature Voskamp is replacing adverbs with adjectives ("he brushed my hand gentle") and avoiding possessive pronouns ("Christ fills the thoughts"). Some find her free association style moving; others find it distracting.
Even still, says Sandra Vander Zicht, executive editor at Zondervan, the singular style is why her publishing team greenlit the Canadian homeschooler despite not having the ever-coveted "platform."
"She is poetic and prophetic, saying things that other people aren't saying in a way that other people aren't saying them," says Vander Zicht. "I have friends who have a hard time reading her, because when you read Ann, you can't skim. You have to slow down."
One-Piece Life
The original photos at A Holy Experience are intended to do the same. They typically feature sandy-blond children baking or Darryl working the farm or bouquets of flowers strewn throughout the couple's modest, 1,700-square-foot home. While Voskamp's photos may seem curated to reflect picture-perfect domesticity, they simply reflect the truth. Four hours at her home turned up nary a dirty dish or finger smudge. The aesthetic is white and simple and clean, which is inspired not by Crate and Barrel but by the Shakers.
"I am a highly sensitive person, and I can't handle any clutter at all," says Voskamp, who speaks as if every word is wrought from the heart, requiring great energy. "Kids bring all my noise. I want it [the house] to be a place of prayer where there's not a lot of ornateness of anything that's pretentious at all." Most of the décor is devotional, an antique print of the Beatitudes near the front door, a Last Supper ceramic from Peru in the dining room, the hands of Jesus broken off. She quotes the Rule of Saint Benedict and Wendell Berry in citing her practiced simplicity, what she calls a "one-piece life."
The house "is like a domestic monastery in some ways," she says. "The monks have bells that call them to prayer; I had kids that needed me. I had to learn that interruptions weren't really interruptions. They were the manifestations of Christ."
Voskamp's choice to homeschool meant opening herself up to more than the typical parenting interruptions; it also meant opening herself up to judgment. "Denim jumpers, long hair, Quiverfull—there's a stereotype about homeschooling being about sheltering your children, about leaving the culture," she says. But she insists that for the Voskamps, homeschooling is about exploring the wonder of God's world, not escaping it—as well as continuing her own education. "Having lots of kids meant I could read more books. I read out loud to the kids two to three hours every day on everything under the sun." Earlier in their schooling, she says, they would have 100 to 150 books checked out from the library; in fact, her writing career started with a curriculum series in 2008, and she still speaks at regional and national homeschool conventions.
Carving out a "one-piece life" has also meant giving her children the stability that Voskamp herself lacked growing up. The central tragedy of the Morton family is the story that opens One Thousand Gifts: Ann's toddler sister, Aimee, wandered into the farm lane and was hit and killed by a delivery truck. That year, she writes, her family "snapped shut to grace." Voskamp's mother later spent time in and out of psych wards; after the accident, her father did away with church and God.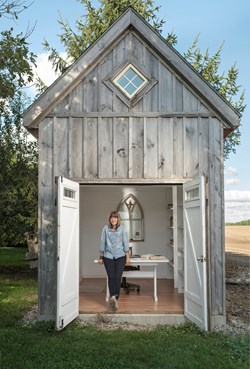 Image: Jonathan Bielaski
As a teenager, Ann was bullied in public school to the point of being suicidal; around this time, she also began cutting herself. "I'd try to cut my way through the hurt down to the core of things," she writes in The Broken Way. "Who doesn't know what it's like to smile thinly and say you're fine when you're not, when you're almost faint with pain?"
But, "the Voskamps have been very kind to the Mortons," she says. Darryl's mother hosted a Good News Bible Club on her front porch for 23 years, gathering 60 to 80 kids every Friday night to hear the gospel. Voskamp accepted Jesus there and began going to Bible chapel with Darryl. The two, in fact, were born in the same hospital and grew up on the same side road; he was her first and last date.
"Darryl is as faithful and loyal as the day is long," says Voskamp. When CT visited, the Farmer was out running errands with four children in tow, and would say that his life's calling is to support Ann's.
But Voskamp doesn't tell her salvation story with a neat bow tied at the end. If anything, believing in a God who is wholly good and wholly in control only complicates the lingering brokenness in our lives. Arguably the question at the center of both One Thousand Gifts and The Broken Way is: How do you live with abundance and joy when the world seems bent on breaking you?
"I still struggle with wanting to cut," says Voskamp. "There are still days when I have to preach gospel back to myself so loudly."
Active Gratitude
One way Voskamp preaches the gospel to herself is with a pen: Every morning, she draws little black crosses on her wrists. They remind her that Christ is the best answer to the problem of theodicy: He deals with the world's brokenness by taking it upon himself. The Broken Way is about "one broken woman touching the intimate communion of the Cross—and finding in that Cross the form and shape of her life: cruciform," she writes. She argues that our brokenness is not a barrier but the pathway to an abundant life poured out for others. Eugene Peterson has called the new release "a stunningly fresh treatment of a subject so often littered with clichés."
If One Thousand Gifts inspired women's gratitude journals with entries like "fresh jam," "baby's first breath of day," and "cry of blue jay," then The Broken Way might just spark a compassion movement among North American Christians. Voskamp has more directly tackled thorny social issues on her blog since 2014, especially the Europe/Syria refugee crisis and churches' response.
"Ann's following has not gone to her head, but has instead sent her to her knees." – Scott Sauls
The support isn't just verbal. After a series of posts on her site calling for compassionate policies for refugees, the Mennonite Central Committee asked Voskamp if her family would sponsor a Syrian family of six. In Canada, sponsorship "means literally adopting a family for a full year," says Voskamp. "So you pay for their rent, car, English as a second language, school." The refugee family is currently waiting in Lebanon and is expected to arrive in North Perth this fall. Area churches, including Ann's own—an evangelical Brethren congregation where many women wear cape dresses and bonnets—have stepped up to sponsor three more families.
"Most people see gratitude as Pollyanna-ish," says Voskamp. "You're so grateful for your gifts . . . in your beautiful house. Grace was more like an electric shock to me: You've been given all of this. What are you doing with it? Contemplating the gifts moved me to being an activist in many ways. If grace has ever moved you, grace starts movements."
"Ann sees people . . . which means Ann is a 'social issues' writer," says Jeremy Courtney, cofounder and executive director of the Preemptive Love Coalition, based in Baghdad, Iraq. "She always says she doesn't believe in 'compassion fatigue.' Her life backs that up."
After a 2015 trip to Baghdad to see Preemptive Love's ministry among ISIS victims, Voskamp used her blog to raise $20,000 for two Fallujan boys who needed heart surgeries. The following month, ISIS fighters overran Ramadi's government, displacing an estimated 100,000 Iraqis who joined the estimated 3 million who were run out of their homes and lives. In three days, Voskamp's blog posts raised $615,000 for Preemptive Love, which channeled the funds to help Muslim women launch small businesses and keep children in school. Within a month, she had raised more than $1 million.
Voskamp "wasn't posting on Instagram or finessing captions as part of some long game for her next book release," says Courtney. "She was entirely present. . . . The blessing and curse of feeling all that pain at once as your own is exceedingly difficult and exceptionally rare."
Scott Sauls, whom Voskamp calls her "Internet pastor," says, "Ann's following has not gone to her head, but has instead sent her to her knees."
Embracing Broken
As the children start to leave the North Perth nest, with the oldest two now in college, one might expect a highly sensitive mama to relish the growing quiet. Instead, this summer, Ann and Darryl welcomed the chaos of love by adopting a baby girl from Beijing. As we chat over dinner at Crabby Joe's, a family favorite in nearby Listowel, Shiloh Shalom plays with a few noodles from Ann's plate. No one would be able to tell that the toddler has incurable heart defects.
"She's single ventricle, single atrium—literally has a broken heart," says Voskamp. Shiloh had her second major surgery in Canada weeks before CT visited, and could have a third next summer. But the care is palliative; most others with Shiloh's condition live into their 20s, sometimes 30s. Voskamp insists there is no neat story of Western rescue here; any day, she could watch her youngest child die. She's also aware of bringing Shiloh into a "very homogenous" rural community where few other children look like her.
"Adoption starts from a broken place . . . and to tell adoption where it's only 'we saved you' isn't an honest story," she says. "There's such deep grief and deep loss, and maybe we're the ones that need rescuing."
Very few people will willingly enter deep grief and loss. But between adopting a family from a broken land, and adopting a baby with a broken heart, that seems to be where Voskamp is most comfortable these days. Watching her baby have her chest wall torn open this summer, she wrote, "You must surrender to a breaking that must happen if you want any of your brokenness to heal."
The North Perth farm is surrounded by wheat fields. In time, the wheat will be harvested as grain, crushed, and combined with other ingredients to provide nourishment in the most elemental way: as bread, broken. This land is perhaps Voskamp's most treasured sacrament: an outward sign of an inward grace. The grace to keep writing about broken things, knowing that God is feeding the church, his body, with her words.
Katelyn Beaty is former print managing editor of CT.
Have something to add about this? See something we missed? Share your feedback here.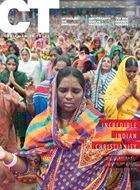 This article is from the November 2016 issue.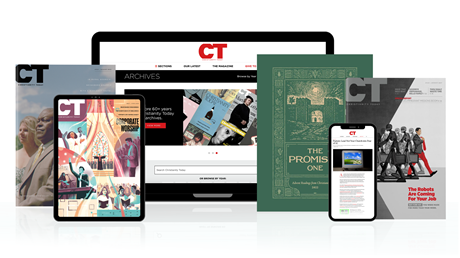 Subscribe to Christianity Today and get access to this article plus 65+ years of archives.
Home delivery of CT magazine
Complete access to articles on ChristianityToday.com
Over 120 years of magazine archives plus full access to all of CT's online archives
Subscribe Now
How Gratitude Made Ann Voskamp an Activist
How Gratitude Made Ann Voskamp an Activist