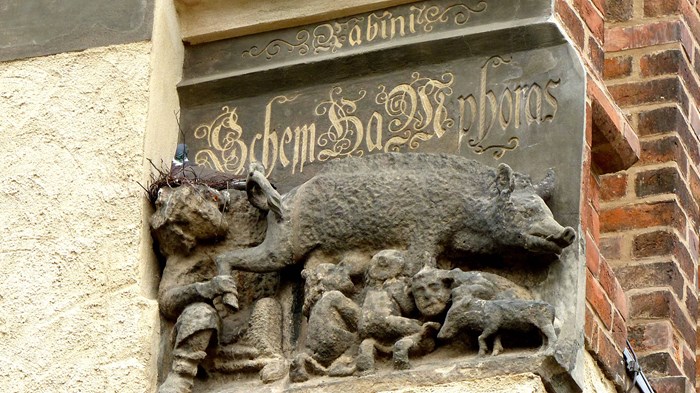 Image: Franz Rathmair, used by permission
The highly anticipated 500th anniversary of the Protestant Reformation is coming up in 2017 and the epicenter of the Reformation, Wittenberg, Germany, has been preparing for years. Visitors from around the world are already trickling in to visit historical sites such as the Castle Church where Martin Luther is purported to have posted his 95 Theses condemning the Catholic Church's sale of indulgences.
However, St. Mary's, or the Town Church, in Wittenberg, where Luther regularly preached, married his wife Katharina von Bora, and baptized their six children, is currently drawing greater attention because of a challenge to remove a 700-year-old anti-Semitic sculpture from its facade.
Perched 26 feet above the ground, on the exterior southeast corner of the Town Church, is a 14th-century sandstone sculpture of a pig with two people in identifiably medieval Jewish hats suckling at its teats and another holding a piglet's ear. An additional Jewish person lifts the tail while looking into the sow's rear. Written above the relief is an inscription with the words, "Rabini Shem Hamphoras." This nonsensical reference to the Jewish appellation of God's name, added after Luther's time, quotes a derogatory comment in one of Luther's writings.
This is not the only "Judensau" or "Jew pig" carving in Germany. As many as a couple hundred may have existed between the 13th and 18th centuries inside and outside of churches, as well as on homes, woodcuts, and broadsheets in German lands of the Holy Roman Empire. The Wittenberg sculpture has been cleaned up and restored as part of a 7.5-million-euro church restoration effort because of its 80,000 annual visitors and in ...
1