true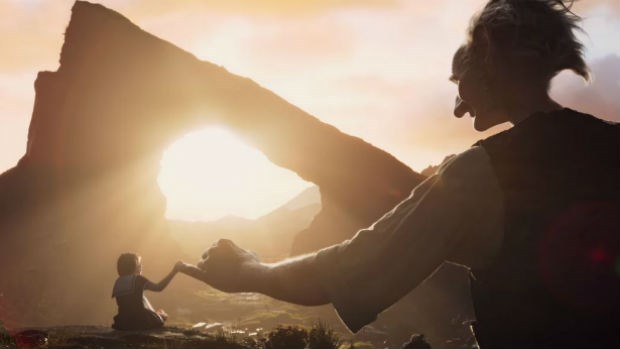 On Paul Simon's new album Stranger to Stranger, he sings:
I trade my tears
To ask the Lord
For proof of love
If only for the explanation
That tells me what my dreams are made of…
This reminds me of what C. S. Lewis said: "If I discover within myself a desire which no experience in this world can satisfy, the most probable explanation is that I was made for another world."
Both of these speak to my suspicion that dreams and desires are meaningful, that they point like a compass needle toward truth. And both came to mind as I watched Steven Spielberg's delightful new fantasy for families: The BFG.
Coming to home video in December (it's still playing in some theaters), The BFG turns a beloved children's book by Roald Dahl into a movie that makes whole families marvel, laugh out loud, and cheer. We follow Sophie, an insomniac orphan who, stolen from her bed by a wandering giant, awakens to a new world of wonders and dangers. There's a moment that moves me when Sophie wakes to discover that the giant has returned her to the orphanage. She stands up, outraged, and shouts, "Why did you give me a dream? Why did you give me a dream?"
Indeed. Why are we given dreams of a benevolent presence in the cosmos? Why do these longings persist when so much of worldly "evidence" suggests there is no such thing?
It's a recurring theme around the world, from fairy tales to movies. Kind-hearted guardians reveal themselves to wide-eyed human beings—children, in particular—in order to watch over them and bless them. We love the fantasy of Saint Nick up North, of the plush and pillowy Totoro, of conscientious robot protectors like the Iron Giant and Baymax of Big Hero 6.
This year alone we've seen several manifestations of mysterious mentors who help children (usually orphans seeking trustworthy parental guidance) through unspeakable hardships. It happens in The Little Prince (on Netflix), where a lonely girl keeps company with a reckless codger. It happens in Disney's reinvention of Pete's Dragon, when a boy is rescued from trauma by a monster as playful as a Labrador puppy. It happens in Hunt for the Wilderpeople, when a strong-willed foster kid is led through the New Zealand wilderness by a gruff outdoorsman.
In a world of absent fathers, disappointing leaders, and churches betrayed by corrupt leadership, it's no wonder that even adults get teary-eyed when they watch these childlike ideals of faithfulness and consolation. We want someone who transcends human limitations but who is also capable of intimacy. We are inclined to look for someone who will catch us when we fall—but who can also catch a falling sky.
Of all these benevolent guardians, the BFG is my favorite. First of all, he's not just a vague, idealized savior. He, too, is lonely, and persecuted for his goodness. The story's villain—a crass brute with crazy red hair who brags about making no apologies and having no regrets—seems like an exaggeration of modern masculinity, a leader who despises physical weakness. The BFG, by contrast, is tender to things of the Spirit. He is more interested in blessing children with dreams. How does he know what dreams to deliver? He listens to the yearnings of human hearts. Where do the dreams come from? He finds them while at play, chasing notions of beauty and mystery.
Never underestimate the power of a story about someone who watches over us. As I watched Sophie leap from a high balcony, demanding that her giant reveal himself and catch her, I leapt with her. I had just walked away from a spirit-crushing job, giving up financial security for the hope of recovering purpose, faith, and joy. I am still falling into the unknown. But I know that he will catch me. Maybe that's why I went back to see The BFG a second time, the biggest kid in the theater, insisting on the dream.
I recommend The BFG for moviegoers ages six and up. It is still playing in some theaters and arrives on home video on December 6.
Questions to Discuss and Consider
What sets Sophie apart from other children? Why is she the one who sees what others don't?
What is it that prompts the BFG to take Sophie away?
How is the BFG different from the other giants?
Can you name the qualities that the Scriptures call "the fruit of the Spirit"? How do we see these qualities manifested in the characters?
How does the BFG bless Sophie? How she bless him?
What is the nature of the nightmare that the BFG gives to wicked giants? What great fear does it represent?
As the giant approaches the home of England's queen, she might respond in fear to someone so potentially destructive, so strange, so foreign. How does she respond to him?
The BFG might plot to destroy the wicked giants. What does he plan to do with them instead? What does this tell you about him?
Have you ever had to take a risk, make a leap, and trust that God will catch you?
What are your dreams for a better life and a better world? Where do they come from?
Jeffrey Overstreet is the author of Through a Screen Darkly and Auralia's Colors. He has an MFA in creative writing from Seattle Pacific University, where he now teaches writing. He also teaches a film-and-apologetics course for Houston Baptist University. He has been writing about art, film, and faith for more than a decade at LookingCloser.org.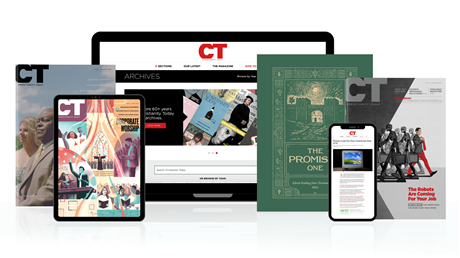 Subscribe to Christianity Today and get access to this article plus 60+ years of archives.
Home delivery of CT magazine
Complete access to articles on ChristianityToday.com
Over 120 years of magazine archives plus full access to all of CT's online archives
Subscribe Now
Our Need for Friendly Giants
Our Need for Friendly Giants