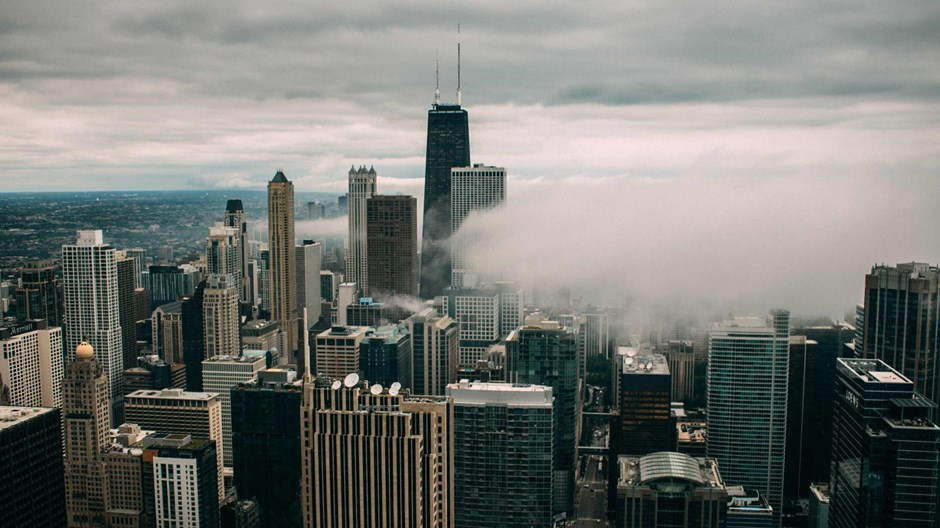 Image: Fineas Anton / Unsplash
The numbers don't lie: Chicago's had a violent year. Last month, the Chicago Tribune reported that the city's 2016 death toll of 487 was already on the verge of eclipsing last year's, exceeding that of both New York and Los Angeles combined. In fact, August was the most violent month Chicago has seen in 20 years, marked by 78 homicides and more than 400 shootings.
But numbers don't tell the whole truth, either. For many who live outside the affected neighborhoods, Chicago's troubles might be just another news story or political talking point. Those who live and do ministry in the city, though, can attest to the ways in which its people—and, of course, its churches—are working to build relationships, uplift communities, and restore peace.
To find out more about how churches are responding to Chicago's needs, we talked to Brian Dye, the founder and pastor of a "multiplying house church movement" called Legacy Christian Fellowship that has churches in some of the most troubled areas of the city. Dye's seen Chicago's violence firsthand; however, he's also seen how a firm and steady commitment to staying rooted has brought relief to his churches' neighborhoods. Here's what he had to say about his work:
You grew up in Humboldt Park with an alcoholic father. But when a Christian named Paul intentionally moved his family into your neighborhood, it changed the way you thought about Christianity. What was so different about this family?
Paul took the time to walk through life with me as he invested in me holistically. On Friday nights, he took me to the projects of Cabrini-Green, and I watched him minister the gospel to teenagers in between playing basketball. On Saturdays, he would teach me work ethic and service as he brought me to paint the homes of the elderly and help families move. On Sundays, Paul and Yvonne invited me to eat dinner together at their table—I had never experienced this before. I observed how he showed love and affection to his wife, how he intentionally spent time with me and involved me in his everyday life. And as he would spend time with me, he was always sharing the Scripture he'd been reading. His love for God and people was evident.
A decade ago, you and your wife made the decision to move into the troubled neighborhood of West Garfield Park, but you almost moved out after a particularly frightening incident. What happened, and what kept you there?
My wife was asleep in our bedroom at the front of the house as I was working in my home office at the back of the house. I heard a few gun shots around 1:00 A.M. and checked outside to make sure no one had been shot. Upon going to my bedroom and turning on the light, I saw a bullet hole next to our bed, and another bullet hole across the room. The bullet had missed my wife laying in bed by a couple inches and lodged into the wall across the room.
We spent the rest of the night praying, singing, and talking with our neighbors who came over. Though they weren't believers, they were a huge support for us. We felt a part of a community that cared about us.
My wife looked at me around 4:00 A.M. and said, "This just proves even more to me that we need to be here." It reminded us of the Scripture in Genesis that says what the devil meant for harm, God meant for good. The bullet didn't come through our room outside of God's control. He used that experience to solidify our calling.
You have a very unique ministry: bringing youth into your home and mentoring them. Why is this kind of discipleship so effective?
When John the Baptist's disciples began following Jesus, Jesus asked them, "What do you want?" Their response was simply, "Teacher, where are you staying?" Jesus responds with, "Come and see." Jesus set the example that the closer the proximity, the deeper the influence.
People get to see how my wife and I steward our time, how we love on our neighbors and open up our home, and how we handle conflict in marriage. Those are things you could never gain from a once-a-week Bible study.
Luke 6:40 says that "everyone who is fully trained will be like their teacher." Just as you can't be like Jesus without spending time with him, you also can't learn the most without being with your discipler outside of the walls of the church.
Chicago has been riven with violence this summer, and you live in one of the most violent neighborhoods. What does pastoral ministry look like in churches like yours?
Pastoral ministry has to be not just preaching, but also shepherding people through their pain and struggles. It means being able to comfort a mother who has lost a child, or helping a gang banger who got saved find a job, or a homeless person find shelter.
This past year, we have been really burdened about praying on the corners for peace in our neighborhood, and [we] have been joined by other churches in our community as well. On Thursday nights throughout the whole summer, you would find us outside barbecuing, cleaning up trash, being intentional with our neighbors. Loving your neighbors well is a big part of being a light in the city—and anywhere you live. In violent neighborhoods, we just see the needs outwardly rather than them being hidden.
The police shooting of Laquan McDonald in 2014 brought some of the existing racial tensions in Chicago to national prominence. You joined many local pastors in speaking out. How has the attention affected local ministry?
I believe God has worked this all out to bring the churches of Chicago together in unity. Out of this trauma, a citywide prayer initiative has begun. Pray Chicago has been a catalyst for churches of all denominations and races to come together to cry out to God. We've also been able to host numerous race discussions amongst churches in our city that have helped to grow mutual understanding.
If you could give any advice to young pastors or church planters looking to do ministry in the city—particularly places like Chicago—what would it be?
If you are not from the city or community you are planting in, come first as a learner. Understand that God has been at work already in that area long before you will ever arrive. Learn to love people and be with people rather than using people for your mission. Develop leaders, because you need to reproduce yourself to avoid burnout, and you need people to continue the ministry after you are gone. Seek for your church to bring together the various cultures and races of the city. Look for brokenness, and seek how to bring healing to those places.
Why We Keep Ministering in a City Haunted by Violence
Why We Keep Ministering in a City Haunted by Violence