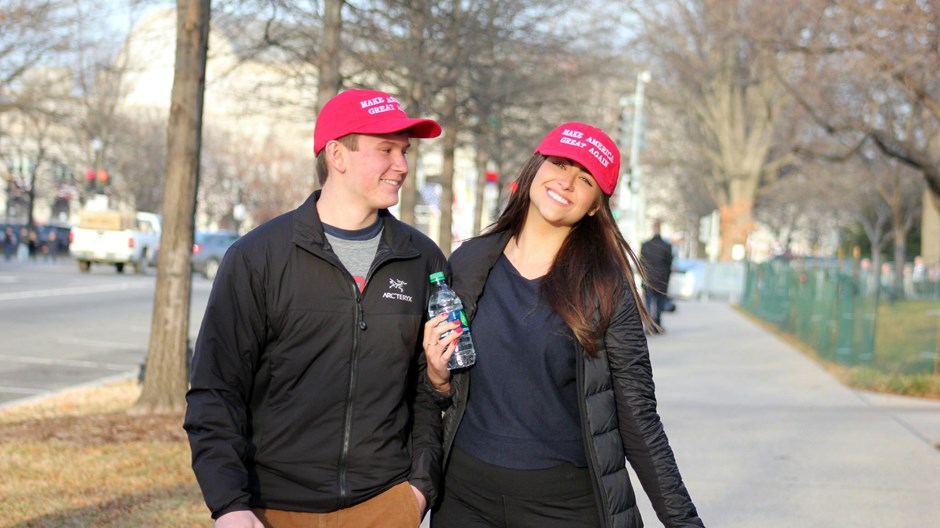 2017 ushered in a political wakeup call for American women.
For women on the left, it was the inauguration of President Donald Trump. Nearly two-thirds of Democratic women—more than men or Republicans—say they are paying closer attention to politics with Trump in office, Pew Research Center recently reported.
For some women on the right, it was another landmark that took place around the same time: the Women's March, which drew controversy for not including pro-life groups among its official partners. According to Pew, 40 percent of American women oppose abortion in all or most circumstances.
"Since the Women's March, Christian conservative women are realizing their voice isn't being heard," said Kelsey Gold, a recent Liberty University grad who remembers first hearing about the event on her way home from Trump's inauguration. "The voices that claim to speak for all women really didn't."
Support for Trump among white evangelicals tends to exacerbate the trends among Americans overall, with regular churchgoers, men, and older demographics more likely to skew Republican.
Yet, Gold's generation represents one exception to the pattern; unlike any other age group, millennial evangelical women were more likely than their male counterparts to vote for Trump, according to the Cooperative Congressional Election Study (CCES) provided to CT by Ryan Burge, politics researcher and blogger for the site Religion in Public.
In last year's election, 73 percent of white evangelical women under 35 voted for Trump compared to 60 percent of white evangelical men of the same age.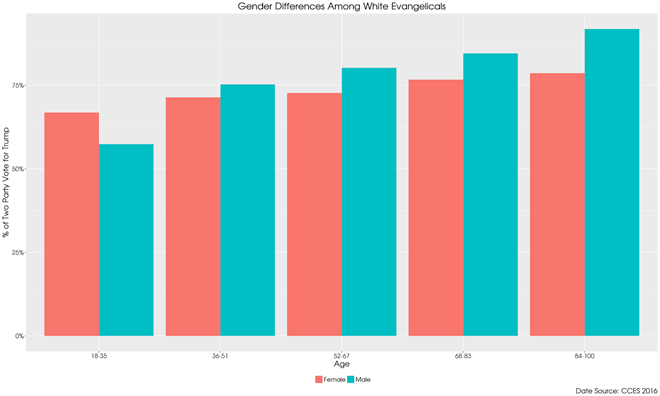 Image: Ryan Burge
"That is a really interesting statistic that kind of defies the national trend," said Scott Waller, political science department chair at Biola University.
There are a few factors that could be drawing young, white conservative Christian women to Trump.
Of course, there's the pro-life movement, which has undergone a resurgence in recent years thanks to the leadership of young women, according to Penny Young Nance, president of Concerned Women for America (CWA) and author of Feisty & Feminine: A Rallying Cry For Conservative Women.
Despite a few female evangelical leaders speaking out against Trump, Nance mostly saw women voting according to their conservative values—and they've been happy with the results.
"I would have never been able to guess a billionaire playboy from Manhattan would be the most pro-life president in history," she said.
Trump has appointed a pro-life Supreme Court justice, banned federal dollars from funding abortion overseas, and signed a law allowing states to withhold funding for abortion providers. As the repeal of the Affordable Care Act makes its way through Congress, conservatives are hopeful it will include provisions to eliminate or reduce Planned Parenthood funding.
(Despite leaders criticizing certain policies on immigration and foreign aid, a third of evangelicals, more than any other religious demographic, "strongly approve" of Trump's job as president, according to the latest Politico/Morning Consult poll. That figure has barely changed over Trump's presidency so far.)
Since 2010, the CWA—a nonpartisan organization with strong Christian and pro-life principles—has expanded to launch 40 chapters on college campuses. Though younger voters skew progressive on other social issues they continue to side with life; by some measures, more so than their parents.
"Most of us don't condone the rhetoric that Trump uses, but most support his policies," said Gold, who coordinates the Young Women for America outreach.
Since the mid-1980s, white evangelical women have shifted more Republican than white women overall, a move that has solidified as it becomes harder for pro-life women to find a place in the Democratic Party.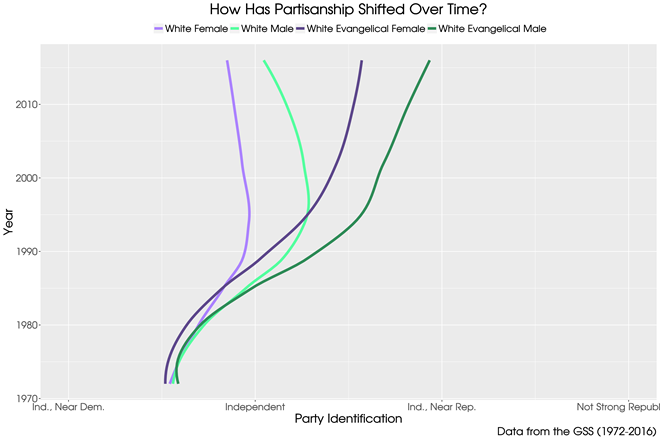 Image: Ryan Burge
The other issue drawing in Christian millennial women could be national security, according to Waller at Biola.
The national conversation tends to skip over how much this demographic—who came of age with mass tragedies like the Columbine shooting and 9/11—want a candidate who conveys a sense of protection in what they see as an "increasingly dangerous world."
"Trump's more black-and-white description of these kinds of things—good guys/bad guys, 'these are bad hombres'—plays to the security issue and is a definite contrast to President Obama's policies and to a certain extent, Mrs. Clintons'," said Waller.
"The progressive view of human beings is very different than what evangelicals and evangelical women in particular are imbibing," he said. "A traditional evangelical theology does not advocate a progressive view of human beings, that we're all getting better. A more traditional evangelical understanding that we're all naturally depraved plays into a kind of need for government to restrain and protect."
The more involved white evangelicals are with their churches, the more likely they voted for Trump, with women who attend church more than once a week showing slightly higher level of support (87.5%) than men (85%).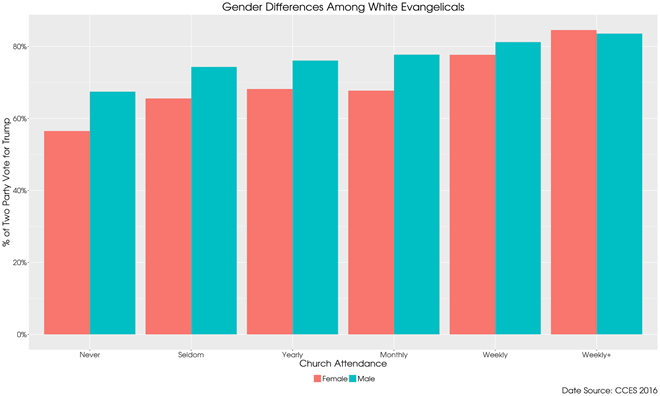 Image: Ryan Burge
Voting patterns among evangelicals of color are a different story, but one that can only be captured in broad strokes due to the limitations of exit poll surveys.
Leading up to the election, LifeWay Research, which measures evangelicals by belief and includes non-whites, found that evangelicals of color sided with Hillary Clinton (62%) nearly as strongly as white evangelicals sided with Trump (65%).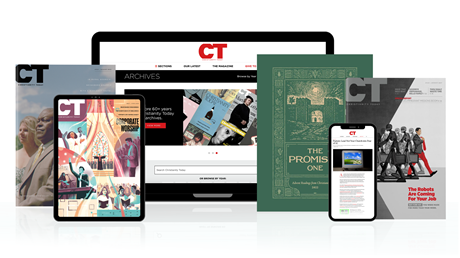 Subscribe to Christianity Today and get access to this article plus 65+ years of archives.
Home delivery of CT magazine
Complete access to articles on ChristianityToday.com
Over 120 years of magazine archives plus full access to all of CT's online archives
Subscribe Now
Young, Female, and Pro-Trump
Young, Female, and Pro-Trump