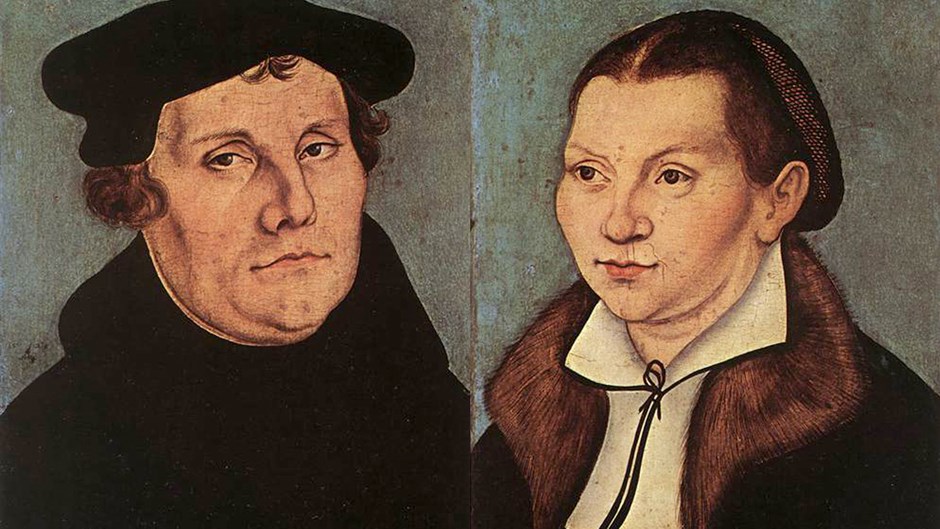 Image: Wiki Commons
Martin Luther had no intention of marrying. Though he had preached extensively and passionately on the theology of marriage, matrimony, he had decided, simply wasn't for him. "Not that I am insensible to the emotions of the flesh, being neither wood nor stone," he wrote to a friend, "but because I have no desire to [marry], and daily expect to die a heretic's death."
All that changed once Katharina von Bora landed on Martin Luther's doorstep.
After 18 years in a cloistered convent, Katharina, along with 11 of her fellow nuns, secretly fled the convent in the middle of the night, hiding in a covered wagon. So convicted were they by Martin Luther's writings, particularly those that condemned monasticism as works-based faith, the nuns left the only life they had ever known. Martin, feeling responsible for their livelihood, took on the role of matchmaker for the destitute former nuns, ensuring that each found a suitable husband.
Two years after their risky escape, only one of the nuns still remained single: Katharina. Refusing to marry the suitor Martin had lined up for her, she made a daring suggestion instead: She proposed that the great Reformer marry her himself.
Neither Martin Luther nor Katharina von Bora married each other for love. Each had an agenda the day they crossed the threshold of their home for the first time as husband and wife. Katharina wed in order to survive in a world hostile to women; Martin married out of a sense of obligation to Katharina, as well as to put into practice the theology of marriage he had so passionately preached. Their marriage, at least at the start, was a far cry from our 21st-century Hollywood-influenced expectations of "'til death do us part." Yet against all odds, Martin and Katharina Luther's marriage flourished, blossoming into an authentic, faithful, and tender love story.
When I first began to research and write about their life together as husband and wife in Katharina and Martin, I didn't expect the Luthers' 500-year-old story to teach me anything about contemporary marriage, and I certainly didn't expect them to offer any insights into my own 20-year-marriage. It turns out, although they wed five centuries ago, the example of the Luthers' life together as husband and wife is still relevant today.
Here are three lessons from the Luthers we would be wise to consider in own modern-day marriages:
Becoming "one" is an ongoing process
Martin and Katharina Luther were virtual strangers the day they said, "I do." On her wedding night, Katharina was shocked to discover Martin hadn't freshened his mattress straw (which today would be akin to not changing the bed linens) in a year! For his part, Martin admitted to awakening startled to glimpse "two pigtails on the pillow" next to him. At 46 years old, habits ingrained in longtime bachelorhood were hard for Martin to break.
Hollywood woos us with stories of "love at first sight" and "happily after ever," but the reality is that the "two become one" of marriage is a continuous, lifelong process, rather than an instantaneous flip of a switch. Marriage is a process of becoming one. In some seasons, this movement toward becoming one feels effortless. In others, it is a choppy two-steps-forward-one-step-back.
Katharina and Martin Luther were not ideally suited for one another. Both were obstinate, opinionated, and quick to judge. Martin considered Katharina arrogant when he first met her. Katharina felt Martin was crass. He had a temper and tended toward hypochondria. She was a worrier, prone to anxiety. Yet, as time went on and their trust in and understanding of one another deepened, Katharina and Martin Luther grew toward one another in marriage. Their nearly 21 years together were a continual movement toward becoming one.
Don't leave your commitment to chance
Years into his own marriage, Martin Luther acknowledged the challenges inherent in matrimony. "Marriage does not always run smoothly, it is a chancy thing," he admitted to those gathered around his and Katharina's dining room table. "One has to commit oneself to it." Commitment. It's a word we use a lot when we talk about marriage, but what does commitment in marriage look like in everyday, ordinary life?
When they married, the Luthers faced formidable opposition from friends and foes alike. None of Martin Luther's closest friends celebrated or even supported his marriage to Katharina, and Katharina, as a former nun who married a former monk, was the target of malicious slander and vilified as a seductress and traitor of Christ for years following her marriage to Martin. Another couple might have crumbled under the pressure of such vicious and relentless attacks, but Martin and Katharina remained devoted to each other, even when it seemed as though the whole world was against them.
They were also clearly committed to loving each other behind the scenes in small but intentional ways. When Martin became ill with a bout of kidney stones while traveling, Katharina quickly mixed the proper medicinal and hurried by horse and wagon, homemade poultice in hand, to care for him. In his last letter to her before he died, Martin told Katharina he was bringing home the gift of a trout—perhaps not the most romantic gesture by 21st-century standards, but for a wife and mother responsible for growing, raising, and catching the food she prepared for the table each day, it would have been a welcome and appreciated gift indeed. Katharina and Martin sacrificed for one another, nurtured each other, and were willing to be inconvenienced for each other. For them, commitment meant loving intentionally in big ways and small.
Open your hearts and your home in hospitality
The first argument my husband and I ever had as a married couple was over his parents. About a month into our marriage, Brad let me know that his parents would be coming to visit. He informed me they would be staying with us for a long weekend and then flying back to Minnesota (where they lived) on Monday. I was furious at my husband for simply announcing these plans without consulting me in advance. To be honest, I also wasn't thrilled with the idea of hosting and entertaining his family again so soon after our wedding.
I have to laugh at my reaction now, especially when I consider that Katharina Luther often hosted 50 houseguests at a time, most of whom showed up at her doorstep with little or no notice. The Luthers lived in a former monastery, and Martin was known to invite dozens of friends, students, and fellow reformers to stay at their home in Wittenberg. Each night, many of these guests joined the Luthers and their children in their dining room for a home-cooked meal prepared and served by Katharina, who also ensured they had a clean, comfortable place to sleep that night.
We expect to make accommodations for our spouse, but often we forget that marriage also brings an assortment of unfamiliar people into our lives too. You might be expected to host an ornery uncle at your Thanksgiving table, an argumentative boss for a backyard barbeque, or an overprotective mother and father for a long weekend. You might find yourself vacationing with your in-laws or negotiating a complicated relationship with a stepmother. Marriage means we open our hearts and often our homes to people important to our spouse, even when it inconveniences us.
A good marriage
Martin and Katharina Luther's marriage was one of shared tenderness and joy as well as disappointment and sorrow. Their marriage did not always run smoothly; there were bumps, twists, and turns along the way. But in their nearly 21 years together as husband and wife, the two became one, each loving the other with intention, hospitality, grace, and devotion. As Luther himself once said, "There is no more lovely, charming, and friendly relationship, communion, or company than a good marriage." Martin and Katharina Luther had a good marriage that we can learn from—a legacy of love, honor, and commitment that has remained untarnished throughout the test of time.
Michelle DeRusha is the author of Katharina and Martin Luther: The Radical Marriage of a Runaway Nun and a Renegade Monk (Baker) as well as 50 Women Every Christian Should Know and Spiritual Misfit. She lives in Lincoln, Nebraska, with her husband and their two boys. Connect with Michelle via her website, Instagram, and Facebook.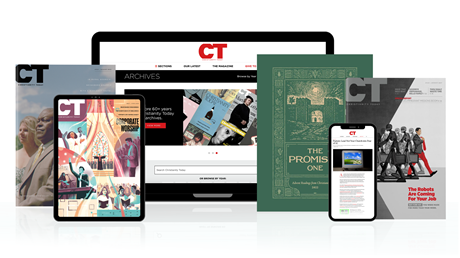 Subscribe to Christianity Today and get access to this article plus 65+ years of archives.
Home delivery of CT magazine
Complete access to articles on ChristianityToday.com
Over 120 years of magazine archives plus full access to all of CT's online archives
Subscribe Now
Marriage Lessons from the Luthers
Marriage Lessons from the Luthers