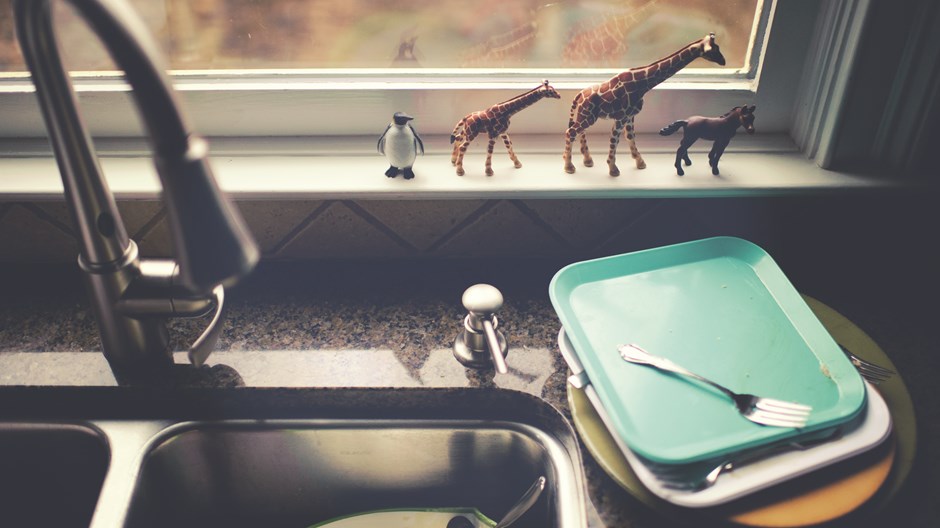 Image: Melissa / Lightstock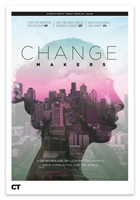 Editor's Note: This article is part of "Change Makers," our recent CT special issue focused on some of the ways women are influencing the church, their communities, and the world. In this special issue, we've included articles that explore trends in women's discipleship, examine research on women and workplace leadership, highlight women who are making a difference, and grapple with the unique challenges female leaders face. Click here to download your own free digital copy of "Change Makers."
It was a Tuesday like most others: playground time with my young daughters. Who would have guessed that, amidst the gigging screams of my girls, I would find myself defending the deity of Christ in conversation with another mom who was a Black Hebrew Israelite? A deep theological debate—covering the Trinity, substitutionary atonement, and Pan-Africanism—hadn't been on my radar as we headed to the playground. And yet, there I was, chatting with a relatively young mother of two in her attempt to proselytize.
The woman moved easily from polite conversation to a hard-hitting question: "Can you tell me how you worship?" I answered her with an explanation of the gospel. She weighed my words in silence until I mentioned Jesus as God. Her rebuttal was swift and pointed. She dismissed the deity of Christ and the doctrine of the Trinity as deceptive falsehoods. I gave this fellow mom the respect of my ear, while I looked for opportunities to turn the conversation toward the problem of sin, God's righteous judgement, and our need of a sinless Savior.
My area of Washington, DC, often doesn't fit the picture of a secularizing America. As increasing numbers of Americans shelve the nostalgia of cultural Christianity for various forms of neo-spiritualism and atheism, my neighborhood streets buzz with the claims of the Nation of Islam, Black Hebrew Israelites, and Jehovah's Witnesses. Religious ideas are rampant in my community, and some will not be ignored—even on a playground.
But public conversations on faith are not new for me. I'm in my first year as a stay-at-home mom, homeschooling my children. Prior to this role, I served as the director of outreach for a church. In that position, I taught courses on evangelism and organized opportunities for gospel-focused conversations.
My church staff position demanded deep theological thinking—and I'm finding that my full-time work in the home requires the same. My graduate degree in theological studies is certainly in use in this new role as long days with my children bring about many theological conversations. Some are prompted by their questions about God; others are moments of teaching. Our discussions often focus on the topic of God's justice and mercy after one child wrongs the other by hitting or taking a toy.
All this (plus regular opportunities for "playground apologetics") makes one thing clear: My title has changed and this season of unpaid work is new, but my primary call—to know and make Christ known—remains the same.
Work changes, calling doesn't
Seasons of unpaid labor in a woman's life (whether it be serving as a stay-at-home mom, a caregiver to an elderly parent, or volunteering during retirement) do not lessen the importance of her calling or giftedness in God's kingdom. Os Guinness writes in The Call, "Calling in the Bible is a central and dynamic theme that becomes a metaphor for the life of faith itself. . . . First and foremost we are called to Someone (God), not to something (such as motherhood, politics, or teaching). . . . Secondary callings matter, but only because the primary calling matters most." In every season of life, Christians are not to squander but to invest their talents in response to the Caller's summons (see Matt. 25:14–30). Whatever one's role or title, we give our utmost for his highest and our "success" is to live coram deo—in the presence of God.
While we know this to be true, it is also true that transitional life cycles, cultural views of unemployed women, and narrow definitions of "kingdom work" can lead at-home women to feel stagnant in their sense of identity and calling.
Adjusting priorities
The nature and location of female productivity tends to shift with stages of life. In The Measure of Success, Carolyn McCulley explains that, generally, "women's lives are broken into 20-year cycles" of maturity, work, family care, and broadening of community influence. McCulley's observation will fit some women's lives better than others, but, on the whole, most women are jugglers of work, family, and sudden transitions.
A woman's journey can feel like the stop-and-go of traffic. She may change lanes, only to feel like she's at a "standstill" as her energies are poured into caring for others. The balance between personal aspirations and family life might tilt abruptly to one side or another. Anne-Marie Slaughter admits this in her noted 2012 Atlantic article, "Why Women Still Can't Have it All." She writes: "When people asked why I had left government, I explained that I'd come home . . . because of my desire to be with my family and my conclusion that juggling high-level government work with the needs of two teenage boys was not possible."
Life often demands adjusting priorities. This is true for both men and women, but the doors of transition seem to swing more frequently for women and, as Slaughter goes on mention, their productivity choices are often met with great scrutiny.
"Wasted" lives?
Even in a culture that values women as equals, it often seems that a woman's "autonomy" is encouraged so far as her choices align with particular tenets. Writing in The Federalist this year, Anna Mussmann observes:
Smart, educated women who decide to end, pause, or part-time their careers are often treated as defective parts in the machinery of egalitarian social justice, or as children who have asked for a plate of food and then thrown it in the garbage. The general argument is that an education . . . is wasted if it is not used (the definition of "used" being, "used to make money").
As if to serve as "Exhibit A" of her argument, an Australian report made international headlines three days after publication of Mussmann's article, identifying at-home women as liabilities to the country's economy. Reporter Liz Burke summarizes, "The report warned 'the economy would face a future shortage of labour' . . . unless efforts were made to help older women, indigenous Australians, and mums into the workforce."
Sarrah Le Marquand, an Australian magazine editor, responded to the report with this stunning claim:
Rather than wail about the supposed liberation in a woman's right to choose to shun paid employment, we should make it a legal requirement that all parents of children of school-age or older are gainfully employed. . . . Holding [women] less accountable when it comes to our employment responsibilities is not doing anyone any favours.
From this perspective, the talents, education, and potential income productivity of at-home women are seen as assets wasted on mundanity. They are, indeed, viewed as women living on pause.
The pressure to be radical
Sadly, this impression can also come from within the church. Guinness describes the historical "distortion" of equating calling and vocation with overtly religious duties, explaining that "for most people in Christendom in the medieval times, the term calling was reserved for priests, monks, and nuns. Everyone else just had 'work.'"
Martin Luther rejected this thinking and, in The Babylonian Captivity of the Church, wrote, "The works of monks and priests, however holy and arduous they be, do not differ one whit in the sight of God from the works of the rustic laborer in the field or the woman going about her household tasks, but that all works are measured before God by faith alone."
Still today, calling is often narrowed to the sphere of "Christian ministry"—and the more "extreme" the work, the better. In Ordinary: Sustainable Faith in a Radical, Restless World, Michael Horton addresses our contemporary promotion of all things "radical," observing, "Who wants to be that ordinary person who lives in an ordinary town . . . and works an ordinary job? Our life has to count. We have to leave our mark, have a legacy, and make a difference." We need to be radical disciples, taking our faith to "a whole new level."
This emphasis on radical Christianity in which meaningful Christian service means a life that is anti-ordinary can leave women who are "just a mom," at-home caretakers, or retired volunteers feeling as if their lives are somehow inadequate.
Mundane tasks and God's eschatological work
It's true that at-home work can be drudgery. My days as a stay-at-home mom seem longer, filled with the recycling of small tasks. Yet which of these days pass by without the use of my gifts? In my everyday responsibilities, I'm serving as a discipler, peacemaker, teacher, and theologian. My life is a full-time ministry position that requires all the encouragement, prayer, and theological equipment I can muster.
Other women in similar seasons of life have told me the same. Phyllis Anderson is a retired widow who has also suffered the unthinkable tragedy of a murdered son. When Anderson's pastor asked her to begin a grief support ministry in the church, the 68-year-old decided to enroll in Bible college. She told me, "I felt I needed further education in biblical studies in order to share God's Word with those I would be ministering to. For me, this was not an option but a mandate."
Laura Thomas, another at-home mom, homeschools four children ages one to eight. Her days are long and her arms are full, yet they also bend to the needs of her neighbors, including those of a Syrian refugee family for whom the Thomases serve as hosts. Thomas, a former missionary, says, "I've found that while my 'calling' may manifest differently in each season, it has never changed. I have to look at each season for the opportunities it may bring rather than the doors it seems to close."
Narratives in the culture and in church can make at-home women feel as though they are "on pause," but this thinking must be challenged as wholly unbiblical. In McCulley's words, "We may work in highly esteemed professions or we may not be paid for our daily labors. Those roles are not our identities. . . . They are merely opportunities to be invested for the glory of God."
The commission to know and make Christ known lies at the root of all unique Christian callings. Knowing this, we can see all tasks—even the most humdrum—as useful to God's purpose of bringing "unity to all things in heaven and on earth under Christ" (Eph. 1:10). In every season, we are participants in God's eschatological work of making all things new. Who knows, in God's wisdom, a Tuesday morning conversation on a playground could mean eternal hallelujahs!
Nana Dolce (MTS, Palmer Theological Seminary) lives in Washington, DC, with her family. She writes for various Christian ministries and blogs at motherhoodandsanctity.com.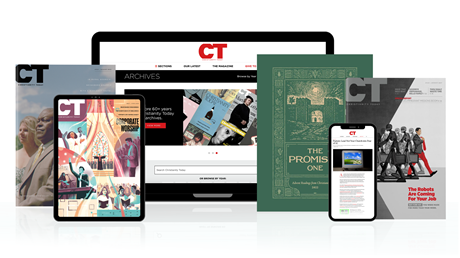 Annual & Monthly subscriptions available.
Print & Digital Issues of CT magazine
Complete access to every article on ChristianityToday.com
Unlimited access to 65+ years of CT's online archives
Member-only special issues
Subscribe
Never on Pause
Never on Pause