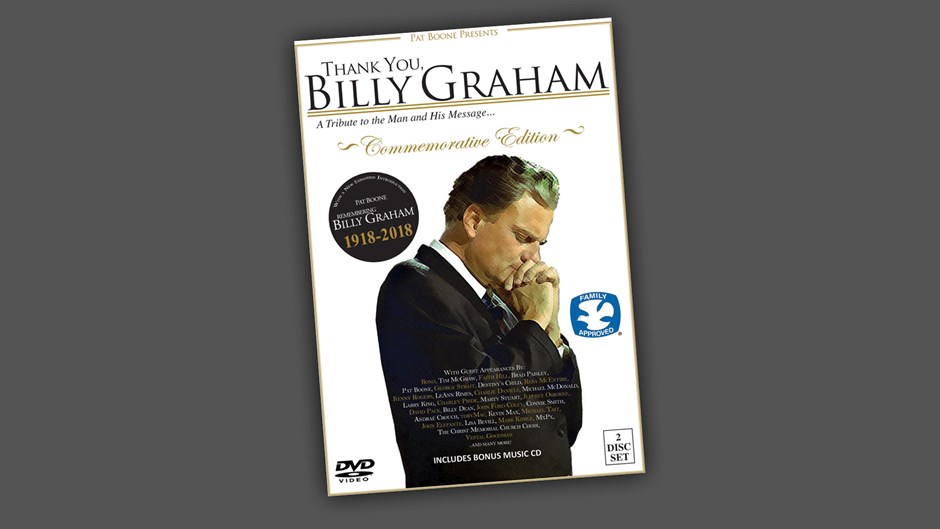 Image: Pat Boone
Many musicians—from Johnny Cash to dc Talk to Pat Boone—considered Billy Graham an inspiration, often bringing him into their songs. For decades, Graham has made cameos in tunes across multiple genres, not just Christian music. (Here's a Spotify playlist with songs from this article.)
Fernando Ortega, one of Graham's greatest admirers, wrote a song in 2011 called "Just As I Am" specifically for the evangelist. Ortega's original tune shares the title with Graham's favorite hymn—sung at most of his crusades—and includes the same famous chorus:

Just as I am
Without one plea
But that Your blood
Was shed for me
But Ortega's version is written from Graham's perspective. "Lyrically, I was trying to imagine what his prayer life must be like as he approached the end of his life," Ortega wrote Wednesday on his Facebook page.
On Graham's 94th birthday in 2012, Billy's daughter Anne Graham Lotz invited Ortega to the Graham home in Montreat, North Carolina, to join a low-key celebration. Ortega recalled that after Anne led a Bible study, "we ate birthday cake and sang 'Happy Birthday' to Dr. Graham. Then he asked me to sing a solo for him. I leaned over and sang in his ear 'Just As I Am.'"

Here is Ortega's song. Listen for Graham's voice in the bridge:
Randy Stonehill, one of the pioneers of Christian music, wrote a sweet-but-seldom-heard song called "Billy Frank"—Graham's nickname as a boy. The last verse is especially poignant:
Now your flame is flickering as you are nearing home
And pretty soon you'll stand in awe before God's gleaming throne
I have no doubt there'll be a shout as heaven celebrates
When St. Peter tells the Father, "Billy Graham's at the gates."
I'd like to thank you Billy Frank one fine day . . .
Here's the song, recorded in 2013:
The Christian rock band dc Talk were also great admirers of Graham, performing at a number of his crusades. (They talk about his influence in this rarely seen video from 1992.)
In their song, "Mind's Eye," the band incorporates a snippet from a Graham sermon: "Can you see God? Have you ever seen him? I've never seen the wind. I've seen the effects of the wind, but I've never seen the wind. There's a mystery to it."
Listen for it at about the 3:37 mark of this live version of the song:

Pat Boone, a lifelong friend of Graham, said Wednesday he was "deeply privileged to know the single greatest man of our times. Billy offered God's eternal salvation, through Jesus, to hundreds of millions around the world. We'll never see a man like him again."
For Graham's last crusade in New York City in 2005, Boone put together a tribute song called "Thank You, Billy Graham," which includes Bono, LeAnn Rimes, Kenny Rogers, Tim McGraw, Faith Hill, Brad Paisley, Reba McEntire, Destiny's Child, dc Talk members, MxPx, and many others:
Matthew West actually came to Jesus while watching a Graham crusade on TV. Here's the first verse of his autobiographical "Next Thing You Know" from 2005:

I remember when I was thirteen
I saw a picture on my T.V. screen
The Reverend Billy Graham and the people singing
Just As I Am And it felt like
You were talking to me
And the whole world seemed to fade away
Until I heard my mother say
"Son, are you okay? Do you wanna pray?"
And that became the hour I first believed
Bob Carlisle, best known for his 1997 smash hit "Butterfly Kisses," mentions Graham in "Mighty Love," where he sings:
I'm not tryin' to preach to ya
and tell you that I've found all the easy answers
when half the time I can't even find my keys.
But I feel like a regular Billy Graham
when I start talkin' bout my Jesus,
and all that he's done for me.
In 1989, The Swirling Eddies, a spinoff from the old Daniel Amos band, recorded "Billy Graham," with this simple lyric:
I don't know about those other guys
There's something in the back of their eyes
But Billy, you're the man who don't use sleight of hand
Ain't wearing no disguise
I love you, Billy
I love the simple things you say
And you never seem to get in the way
No one is quite like you
Compassionate and true
"Just as I am," I say
I love you, Billy
Christian metal band For Today featured some Graham snippets in their 2012 song, "The Call" (which also features quotes from John Piper, Leonard Ravenhill, Reinhard Bonnke, and others):
Country music has especially embraced Graham in its lyrics, even as recently as a few months ago.
The first single from Lee Brice's self-titled new album, which released in November, is "Songs in the Kitchen," which Billboard describes as having "a nostalgic and honest feel and allows you to see inside the heart of who Brice really is."

The first verse mentions Graham:
Songs in the kitchen
And playing on the radio
Coffee on the counter
Bacon frying on the stove
Billy Graham on TV
Mom and daddy kissing
Songs in the kitchen

In "Southern Comfort Zone," Brad Paisley sings, "I miss your biscuits and gravy / Fireflies dancing in the night / You have fed me, you have saved me / Billy Graham and Martha White." Listen for it at about the 3:02 mark:
Tim McGraw includes Graham in the second verse of "Southern Voice":

Hank Aaron smacked it
Michael Jordan dunked it
Pocahontas tracked it
Jack Daniels drunk it
Tom Petty rocked it
Dr. King paved it
Bear Bryant won it
Billy Graham saved it
Joe Nichols goes deep (with his baritone) in "Billy Graham's Bible":
I'm like Billy Graham's Bible
And that old guitar Willie plays
The good lord had a plan for them
The moment they were made
In the right hands, they come alive
You understand, the reason why
Some things wind up where they're meant to be
Like Billy Graham's Bible
Willie's old guitar, and me
And then there's Darius Rucker with "Southern Style," extolling the traits of the perfect Southern girl with this chorus:

Says she don't believe in strangers
Only sinners with the savior
'Cause her mom and daddy raised her
Southern style
In the second verse, Rucker croons, "She's a Friday night light lover / a Billy Graham fan like her mother / She wants her daddy and both brothers to walk her down the aisle":
Finally, Johnny Cash (who died in 2003) and Graham were good friends for decades; Cash even performed at several of Graham's crusades. Graham is featured, in spoken interludes, on "The Preacher Said 'Jesus Said,'" from Cash's album, Man in Black. They sang the song on a 1971 episode of TV's Johnny Cash Show, which was devoted entirely to gospel music:
Among other Graham song references:
Manfred Mann's Earth Band included a snarky reference in "Resurrection," asking on a couple of occasions, "I wonder what Billy Graham will do?"
Singer Phil Ochs included Graham in the fourth verse of one of his protest songs:
And here's to the churches of Richard Nixon and Billy Graham
Where the cross, once made of silver, now is caked with rust
And the Sunday mornin' sermons pander to their lust
All the fallen face of Jesus is chokin' in the dust
And Heaven only knows in which God they can trust
Oh, here's to the land you've torn out the heart of
Richard Nixon find yourself another country to be part of
Frank Zappa, at his most irreverent, clearly didn't believe in Graham or his message in "The Meek Shall Inherit Nothing" (caution: there's an expletive in the song):

Eat that pork
Eat that ham
Laugh till ya choke
On Billy Graham
Finally, John Denver invoked Graham in "Forest Lawn," a tongue-in-cheek song about his own demise:

I want to go simply when I go.
They'll give me a simple funeral there I know.
I'll lie beneath the sand,
With piped-in tapes of Billy Graham.
Oh take me when I'm gone to Forest Lawn.
CT reviewed the soundtrack to the 2008 movie Billy: The Early Years, and examined the influence of the other song most associated with Graham crusades, George Beverly Shea's rendition of "How Great Thou Art."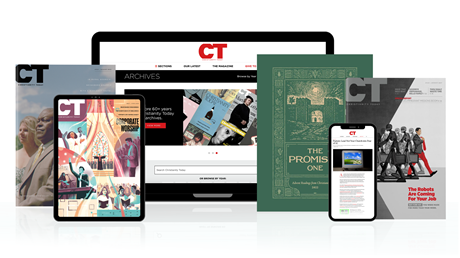 Annual & Monthly subscriptions available.
Print & Digital Issues of CT magazine
Complete access to every article on ChristianityToday.com
Unlimited access to 65+ years of CT's online archives
Member-only special issues
Subscribe
The Ultimate Billy Graham Playlist
The Ultimate Billy Graham Playlist