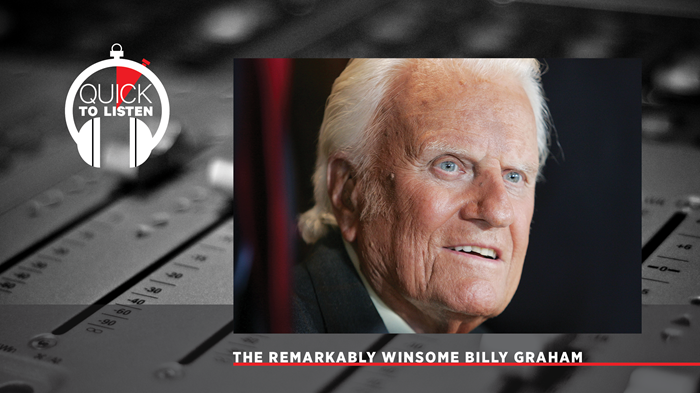 Image: Mario Tama / Getty Images
Evangelist Billy Graham died this week. We published more than two dozen articles on our site as part of our special commemorative coverage. But when someone lived 99 years, it can be hard to capture a life, even with this volume of pieces.
This week on Quick to Listen, Grant Wacker, historian and author of America's Pastor: Billy Graham and the Shaping of a Nation, joined associate editor Morgan Lee and editor in chief Mark Galli to talk about the regrets, paradoxes, and surprises in the life of one of the most prolific religious leaders of our time.
This episode of Quick to Listen was brought to you by the Christian Standard Bible. To learn more about the Christian Standard Bible, visit CSBible.com/CT.
What is "Quick to Listen"? Read more
Subscribe to Quick to Listen on Apple Podcasts
Follow the podcast on Twitter
Follow our hosts on Twitter: Morgan Lee and Mark Galli
Read Grant Wacker on The Remarkable Mr. Graham
Read CT's special commemorative coverage of Billy Graham's life
Subscribe to Mark's newsletter: The Galli Report
Quick to Listen is produced by Morgan Lee, Richard Clark, and Cray Allred