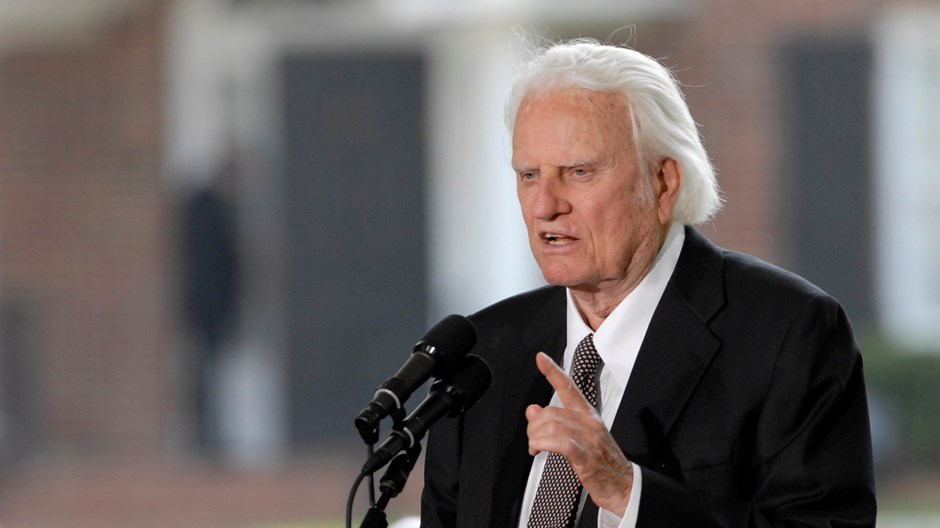 Image: Davis Turner / Getty Images
When D. L. Moody died in 1899, the evangelical world felt his loss deeply. More than anyone else in his day, Moody, the rough-hewn shoe salesman turned evangelist, had motivated Christians on both sides of the Atlantic for the work of evangelism. In doing so, he had become a force for evangelical unity and gospel advance. The question on the lips of nearly everyone was, "Who will be the next D. L. Moody?"
Then Billy Graham was born in Charlotte in 1918. Graham carried Moody's "passion for souls" to the ends of the earth. He became, along with Pope John Paul II, one of the great shapers of the world Christian movement. Yet Graham, a dairy farm hand and Fuller Brush huckster, was no less likely than Moody to fulfill such a calling. What was the secret of Billy Graham's evangelistic success? Here are five factors:
Single-mindedness
Graham spent 18 months as the pastor of a small church near Chicago, but from the beginning it was clear that he was called to be an evangelist. He had a burning compassion to call lost men and women to faith in Jesus Christ; he did this faithfully, consistently, and single-mindedly. Graham shunned opportunities in politics, business, and entertainment to "do the work of an evangelist," yet he had an impact in each of these fields. His single-mindedness brought him criticism as well as praise. In 1952, two years before Brown vs. the Board of Education, Graham walked down from the crusade platform in Jackson, Mississippi, and personally removed the barrier separating whites and blacks. Later he commended the work of Martin Luther King and invited him to pray in his crusades. Though Graham did not march in Selma, King acknowledged that Graham's ministry had done much to break down racial hostilities. Seeing whites and African Americans worshiping and working together in Graham's Arkansas crusade also made a deep impression on a young Bill Clinton.
Unity in the gospel
Graham's crusades produced unparalleled efforts in cooperative evangelism. He believed that the gospel, defined in 1 Corinthians 15:1-3, was the touchstone of Christian unity and effective outreach to the lost. Moody had invited Catholics to sit on the platform in his 1893 Chicago campaign, but Graham carried such cooperation to new heights. In city after city, he worked closely with a broad coalition of churches and denominational leaders. He would not compromise his message, but he would work with any Christian believer to proclaim the message. It has been said that Graham "triangulated" American Protestantism by marginalizing liberals on his left and bypassing fundamentalists on his right. In doing so, he brought revivalism out of the sawdust era and propelled evangelicalism into the mainstream of American Christianity.
Humility and prayer
Everyone who met Billy Graham testifies to his humility, transparency, and empathy. The source of his strength was not an overweening self-confidence, but rather the posture of a supplicant at prayer. Graham humbly organized and followed through with his crusades. He always emphasized the Billy Graham "team" and worked closely with local pastors and lay leaders to make his crusade more than a flash in the pan.
Identity and adaptability
Early in his ministry, Graham faced a serious theological crisis of conscience. He resolved it by committing himself unreservedly to the total truthfulness of the Bible. Graham was always conscious that he lacked extensive academic training, yet he encouraged others to foster a sound biblical theology. But Graham would not make a fetish out of doctrinal fads or denominational traditions. Like Paul, he sought to become "all things to all persons" in order to advance the cause of Christ. Graham and his team were on the cutting edge of innovative publications, Christian films, and Internet evangelism. Graham started his work as an evangelist in Youth for Christ. He never lost his vision for reaching the rising generation, even when this meant including the jarring music of the youth culture in his crusades. In heaven, he thought, we will listen to DC Talk as well as Fanny Crosby, with a little J. S. Bach in the background.
Leading with love
Both Moody and Graham were accused of preaching more on God's love than divine wrath, judgment, and hell. There is certainly a good bit of the latter in Graham's preaching, especially in his early years. But increasingly he came to see the heart of the gospel in the verse he quoted so often: "For God so loved the world that he gave his only begotten Son that whosoever believeth in him should not perish but have everlasting life" (John 3:16). Graham led with love. No doubt this was one reason hundreds of thousands of persons in nearly every country on earth were willing to sit for hours under the blistering sun or in pouring rain to hear him declare the good news.
Graham transcended his limitations to become an instrument of divine grace for a world starving for some good news. Like Moody, Graham was unique; it is silly to speculate about who the next Billy Graham might be. What matters is not Graham but the message he proclaimed, and the way he went about doing it—with unstinted devotion to Christ, with integrity, and with the limitless love of Christ.
Timothy George is dean of Beeson Divinity School of Samford University and a senior editor of Christianity Today.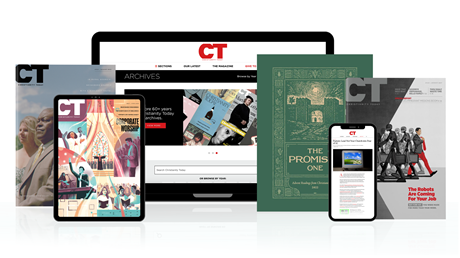 Annual & Monthly subscriptions available.
Print & Digital Issues of CT magazine
Complete access to every article on ChristianityToday.com
Unlimited access to 65+ years of CT's online archives
Member-only special issues
Subscribe
The Secrets to Graham's Success
The Secrets to Graham's Success