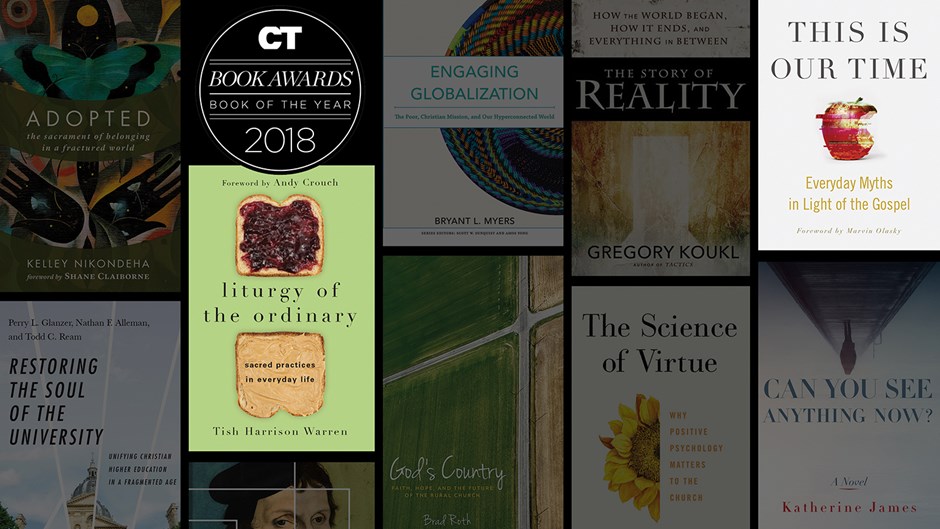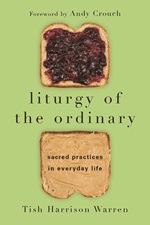 Liturgy of the Ordinary: Sacred Practices in Everyday Life
Tish Harrison Warren (InterVarsity Press)
"Christians often find it more comfortable to embrace the goodness, truth, and beauty of God in faith principles than to transfer the principles to practice. In reality, more time is spent in the ordinary than in the extraordinary. God is present with us in surprising ways through our daily routine, pointing us to his love, grace, and mercy. This book is an invitation to worship him in spirit and truth, each moment of every day." —Sandra Gray, president,Asbury University
"Liturgy of the Ordinary is simple without being reductionistic. It is beautiful without being excessive. It is theological without being heady. And it is orthodox without being pedantic. Walking her readers through a very ordinary day (brushing her teeth, making her bed, fighting with her husband), Warren highlights how all of life is liturgical. For a culture constantly in fear of missing out, Warren points to these sacred everyday rhythms as proof that we're right in the middle of what is happening, if only we'll take note." —Lore Ferguson Wilbert, blogger at Sayable.net
"This is an eminently readable and enjoyable book that draws you into high concept—namely, liturgy in everyday life—through great writing and infectious charm. Warren takes you through a single ordinary day, from waking up in the morning to going to sleep at night, and manages to make connections to just about every important aspect of the Christian life. She is a gifted writer whose stories, rife with humor, teach you deeper things without ever making you feel like you're being instructed." —Stan Jantz, executive director, Evangelical Christian Publishing Association
(Read our review of Liturgy of the Ordinary in the December 2016 issue of CT.)
Award of Merit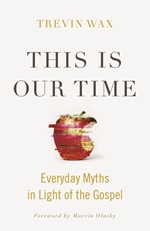 This Is Our Time: Everyday Myths in Light of the Gospel
Trevin Wax (B&H Publishing Group)
"Trevin Wax is on a quest for deep and enduring joy, and he's not content to go at it alone. This book is a winsome invitation into the Christian faith and witness that has so much more to say than 'This is right and this is wrong.' Rather, 'This is better.' Wax is no incurable optimist or jaded cynic. He commends the real God who will satisfy our souls, now and forever, and holds out, as he says, 'the good news that is true, good, and beautiful.' " —David Mathis, executive editor, desiringGod.org
"This is one of the best 'How, then, shall we live?' books released in the last few years. It is a clarion call for orthodoxy, and yet it hardly feels like the typical worldview cram session advancing a depressing narrative of civilization in decline. Trevin writes beautifully, winsomely, articulately. He talks to common people in ordinary lives. He speaks of culture but also of spiritual disciplines, of engagement—and of the importance, at times, of silence." —Daniel Darling, vice president for communications, Ethics and Religious Liberty Commission
"Many of us suspect that the stories our culture tells us—stories designed to give shape and purpose to our lives, like the pursuit of happiness, material acquisition, free-range sex, and so forth—are myths. Fake news, if you will. But we still fall for them because they are so enticing. Trevin Wax could use the occasion to castigate us for our easy idolatries. Instead, he patiently describes the myths, shows the gospel alternative, and invites us to live into the Good News story that begins and ends in Jesus Christ." —Mark Galli, editor in chief, Christianity Today
(Read an excerpt from This Is Our Time in the April issue of CT.)
Have you read these books? What did you think? Let us know here.
Have something to add about this? See something we missed? Share your feedback here.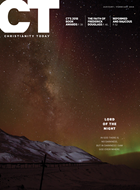 This article is from the Jan/Feb 2018 issue.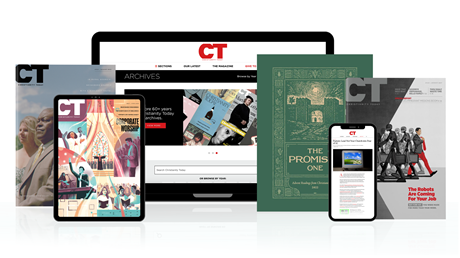 Subscribe to Christianity Today and get access to this article plus 65+ years of archives.
Home delivery of CT magazine
Complete access to articles on ChristianityToday.com
Over 120 years of magazine archives plus full access to all of CT's online archives
Subscribe Now
Christianity Today's 2018 Book of the Year
Christianity Today's 2018 Book of the Year