Image: Courtesy of Haiti Partners
Yesterday in a meeting about immigration reform, President Donald Trump questioned why he should accept immigrants from "s—hole countries" like Haiti, El Salvador, and nations in Africa, instead of places like Norway.
Even in the constant onslaught of news and tweets, this particular presidential remark contains several issues that are important for us to consider as Christians.
For 15 years I've lived in or traveled to Haiti as a development worker. On the eighth anniversary of Haiti's devastating earthquake and in the midst of the ongoing congressional debate over immigration reform, here are six important points about the president's comment:
1. He is naming the fact that life is hard in these countries.
Daily life in Haiti is for many people a struggle to survive—even without the crises of violence, political upheaval, earthquakes, hurricanes, and mudslides. To add some specifics, recently a detailed report came out on an alleged massacre by Haitian police officers near an Evangelical Bible School that I've visited many times. On this earthquake anniversary, I'm thinking about friends like the motorcycle taxi driver I've ridden with hundreds of times. He lost siblings and dozens in his church who were crushed when the building collapsed during a prayer service.
In Haiti, over 200,000 children are trapped in forced servitude, about a third of women report incidents of domestic violence, and families struggle to find good options for education. Yes, life is hard. Though the president put it in a crass way, we can pause to ensure we haven't become numb to suffering of our brothers and sisters.
2. There's a complex history behind the poverty and state of development in places like Haiti.
While Trump's brief comment doesn't address how these countries came to their current state, we know that many external, exploitative factors influence conditions that make some countries poor and others rich.
For example, this thread of tweets touches on how the slave trade, colonialism, and policies put in place by the United States and the United Nations have shaped Haiti's history. Author Jonathan Katz insists that it's not enough to note that countries like Haiti are poor while the US and Norway are rich; we must also ask ourselves why.
When we take these historical elements into account, we're rightly led toward repentance, instead of scorn. We can grow in self-awareness that leads to respectful and helpful partnering, instead of stumbling in with a "white savior complex" where we're vulnerable to hurting instead of actually helping.
3. It implies the narrative that immigrants from certain countries take from American life rather than contributing to it.
This assumption is important to call out because it has been repeatedly proven false. Economic studies show the positive contributions of, say, the Salvadoran community or Haitian community, who are younger than the immigrant population overall and more likely to be a part of the workforce. Nigerian immigrants are highly educated. Immigrants have helped to spur innovation, economic development, and growth within the US.
Economist Michael Clemens has also shown that one of the most effective ways we can help people in poor countries is by letting immigrants come to the US. The immigrants benefit from the opportunities, the people in their home countries benefit from the remittances they are able to send home, and we in the US benefit from their contributions as hard-working, value-creating, tax-paying residents. This is true of the Haitians I know living in South Florida, and it's the truer narrative about immigrants in general: They're contributors to our country.
4.The Christian logic of love means that when people are struggling, we ask: How can we help?
This may seem quaint, even naïve, in the current national conversation, but as Christians we have to be guided by love of our vulnerable neighbor. The president is right about the difficulties of living in poor countries, and this should be extra motivation for us to continue to offer opportunities to those who have immigrated to our country.
It should compel us to extend the temporary protected status (TPS) policy so that Salvadorans, Haitians, and others who have been here and contributing for many years don't have to return to countries with less financial opportunity, more instability, and more violence. With relatively low rates of unemployment in the US, it's easy for us to help by letting these people stay and giving them the assurances and support they need for their families to thrive here.
5. As Christians, self-interest isn't our primary consideration when addressing immigration.
God speaks to give us this directive in Leviticus (echoed in other passages in Scripture): "When a stranger sojourns with you in your land, you shall not do him wrong. You shall treat the stranger who sojourns with you as the native among you, and you shall love him as yourself, for you were strangers in the land of Egypt: I am the Lord your God" (19:33–34, ESV).
Our framework for immigration starts and ends with love. In between, there are hard policy questions to debate honestly and rigorously. Yes, it's wise to consider security issues. And yes, our resources to help can be limited. In some cases, the best way to help refugees is to support them closer to their homes.
We must be honest about constraints but motivated in our choice by love for our neighbor. Other motivations can guide us as Americans, but Scripture should dictate our motivations as Christians.
6. These are our brothers and sisters in Christ.
We can see ourselves as united with our immigrant neighbors as fellow children of God far more than divided by any national or ethnic differences. I'm discouraged, rather than angry, when policy or other priorities keep our leaders and fellow Americans from viewing others this way.
The vast majority of Haitians call Jesus their Lord and Savior, and they demonstrated their great generosity and faith following the devastating 2010 earthquake. Their country has given many gifts to the world and serves as a beacon of freedom, where slaves overthrew their colonists to achieve independence. Haitian volunteers fought in the American Revolution.
The past few days I've been emailing with a humanitarian leader in Haiti who wants to study in a program I'm involved with at Wheaton College's Humanitarian Disaster Institute. Like so many others, she's dedicated to finding ways to serve others and improve her country. These are the Haitians I have been graced to know for the past 15 years.
As Christians, we don't want to be put into a reactive state of panic, numbness, or despair with each policy or controversial comment, but we want to keep growing in thoughtfulness and faithfulness and respond in ways guided by truth and love.
So let's pause at these comments. Acknowledge any hint of what's true, call out what is false, and search for the opportunity for Christlike compassion.
I'd hope that Americans, including those in power, would recognize the beauty of these countries and the contributions their immigrants make to our country. Our neighbors, who are especially vulnerable right now, deserve our continued welcome without disparagement and without hesitation.
Kent Annan is a senior fellow at the Humanitarian Disaster Institute (Wheaton College), where he is helping to launch a new MA in Humanitarian and Disaster Leadership. He wrote After Shock about Haiti's 2010 earthquake, his most recent book is Slow Kingdom Coming, and his forthcoming book is You Welcomed Me: Loving Our Immigrant and Refugee Neighbors As Ourselves.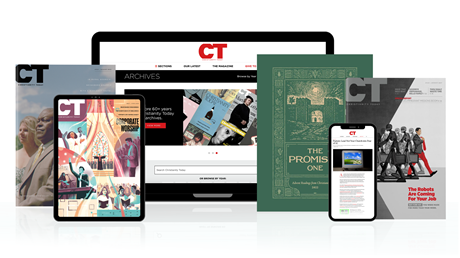 Annual & Monthly subscriptions available.
Print & Digital Issues of CT magazine
Complete access to every article on ChristianityToday.com
Unlimited access to 65+ years of CT's online archives
Member-only special issues
Subscribe
Why We Need to Talk about Trump's Haiti Remarks
Why We Need to Talk about Trump's Haiti Remarks