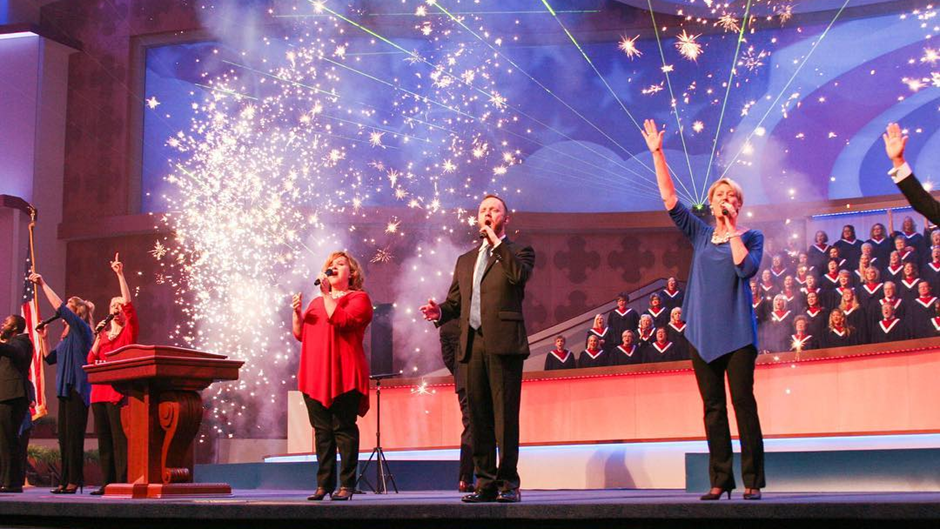 At Sunday services this weekend, churches across the country will direct congregants to flip to the section of classic patriotic songs in their hymnals or display lyrics to more recent nation-centric tunes like Lee Greenwood's "God Bless the USA," Chris Tomlin's "America," or even "Make America Great Again," a song composed at First Baptist Church of Dallas using President Trump's famous slogan.
Despite ongoing concerns over conflating worship of God with worship of country, the majority of churches in the United States mark the Fourth of July in song—a tradition that in some places goes back to the years surrounding America's first Independence Day.
LifeWay Research found that two-thirds of US churches include America-themed music in worship services around the holiday. The top patriotic songs sung in churches, ranked by Christian Copyright Licensing International (CCLI), span contemporary contributions and American classics:
1. "America the Beautiful" – Katharine Lee Bates and Samuel A. Ward
The lyrics first appeared as a poem in the Fourth of July edition of the weekly church publication The Congregationalist in 1895.
2. "Mine Eyes Have Seen the Glory (Battle Hymn of the Republic)" – Julia Ward Howe
The abolitionist's famous tune almost became America's national anthem. Despite the theological references throughout, it's now seen as more of a mishmash of Christian doctrine.
3. "My Country 'Tis of Thee (America)" – Samuel Francis Smith
The fourth verse in the Boston Baptist's famous song goes, "Our fathers' God to Thee, author of liberty, to Thee we sing / Long may our land be bright, with freedom's holy light, protect us by Thy might / Great God our King."
4. "Star-Spangled Banner" – Francis Scott Key and John Stafford Smith
Written in 1814, it was a popular patriotic song for over a century before becoming the national anthem in 1931.
5. "God Bless the USA" – Lee Greenwood
The 1984 country hit became a popular expression of American pride during President Ronald Reagan's campaign, the Gulf War, and later, following September 11. One Christian cover of the song changes the lyrics "I thank my lucky stars" to "I thank my God above."
6. "God Bless America Again" – Billy McVay
The '70s country tune was popularized by Conway Twitty and Loretta Lynn.
7. "May God Bless America" – Weldon C. Kennedy
The 2005 song appears alongside more classic patriotic tunes in Fourth of July medleys.
8. "God Of Our Fathers (National Hymn)" – Daniel Crane Roberts and George William Warren
The hymn was written in honor of the centennial Independence Day celebration in 1876.
9. "A Patriotic Salute" – Linda Spevacek
In military parade and marching band style, the composition includes lines from tunes like "When Johnny Comes Marching Home Again."
10. "America" – Chris Tomlin
Based on 2 Chronicles 7:14, the 2001 song begins, "Let your glory fly, if my people will humbly pray / Turn from sin and their wicked ways / I will hear them and heal their land / And show my glory and power again."
Because CCLI only collects data on song usage every six months, it's too early to tell how many congregations outside of Robert Jeffress's have sung "Make America Great Again" in worship. Its lyrics are more patriotic than pietistic: "Americans from ev'ry corner of this blessed land / Come together with one voice, help us take a stand/ Following the vision to make her proud and grand / And make America great again, make America great again."
The presidential faith adviser and Southern Baptist pastor held a "Freedom Sunday" service at FBC Dallas on June 25, complete with a message from Vice President Mike Pence on behalf of the White House.
It's unusual for patriotic worship songs to explicitly reference a political administration or campaign, but since America's founding, there have been songs about God's favor and providence shown to the country.
"Ministers started preaching that God was, in fact, winning the Revolution for the Patriots," said Stephen A. Marini, religion department chair and professor of religion in America and ethics at Wellesley College. "You get it in the sermons of the day and in the hymns as well."
In 1778, Boston-born composer William Billings republished an earlier tune with lyrics to reference the British invaders: "Let tyrants shake their iron rods / And slavery clank her galling chains / We see them not; we trust in God / New England's God forever reigns."
Such hymns crediting God with Americans' victory in the Revolutionary War were indeed most common in New England, where they began to turn up right after independence. In other regions, their popularity varied by church tradition.
Another example of an early American patriotic tune actually came from the British hymn writer Isaac Watts (known for "When I Survey the Wondrous Cross," "Alas! And Did My Savior Bleed," "Joy to the World," and more).
"He wrote a number of versions of the psalms in which Israel was conquering its enemies, and he substituted Britain for Israel," said Marini, author of Sacred Song in America: Religion and Public Culture. "What the Americans did was change Britain to America. So now you had a revised Watts hymn or metrical psalm that was claiming America's victory as God's chosen people."
Though popular, the patriotic hymns were more often sung outside of typical Sunday services. "These new hymns were not published in denominational hymnals; these were published in tune books that were used for congregations sometimes but were most often used in homes and private prayer groups," Marini said.
Some of the more familiar and lasting patriotic songs came decades later. "America (My Country 'Tis of Thee)" debuted at Park Street Church in Boston on Independence Day in 1831, then began to make a strong showing in hymnals later in the century, following the Civil War. Around that time, northern churches also began singing "The Battle Hymn of the Republic," then later, "America the Beautiful."
That trio makes up three of the five most common patriotic songs appearing in denominational hymnals over time, with "America" the most popular by far, according to a Hymnary.org analysis by historian Chris Gehrz. The list includes:
In the 20th century, many evangelicals—and eventually the Religious Right—incorporated a stronger sense of nationalism in worship, with some congregations bringing in the US flag alongside the Christian flag and preaching more politically themed sermons, Marini noted.
Evangelical leaders have since voiced concerned about the ways churches present civic symbols and values in worship, right down to the patriotic lyrics themselves. Theologian Richard Mouw issued this warning in Reformed Worship back in 1990:
Patriotic songs also contain many dangerous teachings. Take, for example, the "eschatological" verse of "America the Beautiful." Themes that in the book of Revelation are used to describe the Holy City are here applied to the United States: "alabaster cities," "undimmed by human tears," the "shining sea." As if the United States will become the promised New Jerusalem!

And yet Reformed Christians—even the kind who sometimes boast of their commitment to "sound theology"—often sing these words without a thought to the heresies they are mouthing. … We must be very diligent in warning the people of God against applying the themes of Zion to the nations in whose midst we are called to serve our only true and righteous Sovereign.
More recently, John Piper shared a similar caution over the place of patriotism in worship services, specifically advising Christians to emphasize gratitude for God's mercy.
"Whenever Christians pay tribute to earthly blessings like American freedoms," he said, "… words and songs should have no triumphalist or assertive tone, especially not for any military expression, but, rather, should have a feel of humility and lowliness and dependence and thankfulness along with a suitable call to repentance and need for ongoing mercy."
Most Americans—especially evangelicals—continue to believe, as many of the songs imply, that America has a special relationship with God.
While a majority of Protestant pastors (61%) believe it's important to celebrate the country around July 4, they also recognize the tensions at hand. A 2016 LifeWay survey found that a little over half say their congregation sometimes seems to love America more than God.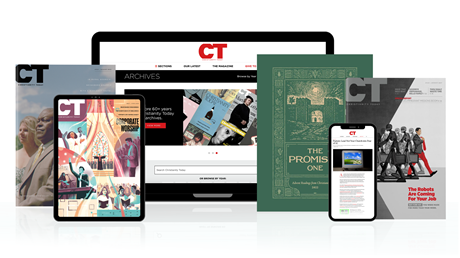 Annual & Monthly subscriptions available.
Print & Digital Issues of CT magazine
Complete access to every article on ChristianityToday.com
Unlimited access to 65+ years of CT's online archives
Member-only special issues
Subscribe
Make Worship Patriotic Again? The Top 10 Songs for Fourth of July Services
Make Worship Patriotic Again? The Top 10 Songs for ...