Image: Dickie Hill Photography
When Samira Izadi Page arrived in Dallas nearly two decades ago, she experienced a generous Texas welcome from a local Baptist church that provided her Iranian family a fully furnished apartment.
That first impression changed her life—setting her on the path to finally convert to Christianity, seek ordination in the Episcopal Church, and dedicate her career and ministry to refugees.
"My life has always been about being a bridge between two cultures," said Page, founder of Gateway of Grace, a nondenominational nonprofit that has connected more than 90 Dallas congregations with refugee families in the area. "It's not about me; it's about God's work. I see myself as just a bridge, a steward of what God is already doing."
Plenty has changed in North Texas since 1999, when Page and her ex-husband arrived with their two sons, having made their way to the United States via Turkey and Mexico. Back then, Page had glimpses of the God of the Bible—a childhood dream of Mary that she could never forget, plus the Christian values gleaned from classic literature she read growing up in Iran—but hadn't yet come to understand the gospel preached in churches in her new home.
In her first years in Dallas, the area was already booming with ethnic diversity; the region's immigrant population had grown by two and half times (146%) between 1990 and 2000, according to US Census data. During the 21st century, the foreign-born and refugee population has continued to climb and, at times, become a source of political tension.
"When they learn about refugees, their big, Texas-sized hearts show up to help."
The year before President Donald Trump took office, Dallas-Fort Worth resettled more refugees than any other US metropolitan area, according to US State Department data reported by The Dallas Morning News. Well over a third of the area's refugees were from countries targeted by Trump's ban, mostly Iraq, Iran, and Syria.
Polls showed that white evangelicals were twice as likely as Americans on average to support the new restrictions, while holding more negative views of their Muslim neighbors than members of other faith groups.
Despite the national view among evangelicals, and even the voices of prominent locals like Robert Jeffress, pastor at Dallas's First Baptist Church, Page continued to see the same spirit of generosity among the city's believers as those who first welcomed her.
"We didn't have these issues that were so polarizing, but the people haven't changed," she said. "When they learn about refugees, their big, Texas-sized hearts show up to help."
The key is making the connection between the gospel and their outreach. Gateway of Grace doesn't offer a template or a one-size-fits-all program for congregations. Instead, armed with an MDiv from Southern Methodist University as well as her own doctoral research on how to ease Christians' anxieties about refugees, Page teaches from Scripture on how God compels believers to love, serve, and care for displaced people.
After all, it was Matthew 25 that spoke most deeply to her when she ultimately came to faith in Christ, compelled by a God who urges generosity and sees our everyday needs. When she read the Bible's words, "Whatever you did for one of the least of these brothers and sisters of mine, you did for me" (Matt. 25:40), the former Shia Muslim encountered a Savior who "cares about the day-to-day struggles of the people and promises to bring healing, restoration, and dignity."
Page couples Bible lessons with her own insights from growing up in Islamic culture and the Middle East. Sometimes she needs to remind people outright: Not all Muslims are terrorists or ISIS sympathizers, and refugees aren't illegal immigrants; they're here through sanctioned and vetted resettlement programs.
Ultimately, the city's Christians—even in politically conservative, white congregations—connect with refugee families over common experiences big and small. Page has watched baby showers and Easter egg hunts and Thanksgiving dinners level cultural divides between Texas natives and Muslim refugees. But she's also seen deeper connection forged, such as women from both faiths who open up about their experiences with domestic violence.
With God's Spirit at work through the gospel, this kind of outreach, Page said, "can happen at churches anywhere, and it's happening now in the center of the Bible Belt."
World Relief, the National Association of Evangelicals' humanitarian arm and a federal refugee resettlement agency, has observed similar openness among politically conservative Christians as Page has in Dallas.
According to Matthew Soerens, director of church mobilization, a bigger factor than living in a red state or blue state is whether or not a person knows refugees in their community. "If you've met a refugee—and that term evokes someone you know personally … —you're unlikely to believe the rhetoric that refugees are a public safety threat," he said.
Even with the slowed numbers of new refugees coming into the US, Dallas has enough to keep Gateway of Grace and Page's hundreds of volunteers busy. In fact, the frustration over Trump's policy actually drew attention to her ministry and has helped her connect with more churches and more refugees.
When I met Page for lunch at a busy café in Northwest Dallas in February, the 45-year-old bustled in wearing big, dark ringlet curls and a black capelet, coming straight from visiting a Muslim refugee in the emergency room. She tapped her phone with pointed, shimmering nails as it buzzed with updates about a new apartment complex they discovered that was filled with new arrivals in need of their services.
"What I love about Samira is that she leads with love and grace, meeting people just where they are to care for them," said Brent McDougal, senior pastor of Cliff Temple Baptist Church, one of Gateway of Grace's partner churches. "But as she develops relationships, it opens up conversations … where Jesus can be talked about."
Gateway of Grace zeroes in on meeting practical needs rather than proselytizing but always makes it clear that Christian beliefs inspire their free services. Inevitably, the faith questions come up.
After one baby shower where a young refugee mom was presented with piles of brand-new gear, some of the once-hesitant Muslim attendees were impressed enough to say, "Give us your book," wanting to know more about what their new Christian friends believed.
The constant curiosity led Page to launch a weekly Bible study and worship service. The Wednesday night gathering now draws around 70 attendees, both Christians from persecuted backgrounds and Muslims seeking to learn about Christ, and offers prayers in Arabic, Farsi, and English.
Buzzfeed credited her with helping Dallas become one of America's most refugee-friendly cities, and she's also been honored with local recognition and opportunities to teach and preach through the Episcopal Diocese of Dallas.
Gender has played a significant role in her Christian journey. Page sees a vast contrast between the notion of male rule she came to understand in a Muslim context and the biblical framing of wifely submission, since Christians teach that women and men are equal in dignity and equal heirs to the kingdom of God.
The more Page studied theology, starting with her master's in 2010, the clearer she felt a call to ordained ministry, which ruled out traditions such as Roman Catholic or Southern Baptist. (Her husband is Baptist; the two met when he interviewed her on a local Christian radio station, KCBI.) In the Episcopal tradition and with Gateway of Grace, "God has given me a lot of favor with Christian leaders across denominations," she said. "It has all been for his work."
Her spiritual life looks so much different from her childhood, when she felt forced to study, pray, and fast to please God, only to be spun into cycles of guilt over her missteps. These days, Page trusts the Lord's direction for her life and ministry, humbling seeing herself as a part of his bigger, ongoing work.
"No people on earth have moved from one place to another apart from God's plans," she said. "When we see the flux of refugees in our cities, we should be asking, 'What is God up to? Do I want to be a part of God's mission or not?'"
Her advice for Christians is straightforward: "If you are really concerned about the number of Muslims coming to America, love them. Share the gospel with them. Only Jesus can transform the hearts of Muslims."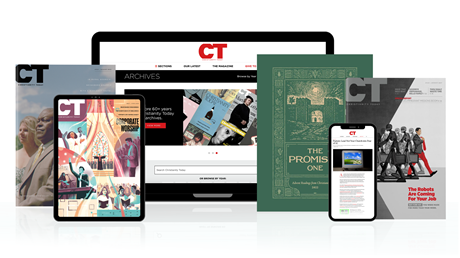 Annual & Monthly subscriptions available.
Print & Digital Issues of CT magazine
Complete access to every article on ChristianityToday.com
Unlimited access to 65+ years of CT's online archives
Member-only special issues
Subscribe
Iranian American Minister: Why the Bible Belt Is the Perfect Place for Muslim Refugees
Iranian American Minister: Why the Bible Belt Is ...