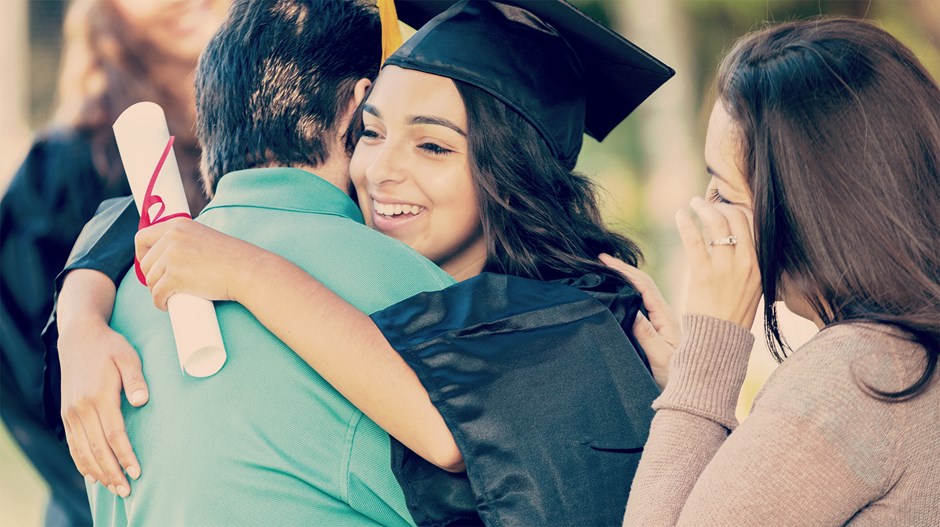 Image: Steve Debenport / Getty Images
About a week before my eldest child went to college, my family and I took him out for Sunday lunch. During the meal, one of his grandmothers asked me if I wished I could turn back time. My eldest sat beside me with his back straight, looking down at his plate. "Don't you wish he were little again?" she said. "Sitting in a patch of sunshine in the yard, playing with Legos?" The other grandmother asked the same question with a different phrasing. "Remember the sweetness of those early years? Wouldn't it be wonderful to go back?"
Their words, although well-intentioned, wrung the nostalgia right out of me. No, I said. I didn't want to go back in time. I loved being at home with my kids when they were little, but now, I said, I was eager to see what was ahead for my son. Of course, I was also trying to signal something to him that day while answering their questions; I wanted him to know it was all right with me that he was growing up and moving on. Still, I felt like I was breaking a classic, unwritten rule of having a high school senior: Parents are supposed to be sentimental and even fraught, full of regret and given to ponderous rumination about their children growing up.
"Parenthood offers many lessons in patience and sacrifice," columnist Michael Gerson writes in a beautiful piece about his son's departure for college. "But ultimately, it is a lesson in humility. The very best thing about your life is a short stage in someone else's story."
When I first read Gerson's words, they shot a dart into my heart. But on further reflection, I think they convey a fundamental untruth: that the best of our lives lie behind us.
I want to be hopeful about the future—my kids' and my own. The writer of Ecclesiastes says, "Don't long for 'the good old days.' This is not wise" (Ecc. 7:10, NLT). The apostle Paul, too, advises us to forget the past and look forward to what is ahead (see Phil. 3:13).
Much as I cherish memories of my kids' earliest years, I don't want to keep looking in the rearview mirror at that intensive time of parenting, thinking, "Those were the days." I'm currently the mother of adolescents and young adults, and it's been a relief, at least so far, to see my older kids walk across the stage at their high school graduations. They've managed to get through high school healthy and safe, and it's a joy to see them bloom and mature into their adult selves.
Moreover, the future is still unfolding. My kids have their adult lives ahead of them, and it's with real curiosity and pride that I watch the choices they're making, the fields they're pursuing, and the relationships they're building. I, too, have work ahead of me—places to visit, friends to meet, and more history to write with my husband.
As I look toward the future with hope, I also want to be realistic about the past and the hardships I experienced while I was raising my kids. Like all parents, I've had sleepless nights, prickly debates with my kids over issues both petty and significant, and many moments of uncertainty.
The journey to graduation day isn't easy, for parents or for our children. Back when my own kids and my friends' children were shiny-faced preschoolers, if you'd told us that we'd find ourselves in some of the agonizing scenes that have played out since then, we'd never have believed it.
Some of us have bought home-testing kits for alcohol and drugs or learned that our child was "cutting." Parents I know have found marijuana stashed in a child's closet or tucked in with the stuffed animals. We've overheard our kids using language that makes us want to wash our ears out with bleach, had to talk frankly to them about STIs (sexually transmitted infections), and watched them go through phases in which they recoil from us.
Somehow, with God's help, we parents rise to the occasion and get through the tough years, and more often than not, our children emerge from adolescence in one piece and their hearts open to us again. But would I want to go back in time and do it all again? No thank you. With the benefit of the passage of time, I can see the quiet wisdom in Paul's words when he says we rejoice in our sufferings, "knowing that suffering produces perseverance; and perseverance, character; and character, hope" (Rom. 5:3–4).
Finally, I want to appreciate each season for what it is—alone and in concert with the others. Ecclesiastes reminds us that "to everything there is a season" (Ecc. 3:1–8), and these seasons come and go for good reasons—even ones that are hard to discern in the moment.
When my firstborn went to college, there were days when my heart felt bruised by loss. I missed seeing his face and hearing his laugh. While making dinner every evening, I missed hearing him in the next room practicing his cello. For weeks, I set the table for six people before I finally got into the habit of setting it for five. I felt his looming absence, but I felt something else growing in me, too: a sense of accomplishment.
I'd managed to give birth to a child, raise him, and send him off into the world to do good, and I think I was even able to achieve it without saddling him with a lot of emotional baggage. I liked him as a person, enjoyed the friends he was making, and appreciated the classes he'd chosen. He was ready to go; it was the season of his leaving.
When he first left home, I realized that my stint as a full-time parent would someday come grinding to a stop. I had more patience for the younger ones when they needed help with homework or wanted to give me the play-by-play of a movie they just saw or got mired in conflict with a friend. I knew in my bones, for the very first time, how fleeting the season of parenting is. Sometimes that knowledge is bittersweet, and sometimes it's empowering. (Mostly, it's both/and.)
However, as people of faith, we know that the ephemerality of our lives is not a reason to despair but instead reflects the very order of things. We push on through each day, appreciating the resilience and character that God is growing in us and looking toward the future with hope.
Jennifer Grant is the author of five books for adults, including her recent memoir, When Did Everybody Else Get So Old? Indignities, Compromises, and the Unexpected Grace of Midlife. Her first picture book for children, Maybe God Is Like That Too, won a gold medal from the Moonbeam Spirit awards for exemplary children's literature. Find her online at jennifergrant.com or on Twitter @jennifercgrant.

This essay was adapted from When Did Everybody Else Get So Old? (Herald Press, 2017). All rights reserved. Used with permission.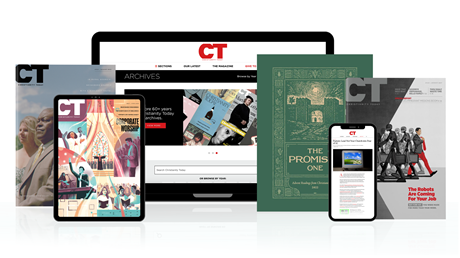 Subscribe to Christianity Today and get access to this article plus 65+ years of archives.
Home delivery of CT magazine
Complete access to articles on ChristianityToday.com
Over 120 years of magazine archives plus full access to all of CT's online archives
Subscribe Now
Parents: Let Go of Graduation Nostalgia
Parents: Let Go of Graduation Nostalgia