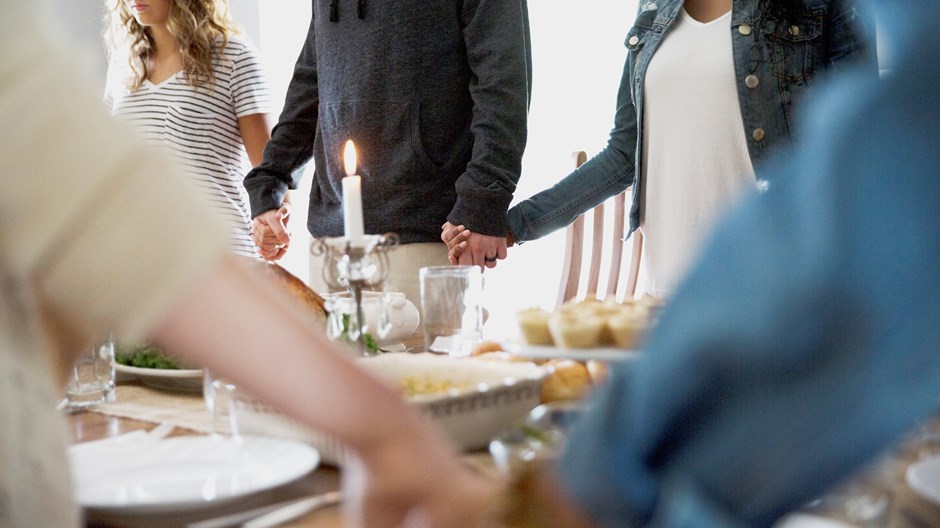 One Wednesday night some years ago, I sat in a church prayer meeting next to Mandy, a single mom and dear friend. A few years earlier, Mandy's husband had fallen into serious sin and left her to raise three young children on her own. But Mandy's prayers that night were not for a change in her own difficult circumstances—though I'm sure she often cried out to God for that at other times. No, Mandy's prayers were prayers of thanksgiving and rejoicing with others.
Of all the things on the prayer list that evening, Mandy chose to pray for the newly engaged couples in our church. She thanked God for their lives and their love, and she asked him to bless their upcoming marriages with happiness and faithfulness. She praised him for his kindness to these fresh-faced and starry-eyed young people and publicly shared in their joy. In essence, she gave thanks to God for everything that she did not have.
I have never forgotten that moment.
As Thanksgiving approaches, many of us will find ourselves in church gatherings or at family dinner tables where we have opportunities to give public thanks. Naturally, our thoughts might turn immediately to an inventory of our year. The blessings that are first on our lips and hearts will most likely be those we've experienced firsthand: steady work, warm house, loving family. But what if, rather than dwelling on our own circumstances, we choose instead to enter into someone else's joy?
Scripture gives us a model for this practice.
The people of God are called to enter into the blessings of others and delight in God's goodness wherever (and to whomever) it appears. "Rejoice with those who rejoice" (Rom. 12:15) is our Lord's gracious invitation to lift up our eyes and delight in the bounty of his kindness—even when it's displayed in other people's lives.
This isn't easy, of course. How can you praise God for the engagement ring on your sister's finger while your own hand remains bare? How can you rejoice over a friend's baby while your own arms ache with emptiness? How can you celebrate your roommate's promotion while your own career stalls?
How can you give thanks when someone else gets the life you always wanted?
The apostle Paul's exhortation to the Corinthian church offers us an answer: "But God has put the body together ... that its parts should have equal concern for each other. If one part suffers, every part suffers with it; if one part is honored, every part rejoices with it" (1 Cor. 12:24–26).
When God unites us to Christ, he unites us to everyone else who also belongs to Christ and we join an interconnected body. As such, the joy of an individual member becomes the joy of every member. We can give thanks for other people's babies and vacations and clear brain scans because we, too, are in the body. When God blesses one of his people, he is blessing all of us.
To give thanks for a fellow Christian's blessing is also an act of faith in the God who gives every good gift (James 1:17) and writes each of our stories.
In C. S. Lewis's allegorical novel, The Horse and His Boy, the boy Shasta asks Aslan to explain the reason for events in his friend Aravis's life. Aslan answers him firmly in the negative: "Child ... I am telling you your story, not hers. I tell no one any story but his own."
When it comes to the stories of our fellow Christians, we do not know exactly why the Lord has chosen to bless one and deny another. We may never know. For example, on that long-ago Wednesday night, my friend Mandy did not know why her God-written story looked like a tragedy while the stories of others looked like fairytales. But her prayers of thanks were prayers of faith—offered with humble confidence that, whatever the story, her loving God was intimately caring for each of his people.
Ultimately, giving thanks for the blessings of others is the way of Christ himself. Hours before his crucifixion, Jesus prays for his disciples and all who will later follow him. He asks the Father to grant his people security, though he himself will soon be forsaken (John 17:11–12). He asks the Father to grant them unity, though he himself will be abandoned and betrayed by those closest to him (John 17:20–23). He asks the Father to give them glory, though he himself will be utterly humiliated (John 17:22).
And then he gives thanks. Having willingly suffered so that we might be blessed, Jesus joins us in rejoicing: "'in the assembly, I will sing ... praises'" (Heb. 2:12). The man of sorrows sings, and we all take up the chorus of thanksgiving.
This Thanksgiving Day, my family and I will gather at my in-laws' house. We'll eat turkey, watch some football, and nibble a slice of pie (or two). We'll also express gratitude to the God who is unfailingly kind. As I reflect on this past year, many of my blessings have been things that God gave to someone else.
And for that I am thankful.
Megan Hill is an editor for The Gospel Coalition and the author of Praying Together. Her new book, Contentment: Seeing God's Goodness, is a 31-day devotional for Christians seeking to grow in the grace of contentment.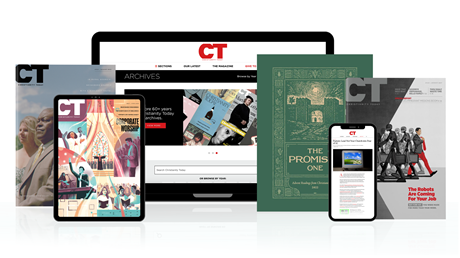 Subscribe to Christianity Today and get access to this article plus 65+ years of archives.
Home delivery of CT magazine
Complete access to articles on ChristianityToday.com
Over 120 years of magazine archives plus full access to all of CT's online archives
Subscribe Now
Give Thanks for What Others Have That You Don't
Give Thanks for What Others Have That You Don't