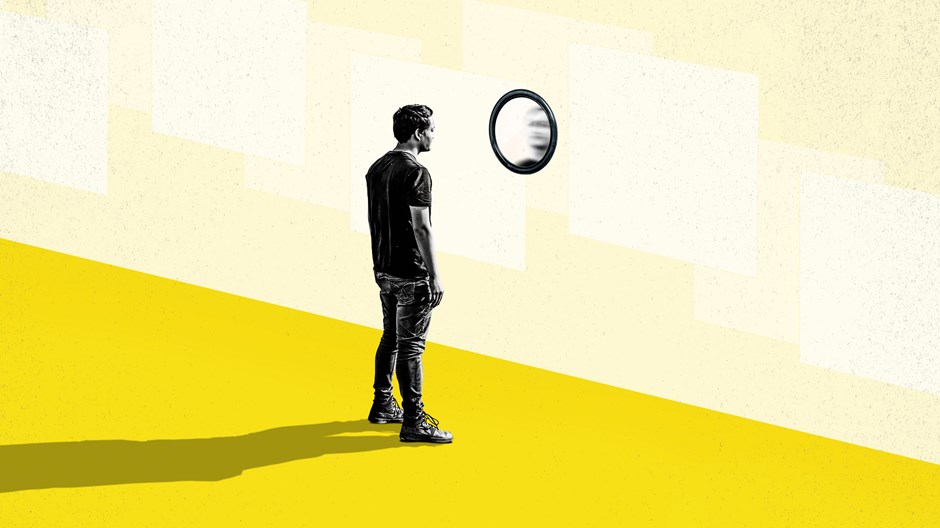 Image: Illustration by Rick Szuecs / Source images: Kushal Medhi / Unsplash
Brené Brown, em sua participação no Super Soul Sunday de Oprah Winfrey, declarou: "Acho que a vergonha é algo letal, destrutivo. E acho que estamos profundamente mergulhados nela". Sua palestra proferida nas conferências TED Talks, "Dando ouvidos à vergonha", teve mais de 14 milhões de visualizações. Nela, Brené alerta que a vergonha é um gremlin que ri e repete duas mensagens em nossa mente: "[Você] nunca é bom o bastante" ou "Quem você pensa que é?"
Essa metáfora apresenta a vergonha como uma armadilha que se repete: experiências recorrentes de vergonha destroem nossa autoestima, e a baixa autoestima nos predispõe a sentir vergonha. Esse ciclo vicioso acaba saindo do controle, levando a padrões de comportamento viciantes e destrutivos. Para Brené Brown, a vergonha é um sentimento pernicioso que não tem nenhum propósito construtivo; devemos, portanto, renunciar ao seu uso e desenvolver resiliência a todas as formas de vergonha.
O desejo de eliminar a vergonha de nossa experiência cotidiana parece razoável, mas isso prejudica nossa capacidade de sermos pessoas morais. Os sentimentos morais estão fortemente entrelaçados; eles não existem de forma fragmentada. Portanto, como escreve Krista Thomason, "não podemos nos livrar de um sentimento [como a vergonha] sem 'desfigurar' todo o resto".
Além disso, eliminar a vergonha em grande parte promove a falta de vergonha. Como Daniel Henninger escreveu no The Wall Street Journal, logo após as acusações contra Harvey Weinstein, Charlie Rose e Al Franken: "Seus atos revelam um colapso do domínio próprio. Isso, por sua vez, sugere uma dissipação mais ampla da consciência, do senso de que fazer algo é errado (...). Portanto, quando alguém pergunta como esses homens puderam se comportar de forma tão grosseira e monstruosa, uma das respostas é que eles (...) não (...) têm (...) vergonha".
Henninger alerta para não nos iludirmos pensando que esses homens são casos isolados ou anomalias. Pelo contrário, eles são o produto de uma "cultura que acabou com a vergonha e os limites comportamentais". A Escritura também reafirma a necessidade da vergonha e se posiciona contra a falta de vergonha. Os profetas repreendem Israel por seu entorpecimento espiritual e sua incapacidade de enrubescer por sua conduta detestável (Jr 3.3; 6.15; Sf 3.5). Da mesma forma, Paulo censura os coríntios por sua apatia moral e por não se lamentarem por seus pecados (1Co 5.2;15.34).
Con toda certeza, a vergonha pode ser tóxica, mas não necessariamente é. Devemos fazer uma distinção entre vergonha mundana e vergonha piedosa. Com a vergonha piedosa, nossas consciências são inflamadas por valores calibrados de acordo com o padrão de Deus, e não o do mundo. A vergonha piedosa está fundamentalmente relacionada com o certo e o errado da perspectiva de Deus; está atada à beleza e à santidade de Deus. Ela guia nossas escolhas futuras, impedindo-nos de fazer qualquer coisa que possa trazer desonra a Deus, à igreja, aos outros e a nós mesmos.
Ela nos lembra de nossa responsabilidade de acolher os que estão na fé como irmãos e irmãs, independentemente de sua origem socioeconômica, imigratória ou racial; pois o muro que nos divide foi destruído pelo sangue de Jesus Cristo (Ef 2.14;Fm 1.16). Também nos compele a respeitar a dignidade de todas as pessoas, pois todos nós fomos criados à imagem de Deus (Gn 1.26-27).
A vergonha piedosa avalia nossos pensamentos, ações e omissões passados com uma mente que não é conformada com o mundo, mas transformada pelo evangelho (Rm 12.1-2). Ela repreende nosso interesse voltado apenas para nós mesmos e nossa indiferença para com a perseguição e o sofrimento sofridos pelos outros, pois todas as partes do corpo de Cristo sofrem quando uma parte sofre (1Co 12.26). A vergonha piedosa condena nossa hesitação em nos juntarmos ao lamento daqueles que sofrem injustiça racial, e nos chama a "chorar com os que choram" (Rm 12.15). Ela repreende nossa disposição de humilhar outras pessoas online, quando nossos tweets mordazes sinalizam nossa própria "virtude", em vez de buscar o bem genuíno dos outros.
A repreensão da vergonha piedosa é perturbadora e dolorosa; no entanto, produz fruto de justiça para aqueles que por ela foram exercitados (Hb 12.11). A repreensão da vergonha piedosa mina a autoestima indevida em prol da maturidade cristã.
A vergonha mundana destrói, mas a vergonha piedosa restaura. A vergonha piedosa mostra que entristecemos o Espírito Santo, mas também nos dá a segurança da graça (Hb 4.16). A vergonha piedosa nasce de um conhecimento genuíno daquilo que Deus requer e de sua misericórdia. Em resposta a "[Você] nunca é bom o bastante", a vergonha piedosa concorda que nunca somos bons o bastante por nós mesmos, mas somos bons mais do que o suficiente por causa de Cristo (2Co 5.21).
Em resposta a "Quem você pensa que é?", a vergonha piedosa nos acusa como pecadores, mas depois confirma que somos filhos e herdeiros de Deus por causa de nossa união com Cristo (Rm 8.17). A vergonha piedosa não contesta a honra que Deus deseja para seus filhos. Como aconteceu com o filho pródigo, quando ele caiu em si (Lc 15.17), a vergonha piedosa corrige, repreende para a contrição, o arrependimento e a humildade; e então compele a retornar ao abraço gracioso de nosso Pai - com a certeza de nosso perdão, nossa identidade reformada, nossos relacionamentos restaurados, nossa honra correta recuperada. A vergonha piedosa é aquela de que precisamos para andar de modo digno de nosso chamado como filhos de Deus.
Te-Li Lau é professor associado da Trinity Evangelical Divinity School e autor de Defending Shame: Its Formative Power in Paul's Letters [Em defesa da vergonha: Seu poder formativo nas cartas de Paulo].
Traduzido por Eduardo Fettermann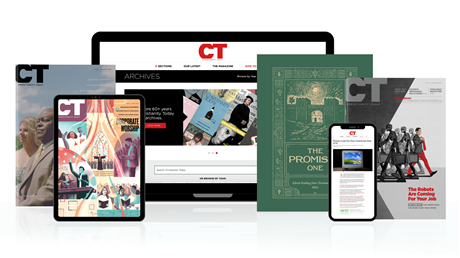 Subscribe to Christianity Today and get access to this article plus 60+ years of archives.
Home delivery of CT magazine
Complete access to articles on ChristianityToday.com
Over 120 years of magazine archives plus full access to all of CT's online archives
Subscribe Now
O poder modelador da vergonha
O poder modelador da vergonha