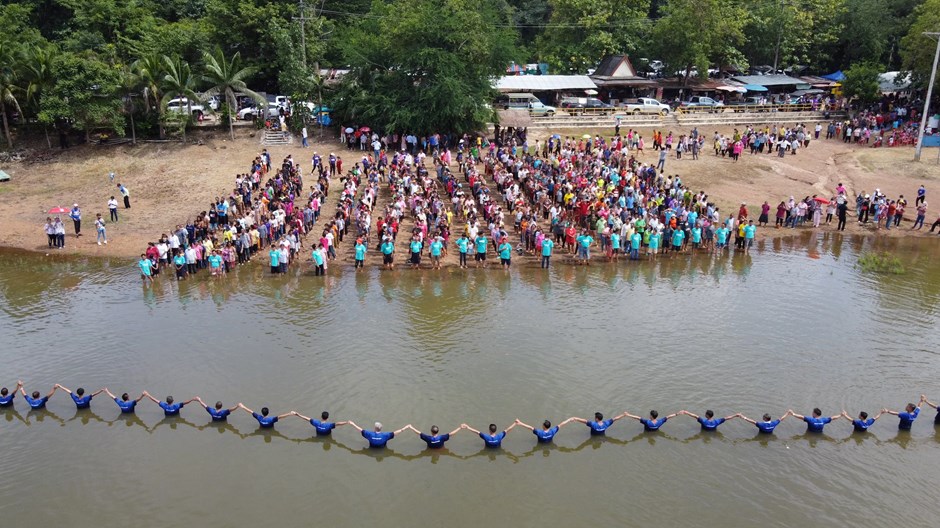 Image: Reach a Village
La situación no parecía muy alentadora para la iglesia tailandesa a principios de 2020. La nación del sudeste asiático fue la primera en reportar un caso de coronavirus fuera de China, y los analistas temían un brote extenso y abrumador.
Sin embargo, hacia principios de Septiembre, Tailandia estaba siendo elogiada como uno de los únicos países que pudieron contener efectivamente la pandemia. Después de aplicar una orden de cuarentena nacional en la primavera y de continuar las precauciones en los meses posteriores, Tailandia celebró 100 días sin un solo caso de COVID-19 a principios de septiembre.
Durante esa misma semana, un movimiento evangélico que planta iglesias en la región central de Tailandia celebró un logro sin precedentes, el cual no habría sido posible sin las conversaciones interpersonales, las reuniones en casas y los testimonios en los que se basa este ministerio para difundir el Evangelio.
La Asociación de Iglesias "Libres en Jesucristo" [FJCCA por sus siglas en inglés] celebró el bautismo más grande en su historia y, según afirma, en la historia de la iglesia evangélica en Tailandia. La FJCCA, movimiento basado en Tailandia y que se centra en el evangelismo local en las aldeas, bautizó a 1 435 personas en un solo día, el 6 de septiembre pasado.
Veinte ministros se alinearon en fila dentro de las aguas en las que algunos de ellos también fueron bautizados, e iban llamando a los nuevos creyentes, uno por uno, a que vinieeran desde la orilla para proclamar su fe y ser sumergidos en el agua para su bautismo bíblico. El evento duró aproximadamente dos horas.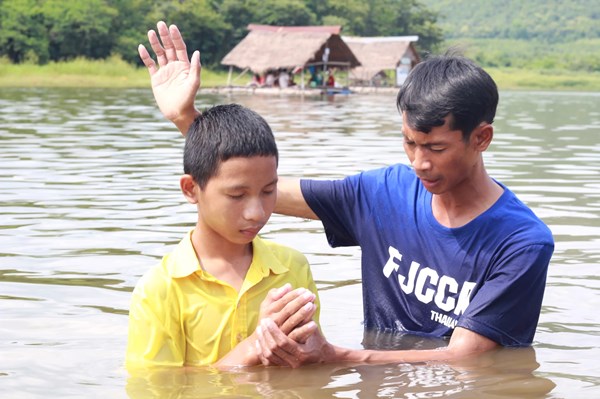 Image: Reach a Village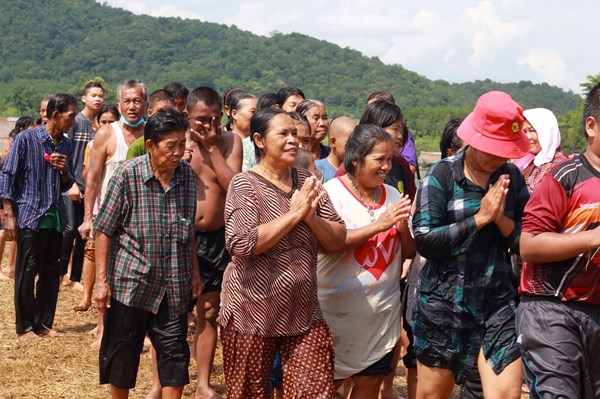 Image: Reach a Village
CT publicó un artículo acerca del crecimiento histórico de la FJCCA en una portada de 2019. En ese año, la asociación celebró un bautismo de 520 personas, y en aquel momento, los líderes de las iglesias nacionales dijeron que era el más grande que habían visto en su país, el cual es mayoritariamente budista. El bautismo masivo ocurrido en el pasado mes de septiembre fue casi tres veces más grande.
"Es verdaderamente un misterio para el mundo por qué Tailandia se ha salvado del golpe de la pandemia por COVID", dijo en Septiembre Bob Craft, cuyo ministerio Reach a Village apoya a la FJCCA. "Creemos que la mano misericordiosa de Dios está permitiendo el avance del Evangelio en este tiempo crucial".
Los participantes vinieron de 200 aldeas de cinco diferentes provincias tailandesas a Chon Daen, el centro de actividades de la FJCCA y hogar del fundador Somsak Rinnasak. Algunos llevaban mascarillas, y las filas de nuevos creyentes fueron felicitadas con un tradicional saludo wai, un saludo que no requiere contacto físico (manos en posición de oración y una reverencia) y que ha sido parte de la cultura tailandesa desde mucho antes de que el nuevo coronavirus alertara contra el contacto físico para evitar la transmisión del virus.
Después de que la FJCCA compartió la noticia del bautismo masivo del mes de septiembre, cientos de seguidores respondieron "amén" y "gracias Jesús" en tailandés, en la página de Facebook de la iglesia . Según los líderes de la FJCCA, muchos de los que se bautizaron no habían escuchado hablar de Jesús hasta este año. Más de 75.000 aldeas de Tailandia no tienen presencia cristiana.
Aunque Tailandia logró reducir considerablemente la propagación de la COVID-19 y continúa poniendo en cuarentena a las personas que regresan del extranjero, el país ha resentido el golpe financiero causado por la pandemia, particularmente por la reducción considerable del turismo. Durante el mismo mes de septiembre, la recesión económica fue un factor que despertó protestas que desafiaban a la monarquía del país y pedían una reforma del gobierno.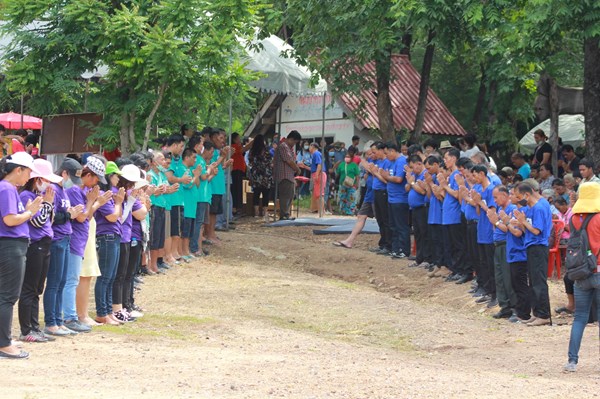 Image: Reach a Village
A pesar del estrés provocado por la pandemia, Rinnasak y otros líderes de la FJCCA dicen que han seguido notando interés por parte de sus vecinos tailandeses —de los cuales menos del 1% son cristianos— en sus historias de salvación y transformación en Cristo. El movimiento, que comenzó en 2016, ahora tiene 700 iglesias en hogares.
Mientras se lamentan por las consecuencias de la pandemia y continúan trabajando y orando para evitar una mayor propagación de la enfermedad, varios pastores de otros países han compartido historias acerca de cómo esta crisis les ha ofrecido oportunidades únicas para el ministerio y el evangelismo.
Greg Laurie en California se refirió a éste como un "despertar espiritual", considerando que el número de espectadores que ven los servicios y avivamientos en línea ha crecido considerablemente. Isaac Shaw en Nueva Delhi observó cómo las iglesias de la India se están volviendo más unidas a pesar de las diferencias denominacionales y más centradas en el evangelismo desde que la pandemia los obligó a pausar temporalmente los servicios dominicales.
Editado en español por Livia Giselle Seidel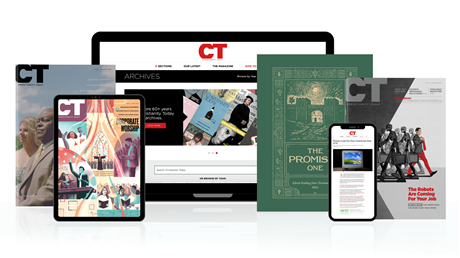 Subscribe to Christianity Today and get access to this article plus 65+ years of archives.
Home delivery of CT magazine
Complete access to articles on ChristianityToday.com
Over 120 years of magazine archives plus full access to all of CT's online archives
Subscribe Now
Iglesia tailandesa rompe récord con bautismo masivo
Iglesia tailandesa rompe récord con bautismo masivo