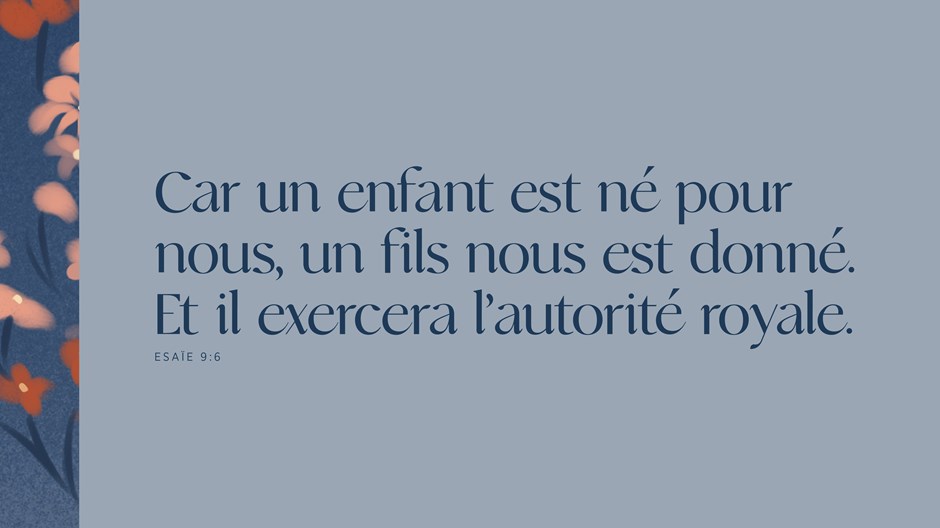 Lecture dans Ésaïe 9.6-7
Dans mon expérience, regarder des films d'animation a été une composante essentielle de mon rôle de père de trois jeunes garçons. Baby Boss fait partie de ces films. Il nous entraîne dans les aventures d'un bébé « adulte » en mission, qui donne constamment des ordres à son frère de sept ans dans le dos de ses parents.
Ésaïe 9.6-7 nous offre un paradoxe similaire : un nouveau-né déjà « adulte ». Ésaïe décrit celui qui est promis comme un nouveau-né, un chef d'état et un « Conseiller merveilleux, Dieu puissant, Père éternel, Prince de paix ».
L'étonnant témoignage de ce texte prophétique est que Jésus est tout cela, et bien plus encore. Jésus, né comme un enfant humain, était à la fois pleinement humain et pleinement divin : l'Homme-Dieu, le bébé roi.
Ésaïe s'adressait à une communauté juive découragée qui avançait à tâtons dans les ténèbres, espérant trouver un chemin pour se libérer de son état de « détresse, ténèbres, sombres angoisses » (Ésaïe 8.22). C'est dans ce contexte qu'Ésaïe prophétise ainsi : « Il étendra sa souveraineté et il instaurera la paix qui durera toujours au trône de David et à tout son royaume. Sa royauté sera solidement fondée sur le droit et sur la justice, dès à présent et pour l'éternité » (9. 7). Cette référence au trône de David renvoie à la promesse faite par Dieu à David lui-même : « j'établirai après toi l'un de tes propres descendants pour te succéder comme roi, et j'affermirai son autorité royale […] et je maintiendrai à toujours son trône royal » (2 Samuel 7.12-13). Dieu est un Dieu qui respecte son alliance. Et rien ne s'opposera à ce miracle promis : « Voilà ce que fera le Seigneur des armées célestes dans son ardent amour » (Ésaïe 9.7). Dieu est plein de zèle pour tenir ses engagements envers son peuple.
Dieu est aussi zélé et passionné pour l'Évangile. La bonne nouvelle de l'incarnation de Jésus est qu'en Christ il n'y a plus de ténèbres (Ésaïe 9.2 ; Jean 1.4-5, 14). Dieu est à l'œuvre, à travers le monde, sur chaque continent, dans chaque nation, faisant reculer l'obscurité par la puissance de la première venue du Christ et de son retour imminent. L'incarnation de Jésus dans le monde marque l'avènement d'un jour nouveau, « car un enfant nous est né, un fils nous est donné » (Ésaïe 9.6) !
C'est cela la Bonne Nouvelle, l'Évangile que nous devons partager avec le monde entier. La lumière est venue ; la lumière, c'est Jésus ! Nous n'avons plus besoin de vivre dans les ténèbres et nous pouvons partager cette lumière avec un monde qui a besoin de connaître notre « Dieu puissant », notre « Prince de paix ». Puissions-nous le proclamer librement : Jésus, le bébé roi, est là, et il veut régner dans votre cœur.
MATTHEW D. KIM est le professeur George F. Bennett de prédication et de théologie pratique au Gordon-Conwell Theological Seminary et l'auteur de Preaching to People in Pain.
Traduit par Léo Lehmann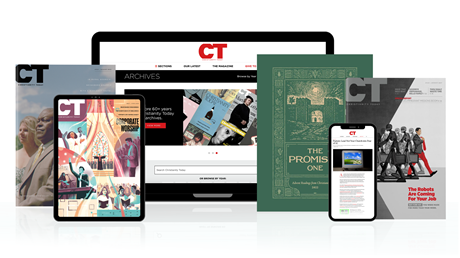 Subscribe to Christianity Today and get access to this article plus 65+ years of archives.
Home delivery of CT magazine
Complete access to articles on ChristianityToday.com
Over 120 years of magazine archives plus full access to all of CT's online archives
Subscribe Now
Le bébé roi
Le bébé roi