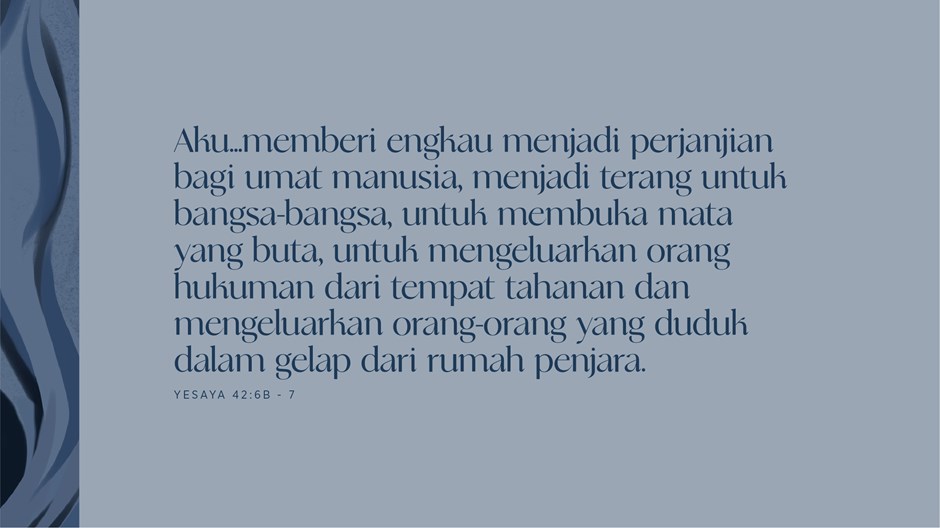 Untuk mengunduh kumpulan renungan "Berita Injil di Masa Adven," klik di sini.
Baca Yesaya 42:1–7
Terkadang kita lupa bahwa kita adalah pembuat berhala. Kita mencondongkan diri pada berhala kekuasaan, kekayaan, kebanggaan, orang-orang, institusi, informasi yang salah, dan tradisi. Dan terkadang kita juga lupa bahwa Tuhan tidak diam dalam menghadapi penyembahan berhala dan kejahatan. Ia menyingkapkan janji-janji kosong mereka dan menyatakan Kristus sebagai penyembuh bagi tendensi kita yang senang membuat berhala.
Dalam Yesaya 42, Tuhan menanggapi penyembahan berhala yang kosong dan dewa-dewa palsu yang tidak berarti. Berhala dan dewa-dewa itu telah Ia bicarakan di pasal sebelumnya ketika mengumumkan tentang kedatangan hamba yang diperkenan dan dipilih-Nya, di mana Roh-Nya bersemayam. Tuhan berjanji, tidak seperti berhala yang lemah dan tak berdaya, hamba yang setia itu akan membawa keadilan bagi seluruh dunia. Ia tidak akan menginjak yang rentan, juga tidak akan menyombongkan diri dalam keangkuhan. Sebaliknya, belas kasihan-Nya yang lembut akan ditunjukkan kepada mereka yang lemah, terluka, atau yang imannya goyah.
Saat ini ada begitu banyak hal yang terjadi di dunia, yang membuat kita mempertanyakan di mana Allah ketika daya tarik berhala memperdaya bahkan kepada orang yang paling setia sekalipun. Kita bertanya di mana Allah ketika ketidakadilan menyelimuti dunia seperti awan gelap, dan ketika orang yang lemah hampir tidak bisa bernapas karena seruan tangisan mereka untuk beroleh kelegaan telah membuat mereka menjadi lelah. Perikop ini mengingatkan kita bahwa hamba yang dijanjikan itu kelak akan mengambil semua yang salah di dunia dan memperbaikinya. Ia dipilih Allah untuk membawa keadilan dengan kerendahan hati dan kasih. Ia dipanggil oleh Allah untuk menjadi kovenan bagi umat-Nya. Dialah perantara yang tak bercacat untuk melaksanakan firman dan kehendak Allah.
Dalam Matius 12:15–21, setelah Yesus menyembuhkan banyak orang yang adalah bagian dari kumpulan besar orang yang mengikuti-Nya, firman Tuhan mengatakan bahwa ini terjadi "...supaya genaplah firman yang disampaikan oleh nabi Yesaya" dalam Yesaya 42:1–4.
Semua janji Allah bersemayam di dalam Yesus dan digenapi di dalam Dia (Mat. 5:17; 2Kor. 1:20). Yesus mewujudkan kebenaran, keadilan, kebajikan, kesetiaan, kerendahan hati, kelemahlembutan, dan buah Roh. Bagi semua orang yang memanggil Dia "Tuhan," melalui kesatuan dengan-Nya, maka hidup kita harus mencerminkan hal yang sama—walaupun tidak sempurna. Hanya Yesus yang berkuasa untuk membawa bangsa-bangsa keluar dari kegelapan dan masuk ke dalam terang-Nya yang ajaib. Hanya Yesus yang dapat membebaskan orang-orang yang tertawan dari dosa dan kegelapan.
Pada masa Adven ini, saat kita merenungkan tentang kesetiaan Allah dalam mengutus hamba-Nya, kiranya kita mengingat bahwa sementara keadilan ditegakkan di kayu salib, itu juga merupakan realitas masa depan yang kita rindukan saat kita menantikan Kedatangan Kristus yang Kedua.
Kristie Anyabwile adalah editor dari His Testimonies, My Heritage dan penulis buku Literarily: How Understanding Bible Genres Transforms Bible Study (Maret 2022).
Diterjemahkan oleh: Budi Martono Winata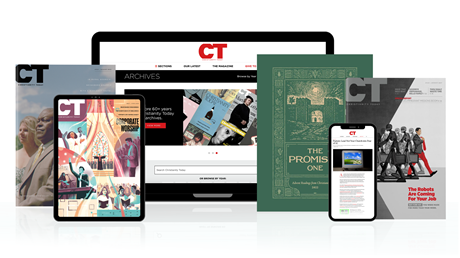 Subscribe to Christianity Today and get access to this article plus 65+ years of archives.
Home delivery of CT magazine
Complete access to articles on ChristianityToday.com
Over 120 years of magazine archives plus full access to all of CT's online archives
Subscribe Now
Harapan yang Sejati
Harapan yang Sejati