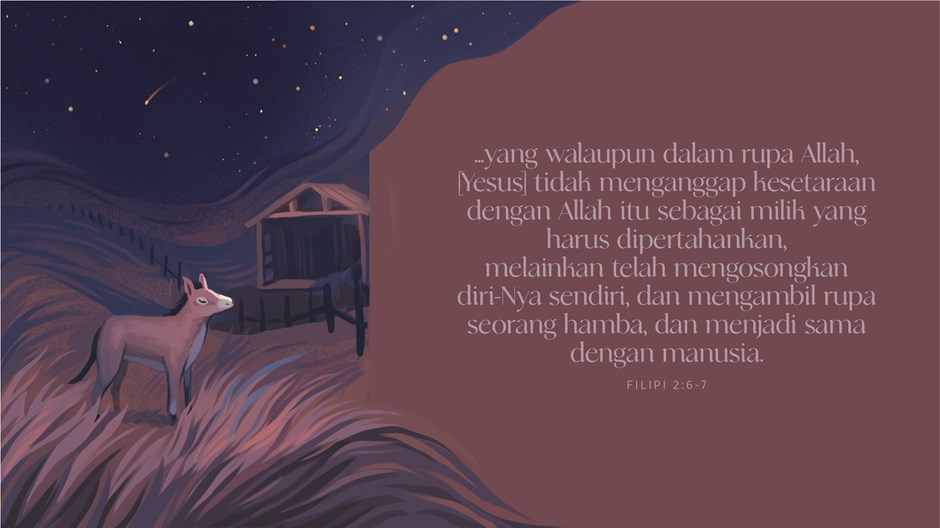 Untuk mengunduh kumpulan renungan "Berita Injil di Masa Adven," klik di sini.
Baca Filipi 2:5–11
Salah satu cara mengerti keindahan pujian bagi Yesus Kristus di Filipi 2:5-11 adalah bahwa bagian tersebut memperlihatkan kepada kita suatu paradoks yang sangat sulit dipahami: Anak Allah yang perkasa, yang mencipta segala ciptaan bersama Bapa-Nya, lalu berkenan menjadi manusia rendahan. Ini seumpama seorang raja yang sangat berkuasa, lalu direndahkan hingga menjadi seekor kumbang yang tenggelam.
Cara pembacaan Filipi 2 ini menekankan ketidaksesuaian antara kemuliaan pra-inkarnasi dari Anak Allah dan penghinaan yang Ia alami selama di dunia. Kata "walaupun" dalam sebagian besar terjemahan Alkitab menjadi petunjuk penting bagi penafsiran ini: "yang walaupun dalam rupa Allah, [Yesus] tidak menganggap kesetaraan dengan Allah itu sebagai milik yang harus dipertahankan, melainkan telah mengosongkan diri-Nya sendiri, dan mengambil rupa seorang hamba, dan menjadi sama dengan manusia" (ay. 6–7, penekanan ditambahkan). Meski berbagi kesetaraan dengan Allah Bapa, namun Yesus, sang Putra Allah memilih untuk melepaskan status tersebut demi kita.
Ini tentu saja adalah penafsiran yang masuk akal dari tulisan Paulus. Namun teks bahasa aslinya ambigu, dan memungkinkan untuk menerjemahkannya secara berbeda, dengan meniadakan kata sambung kontras yaitu walaupun. Paulus mungkin punya maksud yang agak berbeda seperti berikut ini: sebab Ia dalam rupa Allah, karena itu Yesus mengosongkan diri-Nya.
Pada cara pembacaan pertama, terkesan bahwa ada sesuatu yang pada dasarnya tidak sebanding antara kemuliaan Anak Allah dan pengosongan diri-Nya. Dan yang pertama (kemuliaan Allah) dipahami terlepas dari yang terakhir (pengosongan diri-Nya). Dan jelas ada banyak kebenaran dalam cara menafsirkan kata-kata Paulus, yang menekankan betapa besar pengorbanan yang Tuhan lakukan agar bisa mendekat pada kita.
Tetapi pada cara pembacaan kedua, ada sesuatu yang secara misterius kongruen antara kemegahan kekal Anak Allah dan penyangkalan diri-Nya secara sukarela dalam Inkarnasi.
Bagian yang kedua (penyangkalan diri-Nya) mengungkapkan atau menjelaskan inti dari yang pertama (Anak Allah). Bisa dibilang, ternyata karakter Allah adalah kasih yang rela memberi diri "sepenuhnya."
Dengan kata lain, jika kita ingin mengerti makna sebenarnya dari kesetaraan Yesus, sang Putra, dengan Allah Bapa—seperti apa wujudnya ketika diubah ke dalam rupa manusia—maka kita harus melihat Bayi mungil itu di pelukan Maria, figur menyedihkan yang tersalib di Kalvari, dan tukang kebun berhati lembut yang menyampaikan salam damai kepada teman-temannya pada pagi Paskah pertama itu. Dengan hidup, mati dan bangkit bagi kita, Yesus tidak hanya mengungkapkan kemanusiaan sejati kepada kita—Ia juga menunjukkan seberapa besar arti fundamental dari keilahian Tuhan itu.
Wesley Hill adalah seorang imam di Trinity Episcopal Cathedral, Pittsburgh, Pennsylvania, dan seorang lektor kepala Perjanjian Baru di Western Theological Seminary di Holland, Michigan.
Diterjemahkan oleh: Timothy Daun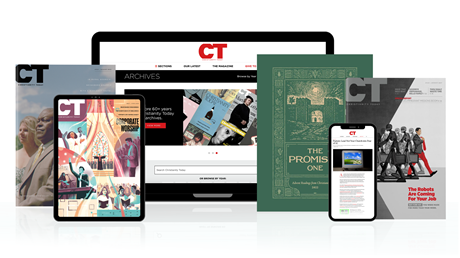 Subscribe to Christianity Today and get access to this article plus 65+ years of archives.
Home delivery of CT magazine
Complete access to articles on ChristianityToday.com
Over 120 years of magazine archives plus full access to all of CT's online archives
Subscribe Now
Apa Artinya Menjadi Tuhan
Apa Artinya Menjadi Tuhan