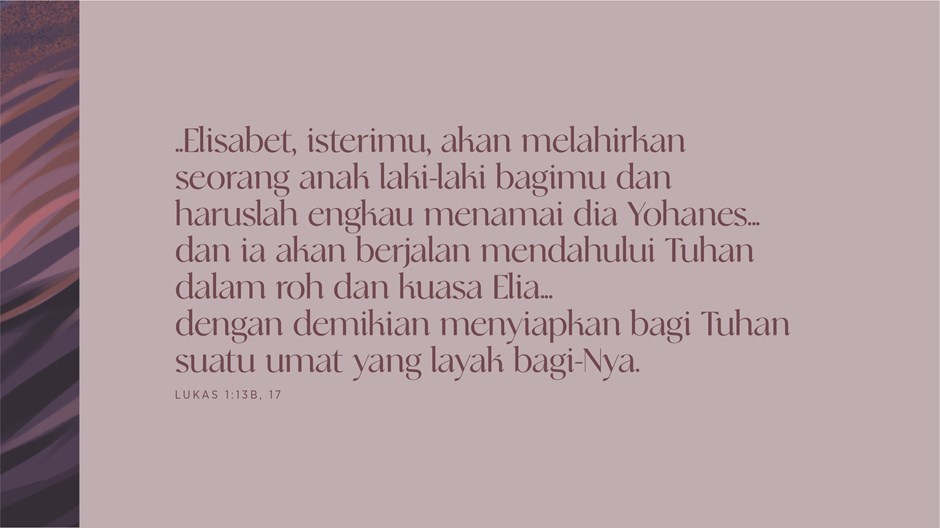 Untuk mengunduh kumpulan renungan "Berita Injil di Masa Adven," klik di sini.
Baca Lukas 1:5–25, 57–66
Jika Anda dibesarkan di negara bersalju saat Natal, Anda pasti tahu tidak ada kesunyian seperti sunyinya malam musim dingin. Ini bukan sekadar ide sentimental-ini bagian dari rancangan Tuhan atas ciptaan-Nya. Salju yang baru turun akan menyerap dan meredam suara. Joseph Mohr adalah salah satu orang yang merenungkan fenomena malam musim dingin ini. Ia adalah imam muda yang menulis lirik lagu favorit yang sering kita nyanyikan di sepanjang Natal, "Malam Kudus."
Menjelang kelahiran Yesus, kita juga diperkenalkan dengan seorang imam yaitu Zakharia, dan istrinya, Elisabet. Menurut Lukas, mereka berdua berasal dari keturunan imam dan merupakan orang yang setia dan saleh. Tetapi mereka juga sangat menderita. Mereka telah lama menikah namun tidak dikaruniai anak dan kini mereka telah lanjut usia. Lalu terjadilah mujizat: Malaikat Gabriel memberi tahu Zakharia bahwa Tuhan menjawab doa yang mereka panjatkan dengan tekun selama puluhan tahun. Mereka akan punya anak laki-laki!
Kisah ini bisa berakhir di sana dan menjadi kisah Natal yang menyenangkan tentang kesedihan yang diganti sukacita. Tetapi ada suatu kejadian tak terduga yang tidak bisa kita abaikan. Karena Zakharia bergumul untuk memercayai pesan malaikat Gabriel, ia menjadi bisu selama kehamilan istrinya. Ia terdiam. Zakharia berubah dari seorang imam Tuhan terhormat dan pandai berbicara menjadi seorang lelaki tua yang hanya bisa berkomunikasi dengan isyarat tangan. Ini sangat merendahkan—bahkan memalukan. Bagaimana kita menyikapi hal ini?
Tuhan selalu melakukan seribu hal baik di setiap situasi, bahkan ketika kita tidak bisa melihatnya. Hati Tuhan yang penuh belas kasihan tetap bekerja untuk menyediakan seorang putra yang akan membawa sukacita bagi pasangan lanjut usia ini. Kuasa Tuhan kemudian dinyatakan ketika Ia memakai anak ini untuk memperkenalkan penebusan kepada dunia. Ia akan menjadi nabi pembaptis yang terkenal dari padang gurun, yang memanggil umat Allah kembali dan membawa mereka kepada Yesus.
Kisah Zakharia menunjukkan bahwa Tuhan terus melakukan pekerjaan baik-Nya yang penuh anugerah, bahkan di tengah kehancuran dan keraguan kita. Ketidakpercayaan Zakharia bukan penghalang bagi kuasa Allah. Meski kebisuan dia sangat menyulitkan dan merendahkan, namun sebenarnya itu adalah karunia. Melalui mukjizat yang terkesan negatif ini, Tuhan menunjukkan kepadanya dan juga dunia bahwa semua peristiwa ini bukanlah kebetulan belaka. Tidak, justru masa sunyi ini menunjukkan bahwa Tuhan sedang bekerja dengan cara yang baru dan penuh kuasa untuk membawa kehidupan ke dalam dunia. Akhirnya, kisah Zakharia tidak berakhir dengan hukuman. Tuhan menyembuhkannya sehingga ia kembali memproklamirkan keindahan belas kasihan Tuhan.
Jonathan T. Pennington adalah seorang profesor Perjanjian Baru di Southern Seminary dan seorang pendeta formasi spiritual. Buku Jesus the Great Philosopher merupakan salah satu karyanya.
Diterjemahkan oleh: Timothy Daun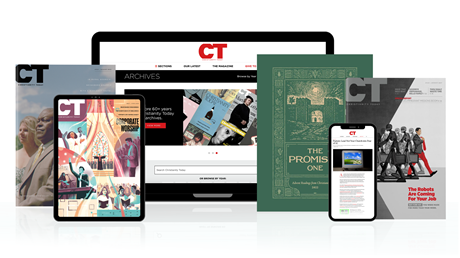 Subscribe to Christianity Today and get access to this article plus 65+ years of archives.
Home delivery of CT magazine
Complete access to articles on ChristianityToday.com
Over 120 years of magazine archives plus full access to all of CT's online archives
Subscribe Now
Saat Sunyi, Saat yang Kudus
Saat Sunyi, Saat yang Kudus