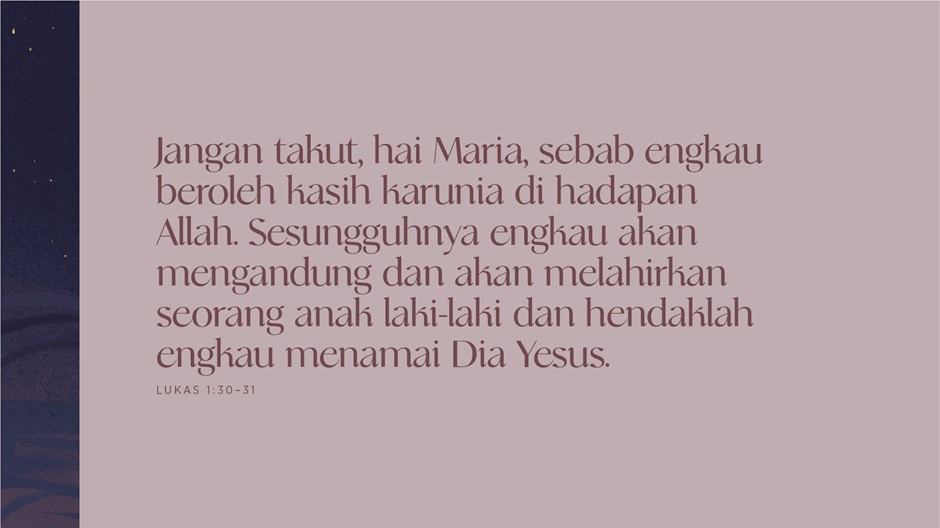 Untuk mengunduh kumpulan renungan "Berita Injil di Masa Adven," klik di sini.
Baca Lukas 1:26–38
Ketaatan akan mudah bila segalanya masuk akal. Dan jika kita menyetujuinya.
Atau jika kita yang merancangnya. Namun ini berarti bukan ketaatan yang sesungguhnya, bukan?
Ketika membaca kisah para tokoh iman, kita membayangkan tidak terjadi pergumulan-sewaktu mendengar firman Tuhan, mereka bergegas taat. Tetapi sesungguhnya, sekalipun firman itu jelas, ketaatan selalu penuh tantangan.
Seorang malaikat Tuhan menampakkan diri kepada Maria. Seorang malaikat! Kita mungkin berkata bahwa jika kita dikunjungi malaikat, maka kita akan segera taat-tetapi nyatanya tidak demikian. Alkitab mencatat, Maria "sangat gelisah" (Luk. 1:29, NIV-greatly troubled).
Selain itu, ia punya beberapa pertanyaan serius. "Maria berkata kepada malaikat itu, 'Bagaimana hal itu mungkin terjadi, karena aku belum bersuami?'" (ay. 34). Sangat relevan.
Dalam banyak hal, pertanyaan Maria tak jauh berbeda dengan Zakharia. Ketika malaikat itu memberi tahu Zakharia bahwa ia dan istrinya yang berusia lanjut akan punya anak, ia bertanya, "Bagaimanakah aku bisa yakin...?" (ay. 18 NIV), atau bisa juga diterjemahkan: "Bagaimanakah aku tahu, bahwa hal ini akan terjadi?" (LAI TB). Namun Zakharia malah jadi bisu.
Kita bisa coba meneliti tata bahasa dari pertanyaan kedua tokoh ini untuk mendapatkan petunjuk. Namun menurut saya, jawabannya bukan pada respons awal mereka, melainkan pada reaksi mereka selanjutnya. Sepertinya Zakharia tak beranjak dari kebingungan atau keraguannya selama pertemuan awal dengan malaikat. (Hal ini baru terjadi belakangan.) Sebaliknya, di ayat 26–38, Maria segera beranjak dari kebingungan dan berserah diri.
"Kemudian Maria berkata, 'Sesungguhnya aku ini adalah hamba Tuhan; jadilah padaku menurut perkataanmu itu'" (Luk. 1:38).
Dalam suratnya, Paulus berdoa agar rupa Kristus dibentuk di dalam kita, para pengikut Yesus (Gal. 4:19). Tetapi sesungguhnya Marialah yang telah membentuk Kristus secara fisik di dalam dirinya—di dalam rahimnya! Sementara Kelahiran dari Anak Dara dan Inkarnasi merupakan mukjizat penting dalam pengakuan iman Kristen, kita juga menemukan suatu formasi spiritual lewat pengalaman Maria. Agar rupa Kristus dibentuk di dalam kita, seperti Maria, kita harus melangkah dari kegalauan, ketidakpastian dan keraguan kita menuju penyerahan diri. Partisipasi di dalam Kristus terjadi ketika kita berdoa, "Sesungguhnya aku ini adalah hamba Tuhan; jadilah padaku menurut perkataanmu itu."
Bahkan ketika kita tergoda untuk terpaku pada pertanyaan "Bagaimana hal ini bisa terjadi?", kiranya Tuhan memberi kita anugerah untuk melangkah dengan iman: "Jadilah padaku."
Glenn Packiam adalah seorang pendeta senior di New Life Church, Colorado Springs. Buku-buku dia di antaranya Worship and the World to Come dan The Resilient Pastor (Februari 2022).
Diterjemahkan oleh: Timothy Daun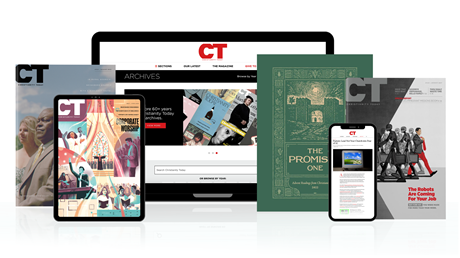 Annual & Monthly subscriptions available.
Print & Digital Issues of CT magazine
Complete access to every article on ChristianityToday.com
Unlimited access to 65+ years of CT's online archives
Member-only special issues
Subscribe
Jadilah Padaku
Jadilah Padaku