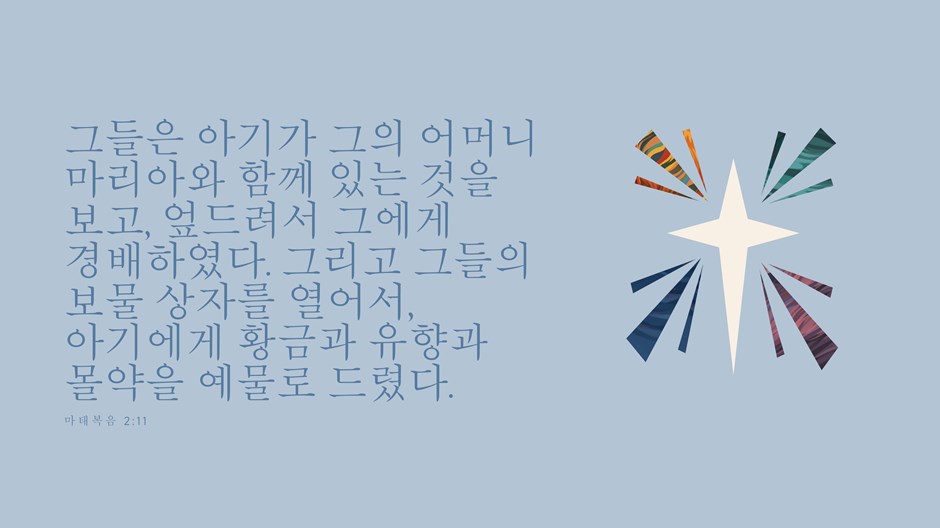 여기를 클릭해서 '성탄절에 전하는 복음' 묵상 본문을 다운 받으세요.
오늘의 말씀 : 마태복음 2장 1~12절
좋은 소식(복음)은 누구를 위한 것인가요? 상품을 파는 판매자들은 "친구와 가족"에게 특별하게 판매하는 것이라고 말합니다. 좋은 말 같지만, 그들이 모든 사람들에게 그렇게 표현하는 것을 생각하면 이것은 재미없는 방법입니다. 이 판매 방법은 우리를 꽤 가치 있는 사람인 것처럼 말하지만, 모든 사람을 그런 식으로 말한다는 것을 생각하면 전혀 특별하지도 않습니다.
이런 점과 견주어서 생각하면, 예수님의 탄생 소식은 충격적이며 혁명적입니다. 예수님의 탄생은 이 세상 사람들에게 최고의 소식입니다: 하나님이 그의 백성들을 구하러 왔습니다! 하지만 이 구원은 하나님과 언약을 맺은 사람들만을 위한 것이 아니었습니다. 그것은 모든 사람들을 위한 것이었습니다. 어떤 곳에 사는 사람이든지, 어떤 종류의 사람이든지 항상 하나님의 가족이 될 수 있습니다. 혁명적인 선언이 아닐 수 없습니다.
마태복음 2장은 헤롯 왕과 진정한 메시아이신 예수님을 대조하고 있습니다. 헤롯은 정치적 기회가 있을 때마다 놓치지 않고, 비열한 방법으로 권력을 잡은 악명 높은 왕이었습니다. 유대인의 새 왕이 베들레헴에서 태어났다는 소문이 돌았을 때, 헤롯은 무고한 아기들을 죽이는 일을 행했습니다. (13-18절) 그가 얻고 싶었던 권력을 얻기 위해 그는 자신이 할 수 있는 모든 일을 했을 것입니다.
헤롯이 권력을 좇아 상승하는 사람이라면, 예수님은 권력으로부터 하강하는 분이심을 보여줍니다. 세상 사람들이 쉬이 받아들일 수 없는, 충격적인 모습입니다. "본래 하나님의 본체이셨으나 하나님과 동등 됨을 취하지 않은 분", "오히려 자신을 비워 종의 모습을 취하신 분", "사람의 형상을 입으신 분", (빌립보서 2장 6-76절)이 바로 예수님이십니다. 헤롯이 거짓말을 하고 사람들을 죽이면서 사람들과는 먼 곳에 있었지만, 예수님은 그의 유아기와 어린 시절에 이미 사람들 가까이에 있었습니다.
마태는 점성가, 철학자, 지혜로운 사람들인 동방박사들이 이 아기를 위해 선물을 들고 멀리서 왔다는 사실을 전하고 있습니다. 이 비유대인 방문객들이 이스라엘의 메시아에게 예배한다는 사실은 하나님의 구원 약속이 모든 민족에게 펼쳐질 것을 암시하는 신호입니다. 아기이신 그리스도가 이방 백성을 위한 빛이 되어 하나님의 구원이 땅 끝까지 닿을 수 있다는 것입니다. (이사야 42:6; 49:6). 예수님의 어린 시절이 보여주는 이 장면에서 우리는 "열방은 네 빛으로, 열왕은 비취는 네 광명으로 나아오리라" (이사야 60:3)는 예언대로 복음이 온 세계로 전해질 것을 예고하고 있는 것을 볼 수 있습니다.
땅의 권력을 잡으려는 헤롯과 수많은 사람들의 노력이 계속되지만, 모든 무릎이 절하는 왕은 단 한 분뿐입니다(빌립보서 2:10). 한 분 뿐인 그분의 통치는 소수를 위한 것이 아니라 모두를 위한 좋은 소식입니다. 주인이신 예수님이 다스리십니다. - 땅이 기뻐하게 하소서! 와서 왕이신 예수님을 예배하십시다!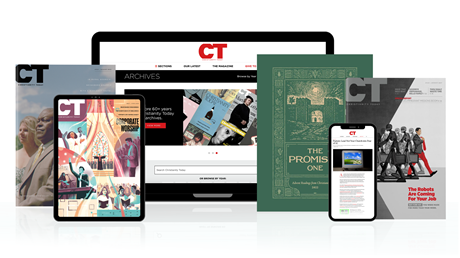 Subscribe to Christianity Today and get access to this article plus 65+ years of archives.
Home delivery of CT magazine
Complete access to articles on ChristianityToday.com
Over 120 years of magazine archives plus full access to all of CT's online archives
Subscribe Now
열방을 향한 빛
열방을 향한 빛