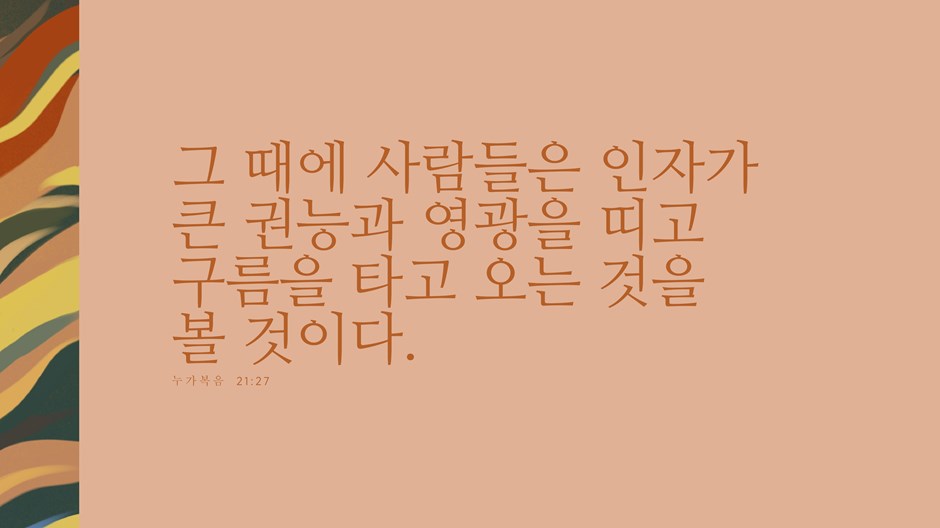 여기를 클릭해서 '성탄절에 전하는 복음' 묵상 본문을 다운 받으세요.
오늘의 말씀: 누가복음 21:25-36
예수님의 재림은 결코 조용히 임하지 않을 것입니다. 하늘에서부터 아래로는 성난 바다에 이르기까지 피조물 전체가 경련을 일으킬 것입니다. 세상 모든 사람이 보고 절망할 것입니다. 말 그대로 숨을 곳도, 마침내 정의를 이루실 분에게서 벗어나 찾을 만한 안전은 없을 것입니다. 산 자와 죽은 자를 심판하러 오시는 분 안에서 말고는 아무 데도 없을 것입니다. 열국이 고뇌하는 동안, 예수님의 제자들에게는 숨지 말고 서서 머리를 들라는 소리가 들릴 것입니다. 그들은 천국에 앉아 계시는 그리스도 안에 몸을 숨겼기 때문에 그가 이 땅에 돌아오실 때 두려워할 필요가 없습니다.
예수님은 제자들이 이 사건이 속히 그리고 확실히 임할 것을 잘 알기를 바라셨습니다. "이 세대"가 누구인지 큰 논쟁이 있습니다(누가복음 21:32). "이 세대"는 아마도 예수님의 말씀을 직접 들은 사람들을 가리킬 것입니다. 그들에게 예루살렘의 몰락은 다가오는 종말의 신호이자 전형이었을 것입니다. "이 세대"는 아마도 다가오는 징조를 보게 될 사람들을 의미할 것입니다. 나무에 잎이 돋으면 벌써 여름이 온 것을 아는 것처럼, 그리스도께서 곧 오실 징조를 보게 될 사람들이었을 것입니다. 예수님은 그 사건이 자연의 이치보다 더 확실하다고 약속하십니다.
그동안, 곧 그 기다림의 시간 동안 제자들은 무엇을 해야 할까요? 어떤 교회 배경에 속해 있는 이들은 사람들이 다가오는 재난에 대해 알아야 하므로 그들에게 복음을 전하고 그들을 제자 삼아야 한다는 부르심을 기대할 것입니다. 예, 우리는 그래야 합니다. 또 다른 어떤 교회 배경에 속한 이들은 우리는 하나님이 사랑하는 것을 사랑하고 하나님이 싫어하는 것을 싫어하라는 부르심을 받았기 때문에 정의를 실천하라는 부르심을 기대할 것입니다. 예, 우리는 그래야 합니다.
그러나 누가복음 21장의 이 특별한 순간에 예수님은 제자들에게 조심하고 깨어있으라고 하셨습니다. 이 본문의 결말은 너무나 갑작스럽고 강렬합니다. 그래서 스프링 덫 같은 이미지가 떠오릅니다. 누가 도망칠 수 있을 거라고 자신만만할 수 있을까요? 광란의 파티든 과도한 불안이든, 세상의 충동은 인간의 마음이 얼마나 짓눌려 있는지를 보여 줄 뿐입니다. 그리고 무거운 것, 무거운 짐을 지고 있으면 그 길에서 속히 벗어날 수 없습니다.
현실도피도 걱정도 문제를 실제로 해결해 주지 못합니다. 현실도피는 현실을 사라지게 하지 못합니다. 걱정만으로 대비할 수 있는 것은 아닙니다. 예수님은 우리에게 그러지 말고 깨어 기도하라고 하십니다. 조심하려면, 참으로 오고 계시는 하나님께 완전히 의지하십시오. 예수님은 당신의 제자들이 그때 당신 앞에 설 수 있기를 바라십니다. 예수님은 그러한 기도에 응답하실 것입니다.
레이첼 길손(RACHEL GILSON) 신학 개발과 문화를 위한 Cru의 리더십 팀에서 일하고 있으며, Born Again This Way: Coming Out, Coming to Faith, and What Comes Next 의 저자입니다.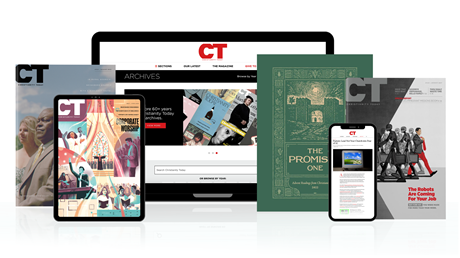 Subscribe to Christianity Today and get access to this article plus 65+ years of archives.
Home delivery of CT magazine
Complete access to articles on ChristianityToday.com
Over 120 years of magazine archives plus full access to all of CT's online archives
Subscribe Now
깨어 기도하라
깨어 기도하라