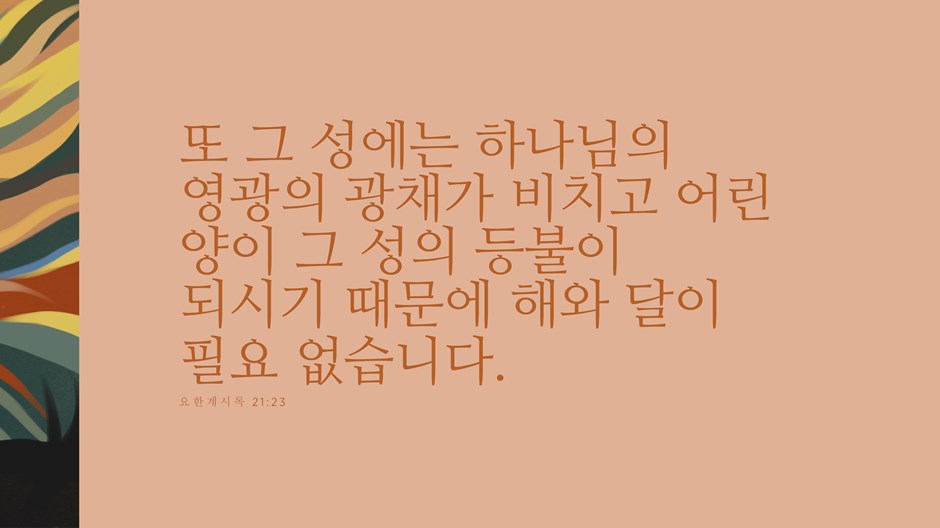 여기를 클릭해서 '성탄절에 전하는 복음' 묵상 본문을 다운 받으세요.
오늘이 말씀: 요한계시록 21:9-22:5.
영국에서 스코틀랜드로 이사했을 때, 내가 알게 된 한 가지 어려움은 겨울철 햇살이 짧다는 것이었습니다. 우중충한 날이면 전혀 빛이 나지 않았습니다. 나는 약간 우울한 정도지만, 어떤 사람은 이런 날씨에 심각한 영향을 받아서 햇빛과 비슷한 램프라도 켜고 앉아 있어야 합니다. 우리는 모두 신체와 정신 건강을 위해 햇빛에 의지합니다.
많은 문화권에서 사람들이 해를, 그리고 때로는 달을 숭배했다는 것은 놀랄 일이 아닙니다. 왜 화창한 날씨는 우리의 기분을 북돋아 줄까요? 왜 많은 사람이 햇볕 쬐는 것을 좋아할까요? 과학은 태양과 지구의 거리가, 곧 그 거리 때문에 가능해진 빛과 열이 지구상에 있는 생명체에게 필수적이라는 사실을 알려 줍니다.
이 창조세계에서는 하나님의 축복이 피조물을 매개로, 피조물 중에 있는 햇빛을 통과하여, 우리에게 전해집니다. 새로운 창조세계에서는 지금 우리가 대낮에 있는 것처럼 하나님의 임재 한가운데 살 것입니다. 그리하여 밤은 없을 것입니다.
상상해 보십시오. 빛으로 가득 찬 도성을. 수정처럼 맑은 벽옥과 같은 도시를 상상해 보십시오(11절). 19-20절에 열거된 수많은 색상의 온갖 보석에 반사되는 빛을 상상해 보십시오. 상상할 수 있다면, 수정과 같은 순금으로 된 도성으로 들어오는 빛줄기를 상상해 보십시오(18, 21절). 멀리서 이 도성을 바라본다고 상상해 보십시오. 이 도성은 높은 산 위에 서 있고(10절) 사방에 빛을 비춥니다. 이 도성은 세상의 빛입니다. 이 도성은 사람들이 기대어 사는 빛입니다.
이제, 성경의 인물이나 다른 인물들을 생생하게 그려 넣은 교회의 스테인드글라스 창문을 떠올려 보십시오. 그 창문 그대로도 늘 아름답지만, 태양이 그 창문을 비추면, 그 창문은 영롱하게 빛납니다. 그 창문의 강렬한 색깔이 빛을 발합니다! 새 예루살렘에서는 하나님의 모든 피조물의 사랑스러움이 모두에게 기쁨이 될 것입니다. 우리는 그 진정한 빛깔들을 볼 것입니다. 하나님이 임재하신 빛이 그것들의 모양과 색깔, 창조된 현실을 취소하는 것이 아니라, 그것들을 밝혀서 변모시킬 것입니다.
성경 전체에서 빛은 하나님과 예수님의 상징입니다(요한복음 8:12에서 예수님은 "나는 세상의 빛이다"라고 하셨습니다). 하나님의 빛이 이 세상에서 우리 삶에 이미 어떻게 비추고 있는지 생각해보십시오. 하나님의 빛이 우리의 삶을 어떻게 밝혀 주고 있는지, 우리는 어떻게 그 빛 속에서 걸을 수 있는지 생각해보십시오. 우리가 지금 그 빛을 보면, 그것이 우리가 빛의 도시로 걸어갈 수 있는 길을 밝힐 것입니다. 우리는 무엇을 하나님께 가져다드릴 수 있을까요? 저 영원한 도성의 삶에 우리는 무엇을 가져갈 수 있을까요(24, 26절)?
리처드 보컴(RICHARD BAUCKHAM) 스코틀랜드 세인트앤드루스 대학교의 신약학 명예 교수이자 요한계시록 신학을 비롯한 여러 책의 저자입니다.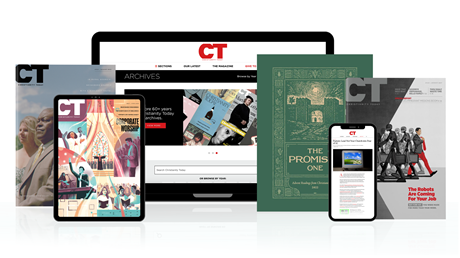 Subscribe to Christianity Today and get access to this article plus 65+ years of archives.
Home delivery of CT magazine
Complete access to articles on ChristianityToday.com
Over 120 years of magazine archives plus full access to all of CT's online archives
Subscribe Now
빛의 도성
빛의 도성