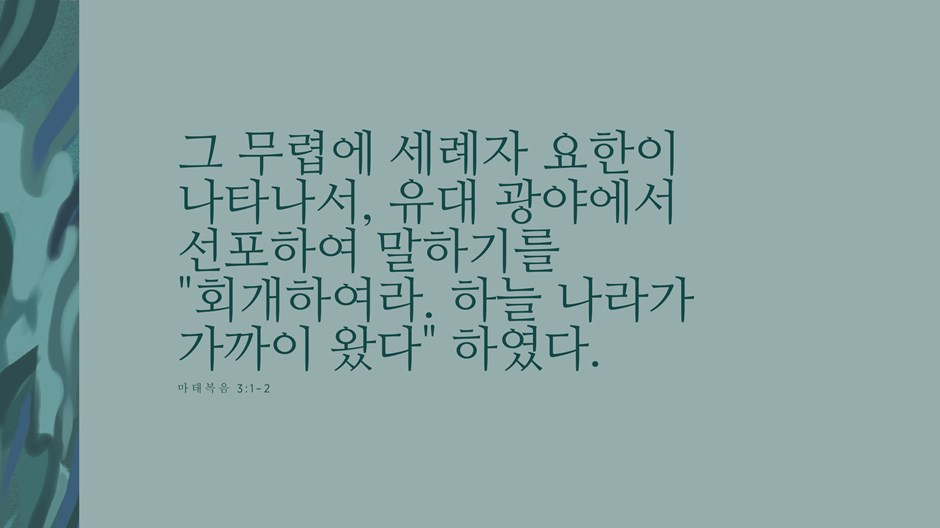 여기를 클릭해서 '성탄절에 전하는 복음' 묵상 본문을 다운 받으세요.
오늘의 말씀: 마태복음 3:1-12
복음서 기자 마태는 세례 요한의 사역의 역사적 배경을 간단한 이 시간 기록으로 담아냅니다. "그 무렵에"(3:1). (누가복음 3장뿐 아니라) 마태복음 2장을 읽어 보면 "그 무렵"은 베들레헴의 어린 소년들을 죽인 헤롯 대왕 같은 과대망상에 빠진 통치자들의 시대였음을 알 수 있습니다. 헤롯이 죽고 그의 아들이 권력을 잡자 요셉은 가족을 염려하며 그들을 데리고 나사렛에 가서 살았습니다. "이리하여 예언자들을 시켜서 말씀하신 바, '그는 나사렛 사람이라고 불릴 것이다' 하신 말씀이" 이루어졌습니다(2:23)
마태복음은 하나님의 예언의 약속이 성취됨을 일관되게 조명합니다. 마태는 거듭거듭 이렇게 강조합니다. "하나님이 말씀하신 바…이루어졌다." 이 개념을 자명한 것으로 취급되어서는 안 됩니다. 가시적인 현실이 악이 승리하고 있는 것처럼 보일 때도 물론 그렇습니다. 예를 들어, 아기들이 사악한 왕의 손에 죽었을 때도, 우리는 요한이 설교하듯이, 하늘 나라가 가까이 다가왔다고 정말로 믿을 수 있을까요(3:2)?
세례 요한은 낙타 털 옷을 입고 메뚜기와 야생 꿀을 먹으면서 구약의 엘리야처럼 하고 있습니다. 엘리야는 사악한 권력의 치하에서 사역한 또 한 사람의 선지자였습니다. 아합 왕도 헤롯처럼 야망 때문에 살육을 했습니다. 바알의 선지자들에게 엘리야가 극적으로 승리한 후, 그의 왕비 이세벨은 엘리야의 머리에 현상금을 내걸었습니다.
회개하여라. 하늘 나라가 가까이 왔다. 이것은 본질적으로 하나님의 선지자 모두가, 그리고 하나님의 은총으로, 전하는 말입니다. 이것은 어둠 속에 있을 때 다가오는 말입니다. 이것은 기쁜 소식을 전하는 말입니다. 통치자가 바뀌었다. 요한과 예수님이 전한 이 선포는 또 다른 왕이 왕위에 오를 것이라고 예견합니다. 선지자 이사야가 수백 년 전에 선언했듯이, 이 왕의 통치는 아합 왕이나 헤롯 왕의 통치와는 달리 평화의 통치가 될 것입니다(이사야 9:6–7).
왕이신 예수님을 따르는 것은, 단순히 예수님에 의해 구원받는 것이 아니라, 예수님에 의해 변화되는 것입니다. 바울에 따르면, 복음은 우리에게 예수님이 "우리를 위하여 자기 몸을 내주셨습니다. 그것은 우리를 모든 불법에서 건져내시고, 깨끗하게 하셔서, 선한 일에 열심을 내는 백성으로 삼으시려는 것입니다"라고 이야기합니다.
우리는 하나님의 백성이 죄에서 벗어나 하나님께 온전히 우리 자신을 내어 드릴 때 일어나는 놀라운, 구원하는, 깨끗하게 하는 은혜를 압니다. 그리스도 강림이 빛의 새벽이라면, 회개는 그 안에서 걷는 일상의 행동입니다.
젠 폴록 미셸(JEN POLLOCK MICHEL) 토론토에 거주하는 작가, 팟캐스트 진행자 및 강사이자 A Habit Called Faith와 Surprised by Paradox를 포함하여 네 권의 책을 저술했습니다.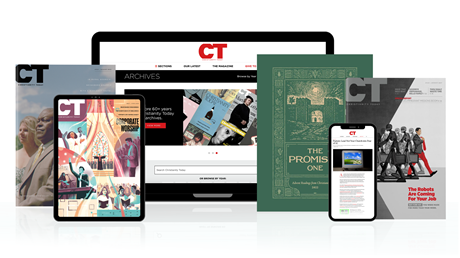 Subscribe to Christianity Today and get access to this article plus 65+ years of archives.
Home delivery of CT magazine
Complete access to articles on ChristianityToday.com
Over 120 years of magazine archives plus full access to all of CT's online archives
Subscribe Now
깨끗하게 하는 놀라운 은혜
깨끗하게 하는 놀라운 은혜