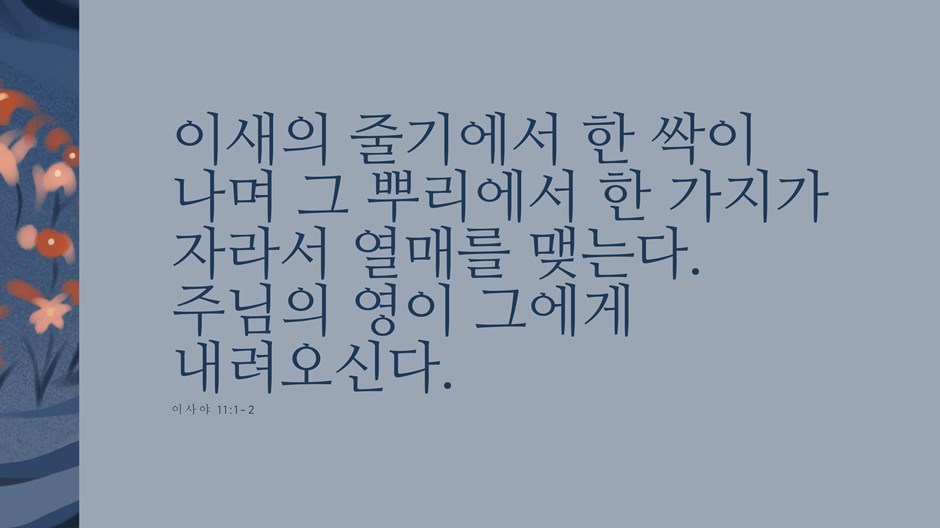 여기를 클릭해서 '성탄절에 전하는 복음' 묵상 본문을 다운 받으세요.
오늘의 말씀: 이사야 11:1-5; 예레미야 33:14-16
내게는 세 딸이 있습니다. 이 아이들을 찬찬히 바라볼 때마다 어떤 경이로움이 느껴집니다. 이처럼 온전한 하나의 세계―내 딸들의 삶과 정체성, 미래―가 어떻게 너무나도 작은 수정란에서 생겨났는지, 놀라움을 감출 수 없습니다. 인간 생명의 기적과 신비는 어떻게 가능할까요? 오직 하나님만이 아십니다.
선지자 이사야 시대부터 예레미야 시대까지 내려오면서, 북 왕국과 남 왕국의 이스라엘 백성은 그들의 죄에 대한 하나님의 심판으로 그들의 땅과 생명, 가족, 삶의 터전이 파괴되는 것을 경험했습니다. 결국에는 잘될 것이라는 희망은 전부 사라졌습니다. 수많은 세대가 상황이 달라질 것이라고 믿었지만 너무나도 다양한 방식으로 죽음을 경험했습니다. 하지만 그들은 여전히 구주께서 그들을 구출해 내시고, 메시아께서 적의 손아귀에서 그들을 건져내실 것이라고 간절히 바랐습니다.
희망은 사라졌고, 그들이 파괴의 제국에서 억눌린 국외자로 살아가고 있을 때, 선지자 이사야가 그리고 그 뒤에는 선지자 예레미야가 희망을 이야기했습니다. 그들을 통해 하나님은 "이새의 줄기에서" 작은 싹이, "다윗의 뿌리"에서 "의로운 가지"가 돋아날 것이라는 희망의 약속을 전해 주셨습니다(이사야 11:1; 예레미야 33:15).
여러 세대가 지나고 하나님이 약속하신 희망이 나타났습니다. 그리고 우리 주 예수 그리스도의 오심을 통해 하나님이 하신 약속이 성취되었습니다. 여러 세대에 걸쳐 하나님의 백성이 하나님이 적시에 나타나실까 의심하고 있을 때, 예수님이 오셨습니다. "우리의 의"(예레미야 33:16)이신 구주, 성령이 임하신 이, 의와 정의가 온전히 가득하신 이, 예수님이 오셨습니다.
인성을 가지신 예수님은 요셉과 마리아에게 맡겨진 하나님의 씨앗에서 싹트셨습니다. 온 세상과 가능성의 세상을 모두 담고 계시는, 이새의 줄기에서 싹튼 작은 싹이신 예수님, 그에게서 그리고 "그로 말미암아 모든 것이 창조되었으며" "만물은 그분 안에서 존속"합니다(요한복음 1:3; 골로새서 1:17). 다시, 나는 경이로움에 사로잡혀 잠시 멈춥니다.
내 딸들의 기적과도 같은 존재의 본질을 헤아릴 수 없듯이, 나는 하나님의 구원의 신비를, 하나님의 때의 누구, 무엇, 어디에, 왜를 헤아릴 수 없습니다. 하지만 나는 하나님이 당신이 역사 가운데, 그의 사람들에게, 그리고 개인들에게 하신 약속을 지키신다는 것을 압니다. 하나님은 항상 나타나십니다. 변함없이. 하나님은 언제나 우리가 전혀 예상하지 못할 때, 그리고 우리가 예상하지 못한 방식으로, 모든 희망이 사라진 것만 같을 때, 나타나십니다. 우리 하나님은 불타 버린 숲에 돋아나는 작은 연둣빛 새싹처럼 나타나십니다. 잘 살펴보시기 바랍니다.
마를레나 그레이브스(MARLENA GRAVES) 박사 과정 학생이자 신학교 겸임 교수이며, Way Up Is Down: Becoming Yourself by Forgetting Yourself를 포함한 여러 책의 저자입니다.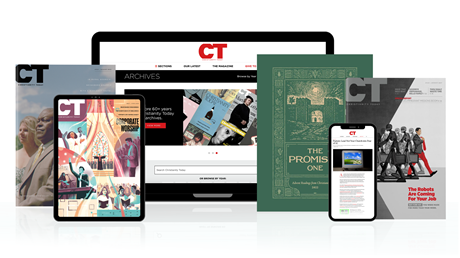 Subscribe to Christianity Today and get access to this article plus 65+ years of archives.
Home delivery of CT magazine
Complete access to articles on ChristianityToday.com
Over 120 years of magazine archives plus full access to all of CT's online archives
Subscribe Now
희망의 생김새
희망의 생김새