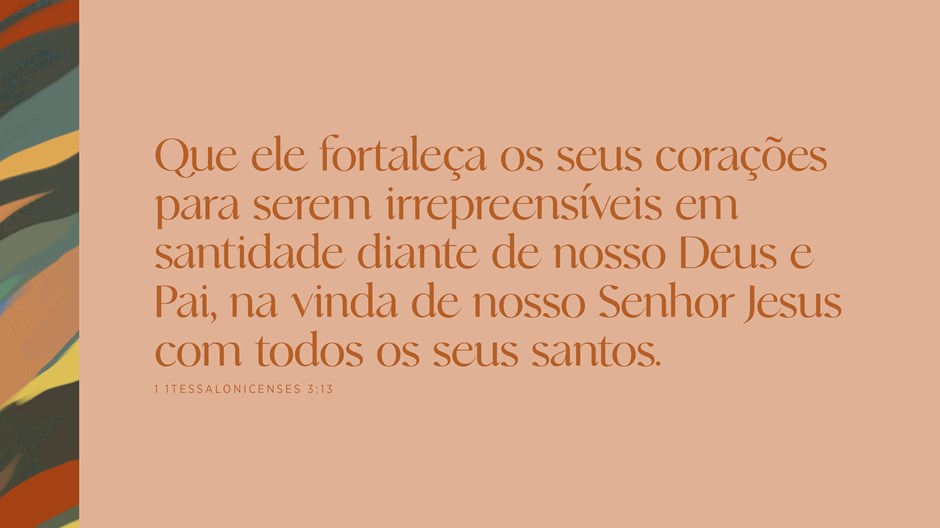 Image: Nicole Xu
Clique aqui e faça o download gratuito do nosso devocional diário "O Evangelho do Advento".
Leia 1 Tessalonicenses 3.9-13
Você já sentiu muita falta de uma pessoa e quis vê-la novamente? Ao longo desses meses aparentemente intermináveis ​​de pandemia, há muitos entes queridos que não conseguimos ver, cumprimentar e abraçar pessoalmente. Zoom e FaceTime simplesmente não resolvem. Desejamos estar no mesmo espaço, mesma sala, mesmo lugar. Ansiamos por vê-los face a face.
O apóstolo Paulo também ansiava por ver os crentes tessalonicenses pessoalmente. Ele está muito feliz com o relato de confiança trazido por Timóteo de que eles estavam incorporando o evangelho, vivendo-o na prática, "permanecendo firmes no Senhor" (3.8). Paulo deseja visitá-los, mas esta carta devia ser suficiente por enquanto. Qual é a sua mensagem para eles? Que a Boa-Nova deve ser vivida pessoalmente até que vejamos Jesus face a face. O que isso parece? A mesma Boa-Nova do amor de Jesus é para "crescer e transbordar uns para com os outros e para com todos" (v. 12).
Este tipo de amor não é fácil de incorporar em nosso mundo dividido. Muitos hoje permitem que os valores mundanos se insinuem e suplantem o amor cristão e o testemunho do evangelho. Podemos estar mais divididos do que nunca como igreja.
Esse lembrete oportuno de Paulo para crescer e transbordar no amor pelos outros não é algo que podemos alcançar por nós mesmos. Em vez disso, ele diz: "Que o Senhor faça crescer o amor que vocês têm..." (v. 12).
As implicações do evangelho são vividas por meio de nosso amor semelhante ao de Cristo, especialmente por aqueles que consideramos estar na categoria de "todos os outros". Não podemos afirmar que esperamos ansiosamente para ver Jesus na Segunda Vinda — a consumação da história do evangelho — se não podemos suportar a visão de nossos irmãos e irmãs no Senhor hoje!
Enquanto aguardamos a volta de Jesus, Paulo exorta os crentes a "serem irrepreensíveis em santidade" (v. 13) vivendo em uma sociedade que celebra a transigência e o pecado. Nossa expectativa esperançosa da Segunda Vinda nos desafia a sempre buscar uma vida santa para a glória de Deus. Isso inclui suportar uns aos outros e ser paciente com aqueles de quem discordamos, confiando no poder de Deus para fazer isso.
À luz do retorno de Jesus, Paulo exortou os tessalonicenses a viver desta forma: deixar seu discipulado presente ser moldado por sua esperança futura. Assim como eles, ansiamos por ver Jesus face a face. O Advento nos lembra de que um dia o faremos. Que possamos nos esforçar para ser pessoas de amor e santidade até que isso ocorra. Venha rápido, Senhor Jesus!
Matthew D.Kim é professor de Pregação e Teologia Prática da cátedra Professor George F. Bennett, no Gordon- Conwell Theological Seminary, e autor da obra Preaching to People in Pain.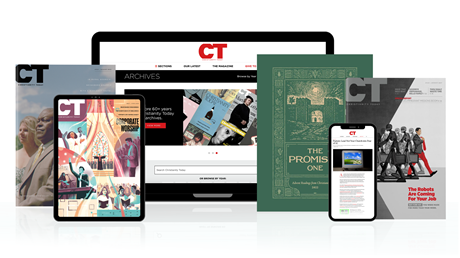 Subscribe to Christianity Today and get access to this article plus 65+ years of archives.
Home delivery of CT magazine
Complete access to articles on ChristianityToday.com
Over 120 years of magazine archives plus full access to all of CT's online archives
Subscribe Now
A vida do evangelho em pessoa
A vida do evangelho em pessoa