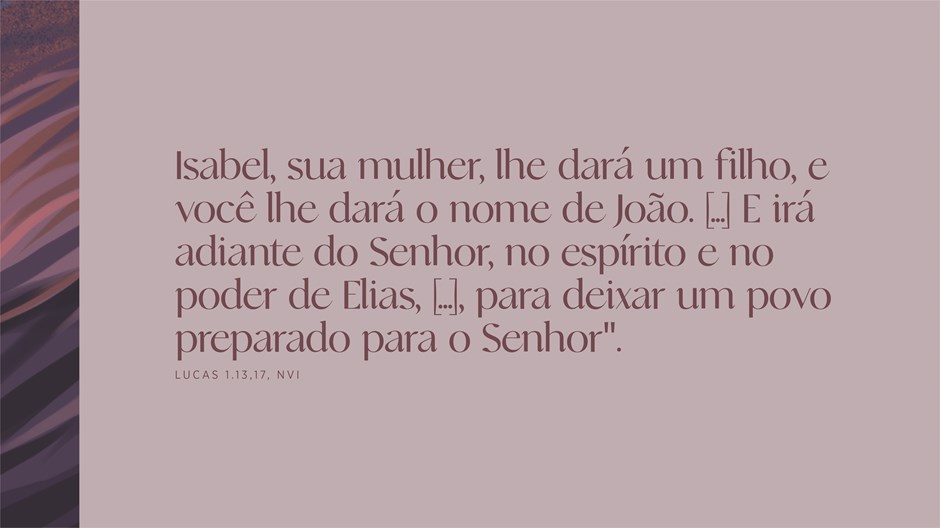 Clique Aqui e faça o download do nosso devocional diário "O Evangelho do Advento".
Leia Lucas 1.5-25, 57-66
Se você cresceu com neve no Natal, sabe que não há nada como o silêncio de uma noite fria de inverno. E isso não é mero sentimentalismo — é parte do projeto criativo de Deus. A neve fresca absorve e amortece o som. O padre Joseph Mohr foi um dos que refletiu sobre esse fenômeno de uma noite fria de inverno. Mohr, um jovem sacerdote, escreveu as palavras que vieram a se tornar a adorada canção de Natal que frequentemente cantamos nesta época do ano, "Noite Feliz" [em inglês, "Silent Night" ou "Noite Silenciosa"].
Na história que se desenrolou por trás do nascimento de Jesus, encontramos outro sacerdote, Zacarias, e sua esposa, Isabel. Lucas nos diz que ambos eram descendentes de sacerdotes e pessoas muito fiéis e piedosas. Mas eles também sofriam muito, pois seu casamento de muitos anos não gerara filhos, e agora eles já estavam velhos. Então, um milagre aconteceu: o anjo Gabriel disse a Zacarias que Deus responderia às suas orações angustiadas de décadas. E eles teriam um filho!
Essa história poderia terminar aí, e seria um maravilhoso conto de Natal em que a tristeza fora substituída por alegria. Contudo, há nessa melodia uma nota inesperada e sombria que não podemos ignorar. Como Zacarias lutou para acreditar na mensagem do anjo Gabriel (e quem não lutaria?), ele ficou mudo durante toda a gravidez de Isabel. Ele ficou em silêncio. Zacarias passou de um sacerdote de Deus respeitável e bem articulado a um velho homem que só conseguia se comunicar por sinais manuais. Isso era vexatório — e até mesmo humilhante. O que devemos fazer com essa reviravolta perturbadora da história?
Deus está sempre fazendo mil e uma coisas boas em cada situação, mesmo que não possamos vê-las. O coração compassivo de Deus ainda está operando aqui, proporcionando a este casal de idosos um filho da alegria. O poder de Deus se manifesta em, mais tarde, usar esse filho para trazer a redenção ao mundo. Ele se tornaria o famoso profeta que batizava no deserto, chamando de volta o povo de Deus e apontando para Jesus.
A história de Zacarias nos mostra que Deus continua a fazer sua obra boa e graciosa, mesmo em meio a nossa condição de criaturas caídas, tomadas pela descrença. A fé hesitante de Zacarias não foi obstáculo para o poder de Deus. Embora o silêncio forçado de Zacarias fosse frustrante e humilhante, na realidade, foi um presente. Por meio desse milagre negativo, Deus mostrou a Zacarias e ao mundo que todos aqueles acontecimentos não eram meras coincidências. Não, essa temporada de silêncio demonstrou que Deus estava se movendo de maneira nova e poderosa para trazer vida ao mundo. Como resultado, a história de Zacarias não terminou em juízo, mas sim com Deus abrindo a boca mais uma vez para proclamar toda a beleza da misericórdia divina.
Jonathan T. Pennington é professor de Novo Testamento no Southern Seminary e pastor na área de formação espiritual. Entre seus livros está Jesus the Great Philosopher.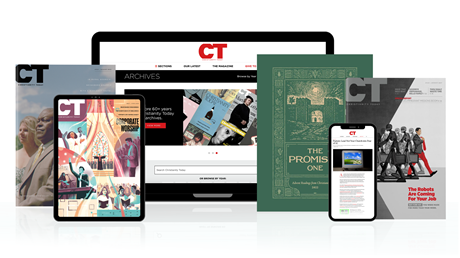 Subscribe to Christianity Today and get access to this article plus 65+ years of archives.
Home delivery of CT magazine
Complete access to articles on ChristianityToday.com
Over 120 years of magazine archives plus full access to all of CT's online archives
Subscribe Now
Tempo de silêncio, tempo sagrado
Tempo de silêncio, tempo sagrado