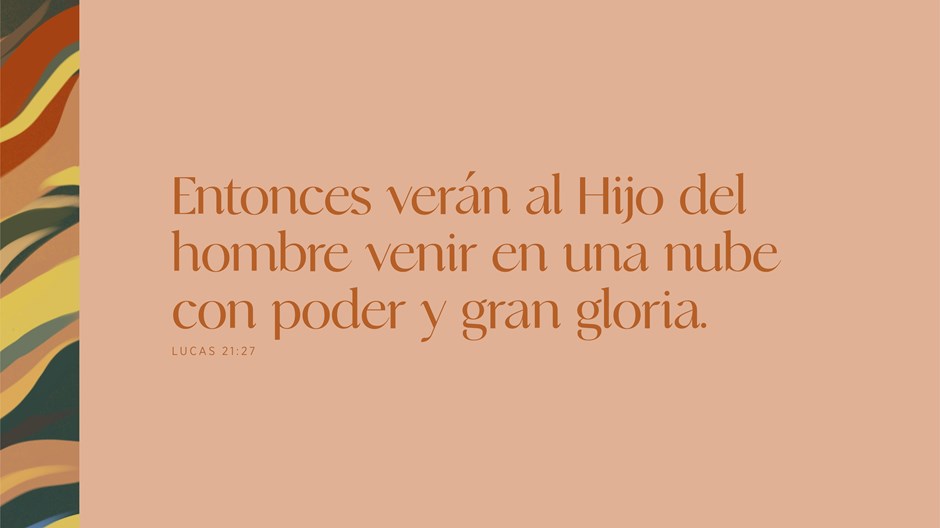 Para descargar nuestro devocional «El Evangelio de Adviento» completo, ingrese en este enlace.
Lea Lucas 21:25-36
La Segunda Venida de Jesús no será sutil en absoluto. Toda la creación, desde los cielos hasta los mares rugientes, se estremecerá; todos los pueblos del mundo verán y caerán en desesperanza. No habrá literalmente ningún lugar donde esconderse, ningún lugar donde encontrar protección de Aquel que finalmente vendrá a traer justicia. No habrá ningún lugar, excepto en aquel que viene de nuevo a juzgar a los vivos y a los muertos. Mientras las naciones se angustiarán, a los seguidores de Jesús se les dirá que no se agachen y se cubran, sino que se pongan de pie y levanten la cabeza. Puesto que se han escondido en Cristo que está sentado en el cielo, no tendrán que temer cuando Él vuelva a la tierra.
Jesús quería que sus discípulos comprendieran que este acontecimiento llegaría rápida e indudablemente. Hay un gran debate sobre quién es «esta generación» (Lucas 21:32). Tal vez se refiere a los oyentes inmediatos de Jesús, para quienes la caída de Jerusalén sería una señal y una muestra del fin venidero. Tal vez se refiere a la generación que verá las señales de la Segunda Venida, es decir, que el regreso de Cristo ocurrirá poco después de estos brotes, metafóricamente hablando. En cualquier caso, Jesús promete que el acontecimiento será más firme que el propio mundo natural.
¿Qué deben hacer los discípulos mientras tanto, en la espera? Aquellos de nosotros que venimos de ciertos contextos dentro de la iglesia podemos esperar un llamado a evangelizar y discipular a otros porque la gente debe saber acerca de esta calamidad venidera. Y sí, debemos hacerlo. Los que venimos de otros contextos podemos esperar un llamado a practicar la justicia, porque estamos llamados a amar lo que Dios ama y a odiar lo que Él odia. Y sí, debemos hacerlo.
Sin embargo, en este momento específico de Lucas 21, Jesús llamó a sus discípulos a tener cuidado, a estar alerta. La brusquedad y la ferocidad del final hacen que la imagen apropiada sea la de una trampa con resorte. ¿Quién es tan arrogante para suponer que podrá escapar? Las tentaciones mundanas de la fiesta desenfrenada o de la aprehensión indebida son ambos ejemplos de cómo cualquier corazón humano puede verse agobiado. Y algo grávido, que lleva cargas pesadas, no puede saltar rápidamente para escapar.
Ni el escapismo ni la preocupación pueden cumplir lo que prometen. El primero no hace desaparecer la realidad; el otro en realidad no nos prepara. Jesús nos llama, en cambio, a estar alerta y orar. Nos llama a prestar atención, confiando plenamente en el Dios que verdaderamente vendrá. Jesús quiere que sus discípulos sean capaces de presentarse ante Él cuando venga. Él responderá a esa oración.
Rachel Gilson forma parte del equipo de liderazgo de Cru para el desarrollo teológico y la cultura. Es autora de Born Again This Way: Coming Out, Coming to Faith, and What Comes Next.
Traducción por Sofía Castillo.
Edición en español por Livia Giselle Seidel.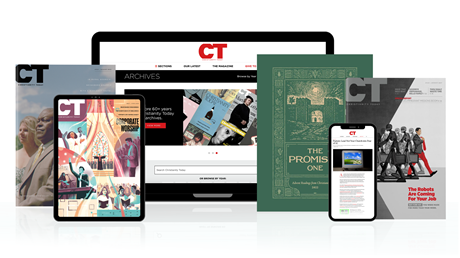 Subscribe to Christianity Today and get access to this article plus 65+ years of archives.
Home delivery of CT magazine
Complete access to articles on ChristianityToday.com
Over 120 years of magazine archives plus full access to all of CT's online archives
Subscribe Now
Estén alerta y oren
Estén alerta y oren