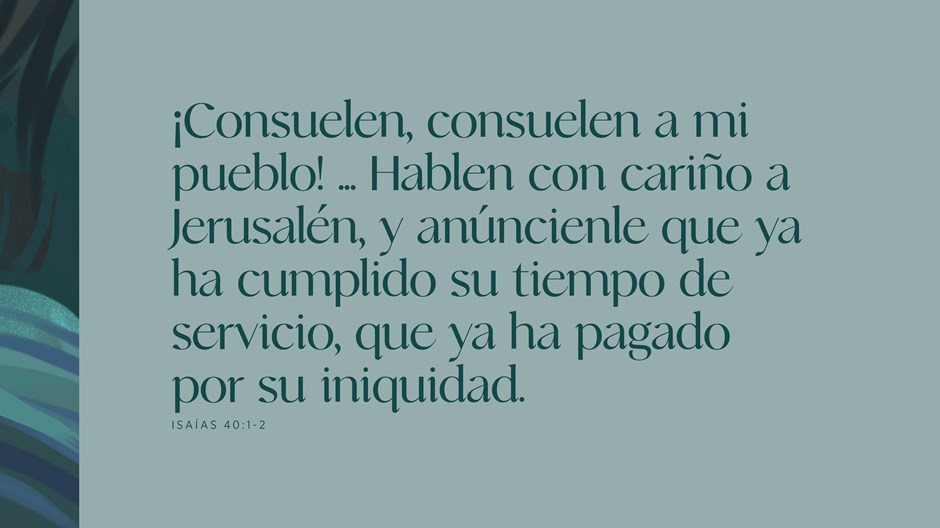 Para descargar nuestro devocional «El Evangelio de Adviento» completo, ingrese en este enlace.
Lea Isaías 40:1-5
Para comprender mejor este hermoso pasaje, un vistazo a su significado en la comunidad judía puede ayudarnos a entender mejor su contexto e importancia. El pueblo judío de todo el mundo sigue un ciclo de lectura bíblica semanal similar al leccionario cristiano. Las semanas más oscuras del ciclo caen en pleno verano y conducen al Tisha B'Av, el día más triste del calendario judío, el cual conmemora la destrucción del primer y segundo templo de Jerusalén. El Tisha B'Av también recuerda otras numerosas tragedias a lo largo de la historia judía. Es un día de ayuno y luto en el que se lee públicamente el Libro de las Lamentaciones y se pone al descubierto el pecado de Israel delante de Dios.
Pero ahí no acaba la historia. Inmediatamente después del Tisha B'Av, el ciclo de lectura pasa a un periodo de siete semanas de consuelo, que conducen al Rosh Hashanah, el Año Nuevo judío. Isaías 40:1-26 es la lectura designada para la semana después del Tisha B'Av, y ofrece un recordatorio de que el juicio no es la palabra final. Cada año, el pueblo judío atraviesa las tinieblas de la amonestación divina y luego se le recuerda que la gracia y el perdón de Dios son las que prevalecen. Salen de un tiempo de cenizas y desesperanza para entrar en una nueva promesa del amor inquebrantable de Dios.
Isaías escribió durante la expansión del Imperio asirio y la caída del reino de Israel (y finalmente de Judá). Fue una época tumultuosa y trágica, que Isaías pintó con imágenes inquietantes. Sin embargo, Isaías sabía que este no sería el destino final de Israel. Su descripción de la restauración es igualmente visionaria, ya que infunde esperanza y perseverancia a un pueblo asediado por las batallas que dudaba de la presencia de Dios entre ellos.
Las palabras de Isaías apuntan también a la cumbre de la revelación divina en el Nuevo Testamento y al papel desempeñado por Juan el Bautista, quien es identificado como «uno que grita en el desierto» (Mateo 3:3). La afirmación de que el duro servicio de Jerusalén había sido completado y su pecado había sido pagado (Isaías 40:2) se haría realidad un día para todas las naciones, porque Jesús proclamó que todos los pueblos de la tierra ahora están invitados a tener una relación de pacto con Dios.
Los contornos de este nuevo pacto inaugurado por la vida, la muerte y la resurrección de Jesús reflejan el pacto que Israel conocía desde hacía tiempo. Aunque el pecado sigue teniendo consecuencias, el perdón y el compromiso de Dios con su pueblo se renuevan una y otra vez, como las olas que rompen contra la costa. Que en este tiempo nos aferremos al consuelo de la presencia y las promesas de Dios mientras esperamos la plena revelación de su gloria, como profetizó Isaías.
Jen Rosner es profesora asistente afiliada de teología sistemática en el Seminario Teológico Fuller y autora de Finding Messiah: A Journey Into the Jewishness of the Gospel.
Traducción por Sofía Castillo.
Edición en español por Livia Giselle Seidel.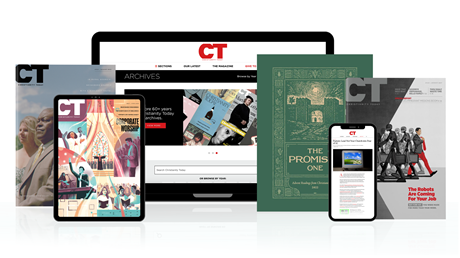 Subscribe to Christianity Today and get access to this article plus 65+ years of archives.
Home delivery of CT magazine
Complete access to articles on ChristianityToday.com
Over 120 years of magazine archives plus full access to all of CT's online archives
Subscribe Now
Consuelen a mi pueblo
Consuelen a mi pueblo