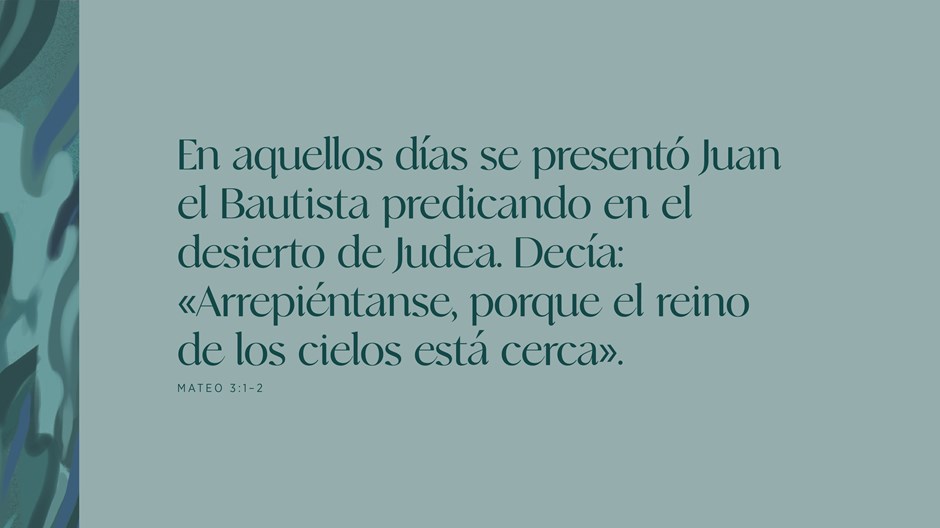 Para descargar nuestro devocional «El Evangelio de Adviento» completo, ingrese en este enlace.
Lea Mateo 3:1-12
El escritor del evangelio, Mateo, preserva el escenario histórico del ministerio de Juan el Bautista con una simple marca de tiempo: «En aquellos días» (v. 1). Al leer el capítulo anterior (así como Lucas 3) se comprende que eran los días de gobernantes megalómanos, como Herodes el Grande, quien, con una furia sanguinaria, mandó a matar a los niños de Belén. Tras la muerte de Herodes y el ascenso de su hijo al poder, José siguió temiendo por su familia y la trasladó a Nazaret «para que se cumpliera lo que fue dicho por medio de los profetas: Será llamado nazareno» (2:23, LBLA).
El evangelio de Mateo insiste en el cumplimiento de las promesas proféticas de Dios. «Dios dijo, y se cumplió», subraya Mateo una y otra vez. Por supuesto, esta noción no debe tratarse como algo evidente, no cuando la realidad visible sugiere que el mal está ganando. Cuando los bebés mueren a manos de un rey malvado, por ejemplo, ¿podemos confiar realmente en que el cielo se ha acercado, como predicó Juan el Bautista (3:2)?
Juan el Bautista nos recuerda a Elías en el Antiguo Testamento, vestido con pelo de camello, comiendo langostas y miel silvestre. Elías fue otro profeta que ejerció su ministerio bajo un régimen malvado. El rey Acab, al igual que Herodes, también mató por ambición. Después de la dramática victoria de Elías sobre los profetas de Baal, su reina Jezabel puso precio a la cabeza de Elías.
Arrepiéntase, porque el reino de los cielos está cerca. Este es esencialmente el mensaje predicado por todos los profetas de Dios, y por la gracia de Dios, es un mensaje que llega en la oscuridad. Es un mensaje de buenas nuevas: ha habido un cambio de administración. Este anuncio, predicado tanto por Juan como por Jesús, anticipa que otro Rey subirá al trono. Como el mismo profeta Isaías ya había declarado muchos siglos atrás, el gobierno de este Rey, a diferencia del gobierno del rey Acab o del rey Herodes, será uno de paz (Isaías 9:6-7).
Seguir al Rey Jesús no es simplemente ser salvado por Él, es ser cambiado por Él. Según Pablo, el Evangelio nos dice que Jesús «se entregó por nosotros para rescatarnos de toda maldad y purificar para sí un pueblo elegido, dedicado a hacer el bien» (Tito 2:14).
Conocemos la obra de la gracia asombrosa, salvadora y purificadora cuando el pueblo de Dios se aparta del pecado y se entrega totalmente a Dios. Si el Adviento es el amanecer de la luz, el arrepentimiento es el hábito diario de caminar en ella.
Jen Pollock Michel es escritora, presentadora de podcasts y conferencista que vive en Toronto. Es autora de cuatro libros, entre ellos A Habit Called Faith y Surprised by Paradox.
Traducción por Sofía Castillo.
Edición en español por Livia Giselle Seidel.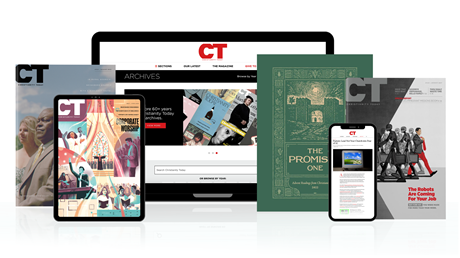 Subscribe to Christianity Today and get access to this article plus 65+ years of archives.
Home delivery of CT magazine
Complete access to articles on ChristianityToday.com
Over 120 years of magazine archives plus full access to all of CT's online archives
Subscribe Now
Gracia asombrosa y purificadora
Gracia asombrosa y purificadora