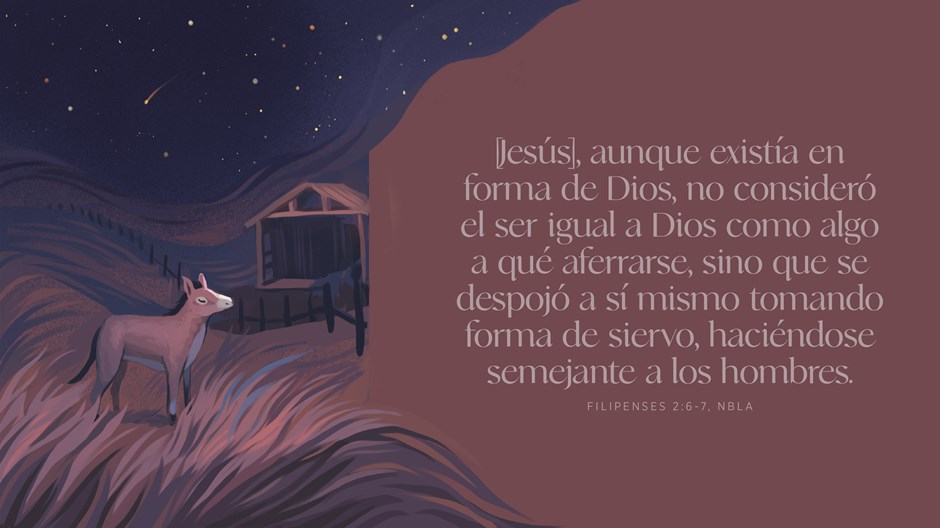 Para descargar nuestro devocional «El Evangelio de Adviento» completo, ingrese en este enlace.
Lea Filipenses 2:5-11
Una forma común de entender el hermoso himno de alabanza a Jesucristo que encontramos en Filipenses 2:5-11 es ver la paradoja totalmente incomprensible que nos muestra: el poderoso Hijo de Dios, quien, junto con su Padre, había dado origen a la creación, se dignó posteriormente a convertirse en un humilde ser humano, lo cual sería como si un poderoso monarca se hubiera reducido a un escarabajo escurridizo.
Esta forma de leer Filipenses 2 subraya el desajuste entre la gloria del Hijo antes de la Encarnación y la humillación que sufrió durante su vida terrenal. La pequeña palabra «aunque» en la mayoría de las traducciones bíblicas ha sido la clave vital para esta interpretación: «[Jesús], aunque existía en forma de Dios, no consideró el ser igual a Dios como algo a qué aferrarse, sino que se despojó a sí mismo tomando forma de siervo, haciéndose semejante a los hombres» (vv. 6-7, NBLA, énfasis añadido). A pesar de que compartía la igualdad con Dios Padre, aun así el Hijo Jesús decidió renunciar a esa condición por nosotros.
Ciertamente esta puede ser una interpretación correcta de las palabras de Pablo. Sin embargo, el lenguaje usado en el texto original es ambiguo, y es posible traducirlo de otra manera, aunque dejando fuera el conector contrastivo aunque. Pablo bien podría haber querido decir algo sutilmente diferente: porque Jesús existía en forma de Dios, por lo tanto se despojó a sí mismo.
En la primera forma de leer este pasaje, hay algo fundamentalmente incongruente entre la gloria del Hijo de Dios y su vaciamiento. La primera se entiende a pesar de la segunda. Y claramente hay mucha verdad en esa forma de interpretar las palabras de Pablo, lo cual nos recuerda y señala el costo que Dios aceptó pagar para acercarse a nosotros.
Pero en la segunda forma de leer el himno de Pablo, hay algo misteriosamente congruente entre el esplendor eterno del Hijo de Dios y su autoabnegación voluntaria manifestada en la Encarnación. Esta última revela o explica lo que es realmente la primera, y resulta que el carácter de Dios es el amor de entrega «hasta el último recurso», por así decirlo.
En otras palabras, si queremos entender lo que significa realmente la igualdad de Jesús el Hijo con Dios Padre —lo que se ve cuando se traduce en forma de vida humana—, debemos mirar a ese pequeño bebé en los brazos de María, a esa figura desamparada en la cruz del Calvario y a ese jardinero de corazón tierno que habló palabras de paz a sus amigos en esa primera mañana de Pascua. Al vivir por nosotros, morir por nosotros y resucitar por nosotros, Jesús no solo nos revela la verdadera humanidad, sino que también nos muestra en qué consiste fundamentalmente la deidad de Dios.
Wesley Hill es sacerdote en la Catedral Episcopal de la Trinidad, en Pittsburgh, Pensilvania, y profesor asociado de Nuevo Testamento en el Seminario Teológico Western, en Holland, Michigan.
Traducción por Sofía Castillo.
Edición en español por Livia Giselle Seidel.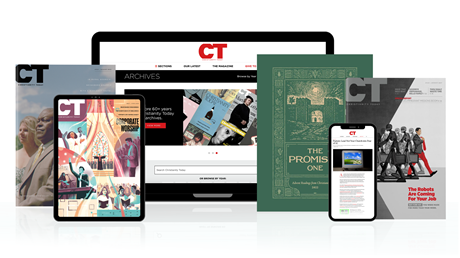 Subscribe to Christianity Today and get access to this article plus 65+ years of archives.
Home delivery of CT magazine
Complete access to articles on ChristianityToday.com
Over 120 years of magazine archives plus full access to all of CT's online archives
Subscribe Now
Lo que significa ser Dios
Lo que significa ser Dios