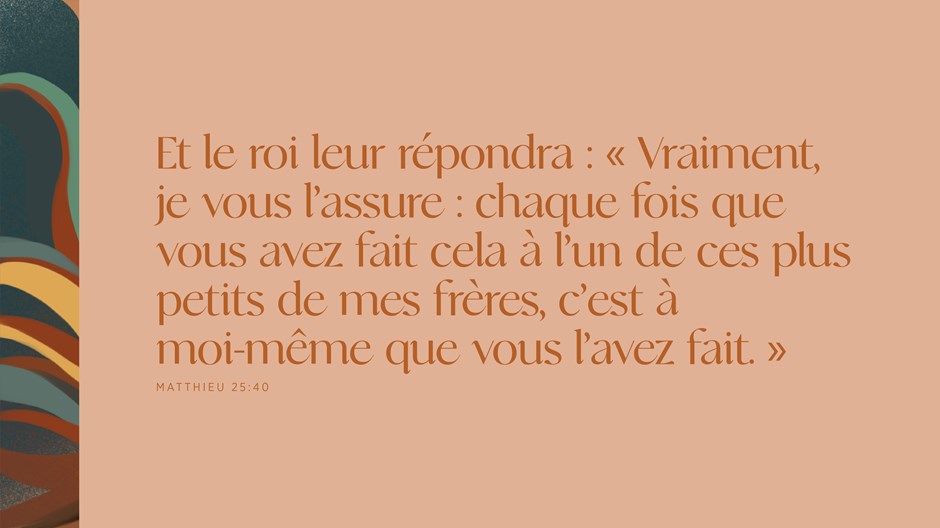 Image: Nicole Xu
Lecture dans Matthieu 25.31-46.
Dans Matthieu 24-25, Jésus parle de son retour et utilise plusieurs paraboles pour décrire ce à quoi « le royaume des cieux » ressemblera (25.1). L'élément qui est peut-être le plus troublant dans son enseignement en Matthieu 25.31-46 est la surprise des deux groupes jugés. Personne ne proteste contre le fait d'être jugé en soi ; après tout, le Fils de l'homme est venu dans la gloire, accompagné d'une immense armée d'êtres célestes, et son trône même est glorieux. Cette entrée confirme et manifeste son autorité à pouvoir juger. Il a le droit d'appeler toutes les nations devant lui, et elles doivent venir.
La surprise ne concerne ni le fait du jugement ni les droits du juge. Qu'ils soient placés à droite ou à gauche, c'est la raison du jugement prononcé que tous questionnent. Les brebis regardent ce roi glorieux et pensent : Nous l'aurions sûrement su si nous l'avions servi. Nous n'aurions pas pu le manquer. Les boucs pensent la même chose, mais à l'inverse. Quand auraient-ils jamais pu dire non à un tel homme ? Impossible d'en trouver trace dans leur mémoire.
En réponse, le Christ glorieux révèle la clé du mystère : il a toujours été identifié, uni, à ses frères et sœurs. Il y a là plus qu'une simple association : c'est une véritable identification. Qui sont ses frères et sœurs ? Jésus l'a clairement enseigné : « Quiconque fait la volonté de mon Père qui est dans les cieux est mon frère, ma sœur et ma mère » (Matthieu 12.50). Peu importe le rang, l'ethnie, le sexe ou la nationalité d'une personne : si elle est unie au Christ, alors prendre soin d'elle, c'est prendre soin de Jésus lui-même.
Il ne s'agit pas de la justice des œuvres, où chaque personne est récompensée ou punie en fonction de ses actes. Nous assistons à la révélation d'une allégeance ou d'une rébellion envers le Roi Jésus, c'est pour cela qu'il n'y a que deux destinations possibles.
Il serait peut-être plus facile d'obéir au Christ glorieux, parce que nous verrions sa puissance de nos propres yeux. Mais Dieu nous appelle à la foi, pas à la vue. En réalité, à Noël, nous nous rappelons qu'il est venu de manière presque déguisée. Aujourd'hui encore, il s'identifie à son peuple fragile et dépourvu.
Les paroles en l'air ne suffisent donc pas. La véritable confiance en Jésus va au-delà d'une allégeance superficielle envers lui et commande l'obéissance. Le croyons-nous quand il dit que servir des chrétiens humbles et méprisés est une meilleure preuve de notre qualité de disciple que les miracles et les prophéties eux-mêmes (7.21-23) ? Que nous ne pouvons pas avoir le plus grand commandement sans le second, ni le second sans le premier (22:37-40) ? La véritable allégeance de tous sera révélée ; plaçons notre foi en lui.
RACHEL GILSON fait partie de l'équipe de direction de Cru pour le développement théologique et la culture. Elle est l'autrice de Born Again This Way : Coming Out, Coming to Faith, and What Comes Next.
Traduit par Valérie Dörrzapf
Révisé par Léo Lehmann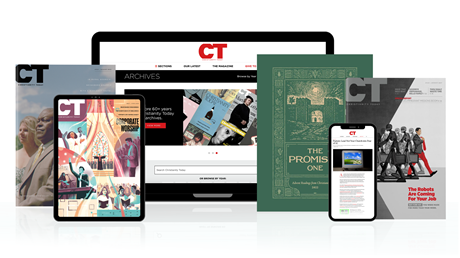 Annual & Monthly subscriptions available.
Print & Digital Issues of CT magazine
Complete access to every article on ChristianityToday.com
Unlimited access to 65+ years of CT's online archives
Member-only special issues
Subscribe
Droite ou gauche ?
Droite ou gauche ?