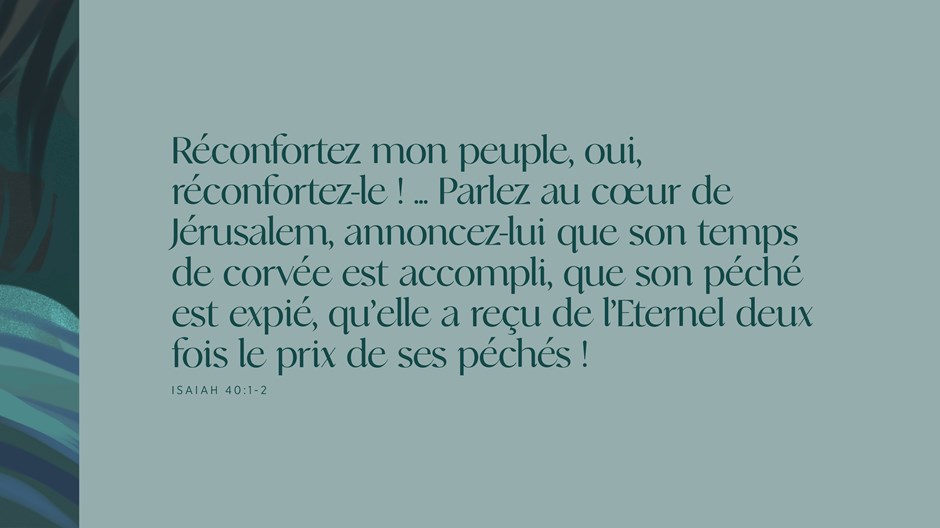 Lecture dans Ésaïe 40.1-5
Pour mieux comprendre ce magnifique passage, il est intéressant de connaître la place qu'il tient dans la tradition juive. Le peuple juif dans le monde entier suit un cycle de lecture biblique hebdomadaire, similaire au lectionnaire chrétien. Les semaines les plus sombres du cycle tombent au milieu de l'été, et mènent à Tisha Beav, le jour le plus triste du calendrier juif. Il commémore la destruction du premier et du second temple de Jérusalem. Tisha Beav marque également de nombreuses autres tragédies au cours de l'histoire juive. C'est un jour de jeûne et de deuil. Le Livre des Lamentations est lu en public et le péché d'Israël envers Dieu est mis à nu.
Mais ce n'est pas la fin de l'histoire. Immédiatement après Tisha Beav, le cycle de lecture enchaîne avec sept semaines de consolation, menant à Roch Hachana, le nouvel an juif. Et Ésaïe 40.1-26 est la lecture prévue pour la semaine qui suit Tisha Beav, rappelant que le jugement n'est pas le dernier mot. Chaque année, le peuple juif traverse les ténèbres de la rétribution divine, puis se voit rappeler que la grâce et le pardon de Dieu finissent par l'emporter. Il émerge d'un temps de cendres et de désespoir pour recevoir une nouvelle promesse de l'amour indéfectible de Dieu.
Ésaïe écrivait au moment de l'expansion de l'empire assyrien et de la disparition du royaume d'Israël (et finalement de Juda). Une époque tumultueuse et tragique, qu'Ésaïe dépeint avec des images saisissantes. Pourtant, Ésaïe savait que tel ne serait pas le destin ultime d'Israël. Sa description de la restauration à venir est tout aussi impressionnante, insufflant espoir et persévérance à un peuple assiégé par les combats et doutant de la présence de Dieu en son sein.
Les paroles du prophète renvoient également à l'apogée de la révélation divine dans le Nouveau Testament et au rôle joué par Jean-Baptiste, qui est identifié comme « celui qui crie dans le désert » (Matthieu 3.3). L'évocation de la fin de la lourde peine de Jérusalem et du rachat de son péché (Ésaïe 40.2) deviendra un jour la réalité de toutes les nations, car Jésus a proclamé que tous les peuples de la terre sont désormais invités à entrer dans une relation d'alliance avec Dieu.
Les caractéristiques de cette nouvelle alliance inaugurée par la vie, la mort et la résurrection de Jésus reflètent l'alliance qu'Israël connaissait depuis longtemps. Bien que le péché ait des répercussions, le pardon de Dieu et son engagement envers son peuple sont sans cesse renouvelés, comme les vagues qui balaient continuellement le rivage. Puissions-nous nous réfugier dans le réconfort de la présence de Dieu et de ses promesses en attendant la pleine révélation de sa gloire, comme l'a prophétisé Ésaïe.
JEN ROSNER est professeure adjointe de théologie systématique au Fuller Theological Seminary et autrice de Finding Messiah: A Journey Into the Jewishness of the Gospel.
Traduit par Valérie Dörrzapf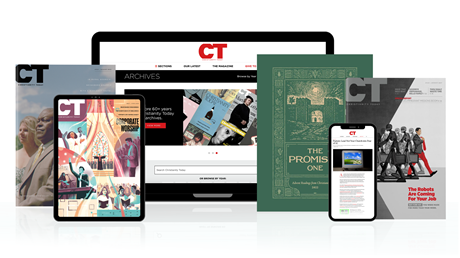 Subscribe to Christianity Today and get access to this article plus 65+ years of archives.
Home delivery of CT magazine
Complete access to articles on ChristianityToday.com
Over 120 years of magazine archives plus full access to all of CT's online archives
Subscribe Now
Réconfortez mon peuple
Réconfortez mon peuple